When I first learned that my son needed to have intensive all day therapy also known as Applied Behavior Analysis (ABA), I was sick to my stomach. I was so angry that my sweet, beautiful, blue-eyed 2 year old boy was going to have his childhood stolen away from him. Sick that I was actually the person responsible for arranging for it to happen. While other kids were playing at the park, or going to the zoo with their moms, my son would be at home…screaming, oftentimes while in a little yellow chair whose site I already hated from Early Intervention Preschool.
I was told from a school Psychologist that they were most likely going to be approved for 20 hours of ABA therapy per week.
I remember getting the call a few weeks later. "Great news! Greyson is actually approved for 30 hours of ABA each week."
The lump in my throat made it difficult to talk. "Oh, um....yes...that is (s*%t! awful! no!) great". (Now I need to go cry and throw up.
I didn't say any of this stuff in parenthesis- I only thought it.)
I wasn't happy that we got approved for 30 hours of ABA a week, I was mad because I thought we would get 20, and that already felt like too much. I wasn't happy that it was in the convenience of my own home, I was annoyed that I would have to share our living space with strangers from 8am until 5pm every day. They would hear every conversation, see everything. I was also frustrated that it meant I couldn't leave the house during this time. I could no longer go for morning walks, stop at the grocery store, or even take Greyson and Parker to the park, or
anywhere
for that matter. I felt like I was on house arrest.

At this point I wanted to take my son somewhere far away and just forget about all of it. I wanted to open the front door, hold Greyson in my arms and run until I couldn't breath, run until I couldn't cry anymore. I wanted to forget about things like Speech Therapy, Early Intervention Preschool, and Applied behavior analysis. I wanted to forget about tests and doctors and diets. I didn't care that some state screening assessment deemed Greyson to be at high risk for autism. I didn't care that I knew it was right. I just wanted to go back to the period of time where I was just a Mom, and Greyson was just a boy, and I didn't know a thing except that I had a son with a speech delay. I wanted to wake up from the nightmare that was now called my life. I didn't want this life, I wanted my old one. I didn't know what to do or who to turn to.
Typically developing children learn language, play and social skills from the world around them. They pick up on things naturally. Spectrum kids do not learn easily from their environment. They have the potential to "learn how to learn" but it takes a very structured environment where conditions are optimized for acquiring the same skills typical children learn naturally. ABA is using environmental set ups and consequences to shape or teach any skill or appropriate behavior.
It's quite simple really, and totally complicated and fascinating and bizarre.
Therapists keep a detailed account of everything. They keep data on how many overall attempts are made, how many are successful on the first try and how many take a second try, or aren't completed at all. Each program is completely individualized, and constantly analyzed for progression. If we aren't progressing, we reevaluate the method of teaching and change our approach. ABA even teaches kids how to imitate and play.
How do you learn how to play, you ask? A typically developing child will see Mommy or Daddy on the phone and file that information away. And then one day they might grab a phone and pretend to talk on it. They will learn to play with cars after someone shows them once. Maybe they will see other kids driving cars around saying, "Vroom vroom", and naturally they will pick up on that and start to do it on their own.
Greyson is taught how to play with pretty much every toy we own. His teacher will tell him, "Here is a phone, Greyson. Pick up phone and put to ear. Greyson- say "hello" into phone." The teacher will model play for Greyson too.
We talk to Greyson in 3 word sentences so he can understand us. I sound like a caveman- and I do it to people all the time now by mistake. "You come over?" "We drink coffee?"
He is taught that the train needs to go around and around on the track... he is told, "Greyson- a train says choo choo. Push train and say choo choo."
He is more likely to line up cars or trains, roll them back and forth in front of him or examine their parts. There's times that's totally cool to do, but if we don't teach him other options, he may not ever know if he likes doing it a different way too.
Repetition is key to every skill and behavior Greyson learns. He has to do it over and over and over again over a period of days or weeks or months- depending on the skill, the number of steps needed and the level of difficulty. He has been taught his body parts, colors, his name...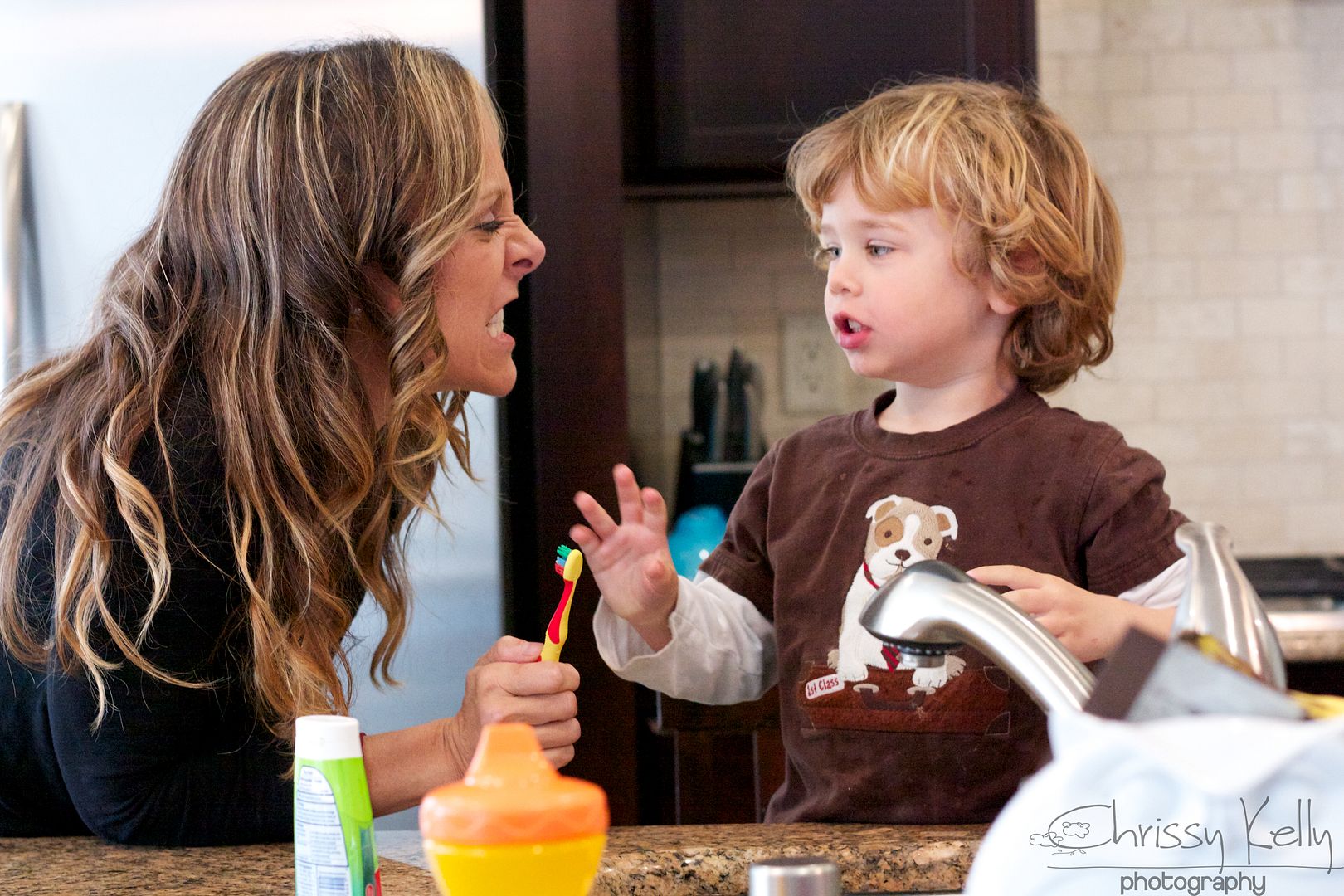 How to brush his teeth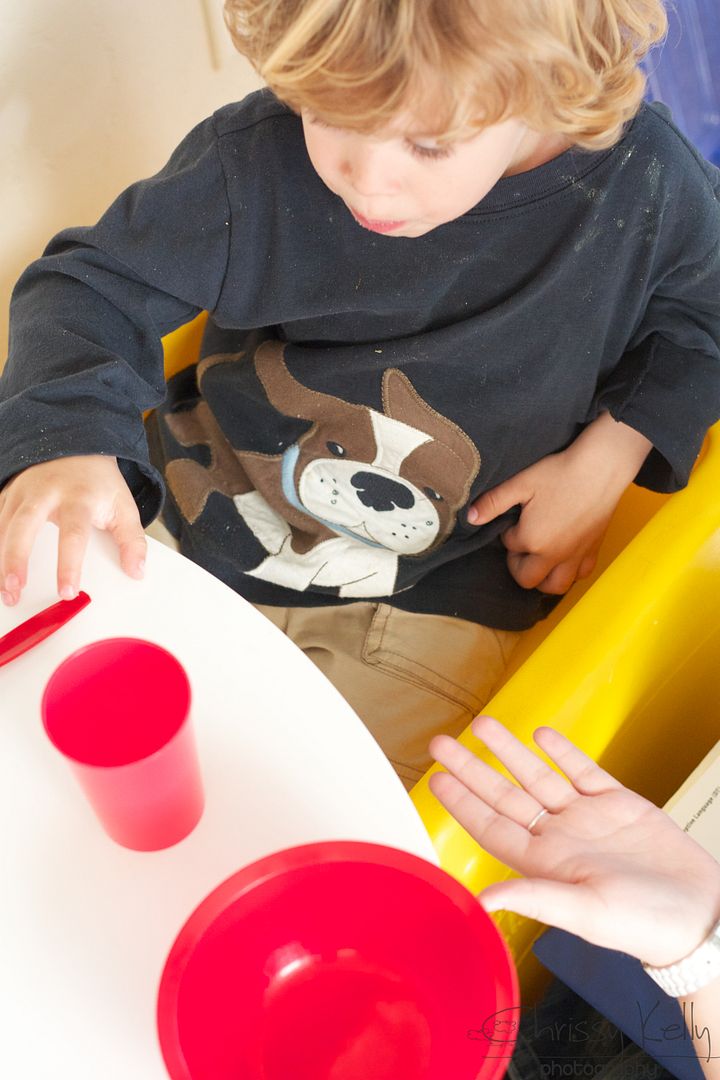 Receptive language -Greyson- hand me the cup
Expressive language -Teacher holding the spoon- Greyson, What is this? Greyson- "Spoon".
He is learning how to stop running when he hears the word STOP!!!
Man- this one is took us a LONG TIME! But we are there!
...and so much more. ABA can also work to stop unwanted behaviors- like hitting or screaming.
Now that I am 7 months in, I realize just how lucky we are to have ABA provided for us. We would take 40 hours a week if we could. ABA has been a Godsend. It is one of the very few Evidence Based therapies for Autism-it's proven Science. It has helped Greyson adapt to this World and that makes us all happier and sleep easier at night. Greyson learns really slow through typical teaching methods and really fast through ABA. I am grateful.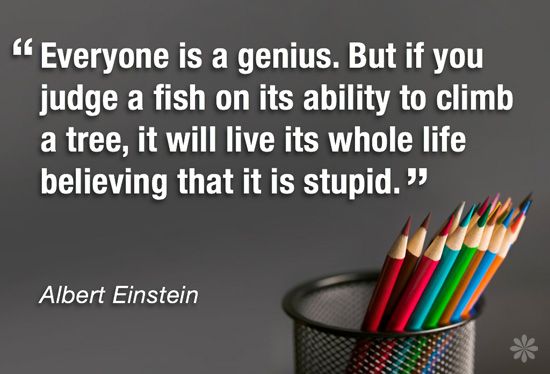 Teachers are some of the most amazing folks around. They are an extension of the home...they teach our babies and often times love em like they love their own.
But people who do ABA are Rock Stars. Let me say that again for emphasis.
ABA TEACHERS ARE ABSOLUTELY AWESOME.
No one in their family has any idea what the heck they do for a living. It all sounds so confusing. They get hit, spit on, bit...you name it --and they can't react emotionally-they just have to keep chugging along. Yes- they can't yell, "DID YOU JUST HIT ME! WHAT THE HELL IS WRONG WITH YOU KID!!!??" Greyson will see his next ABA teacher walk through the door when they change up the shifts- and he will often fall to the ground and scream. He will cry. He will cling on to me, and say, "I want Mom" and I have to pull him off and say, "Grey- right now it is time to work" and it still kind of breaks my heart. They have to keep a positive face and positive attitude and they have to cheer my son on- on his 8th try, or his 1,812th try.
It's hard enough to go to your regular job on those days you aren't feeling it. Could you imagine going to your job where people hit you and scream at your very presence?! They don't get paid enough. Over and over and over again they work with my son- teaching him skills he will need and use for the rest of his life. They are making a difference every single day. And you can tell when they are doing this job because they are passionate about it. Passion can't be hidden, friend. Those are the teachers I request- those are the ones I want at my house. Those are the ones who celebrate our milestones just as much as we do. They create little baby miracles every single day....
THANK YOU ABA TEACHERS!!!
And now we know ABA doesn't just happen in a little yellow chair. ABA methods work everywhere, even at the mall or the park or a restaurant. It's made our lives easier and my son happier. There's nothing more worth it than that. Getting started with Behavior therapy was so hard. But I've seen the miracles it makes happen, and I can say with my whole heart- it makes it all worth it.