I like pictures that tell a story...
When I go through my pictures to select ones to use for the blog, I don't look for proper composition or lighting or exposure... I just select the shots that make me
feel
without thought...
Then I ask-
Does this picture help me tell my story?
If the answer is
yes
- then they are a keeper...
Posed pictures are great to document moments of time in Life... Christmas card pictures, birthdays, baby milestones, baby in a chair that just so happens to be out in an orchard... Posed pictures do not tell a story. They often house memories for the people in them- but they are not story tellers.
Sometimes we create stories behind other people's posed pictures... Fictional stories.
Their life is so easy...she has such a good marriage...she is skinny so she must be happy... Her kids are so well behaved...They are so lucky...
You may have seen one picture out of 100... Your eyes may see a beautiful family- simply for the fact that they are a family... but you did not see a story.
My camera is magic for it simply allows me to see the beauty in my Life that has been there all along...
This weekend we celebrated Greyson's 4th birthday...
And as the day approached, I was scared... But I was also brave- because brave is being scared - but doing it anyway...
Parker turned two almost 2 months ago...and that day was unbearable. And then on top of the unbearable- I felt so guilty for feeling so deeply sad. There was a part me that hoped -without even really realizing it- that he would talk by the time he was 2... Like wake up that morning and just start talking. Another reason for the sad are the damned charts... Developmental delays are measured by charts listing hundreds and hundreds of skills... language, self-help, social, gross and fine motor... and an increase in age means an increase in line items that he
should
be doing- but
isn't
...Which really means the more he has to learn and make up life...
When you have a child with developmental delays you try like mad to bridge the gap between what they
are
doing and what they
should
be doing---only to realize that gap will never ever be closed...and although you learn to accept that- the pain of that never completely goes away...
But I'm so happy to say that Greyson's birthday was absolutely wonderful...like pinch me good...And honestly- I have you to thank for getting us started out right by sharing this blog... Seriously- it makes that pain that never goes away-
easier
...
Your sharing makes me feel like I am doing something to help my son and maybe even the World... Because of you, we are blessed...
We spent part of the weekend in Monterey, California which is located on the southern edge of Monterey Bay, on Central California's Pacific coast. When we first arrived we walked down the historic streets of Cannery Row which overlooked the Ocean.
The ocean air rushed up and greeted us and the stress from the week was forgotten. My ears were greeted with live music and a man singing the most beautiful rendition of
Knocking on heaven's door.
He was right-we were. In fact- I think Heaven had already let us in.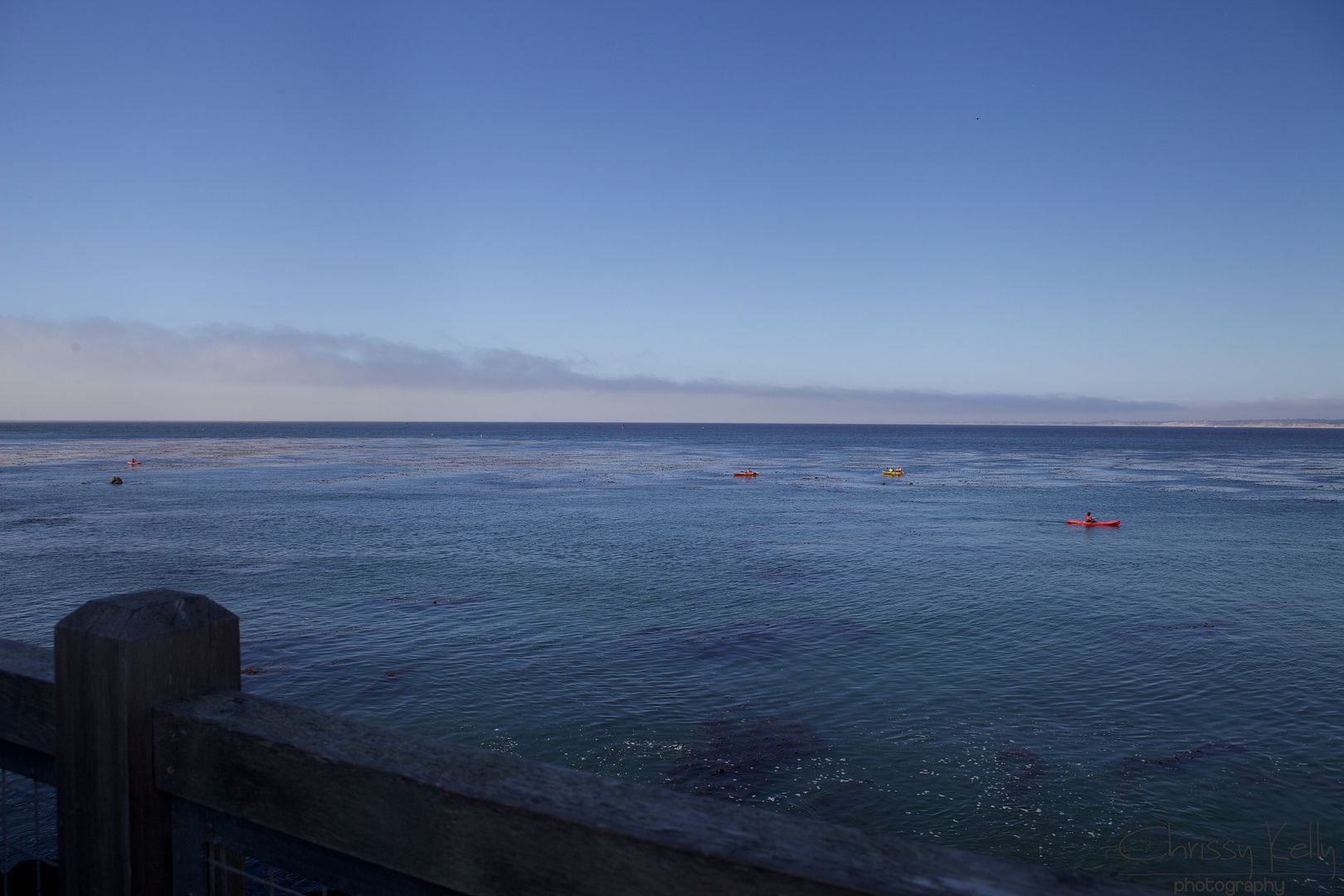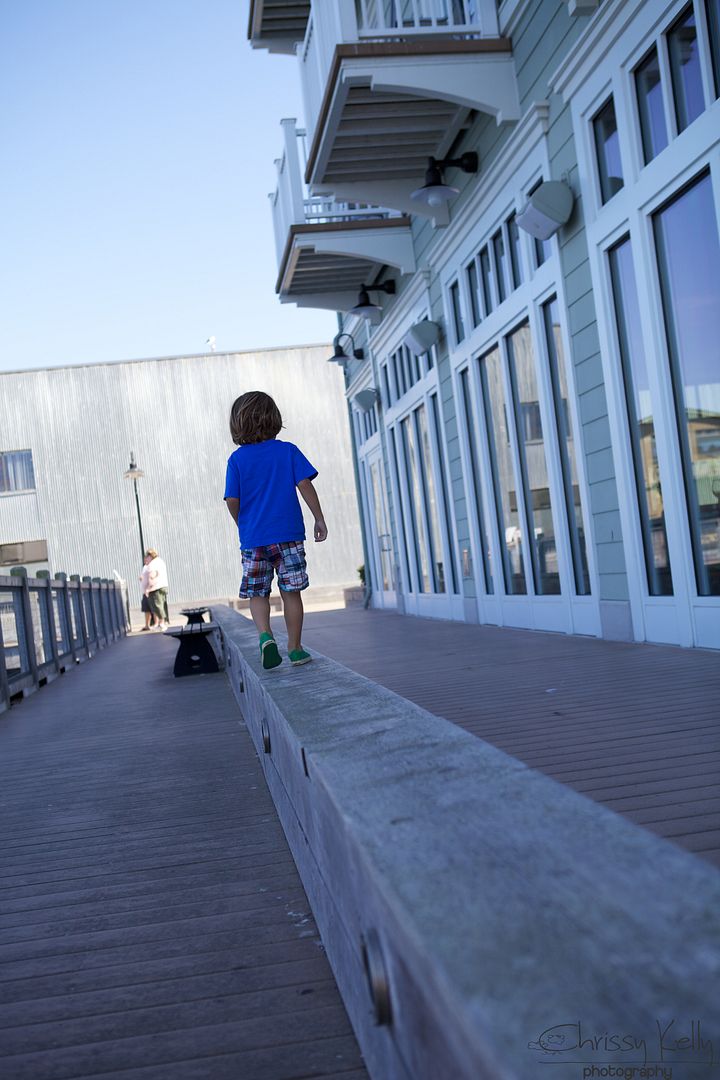 We started our adventures at the Monterey Bay Aquarium. An indoor/outdoor land of delight.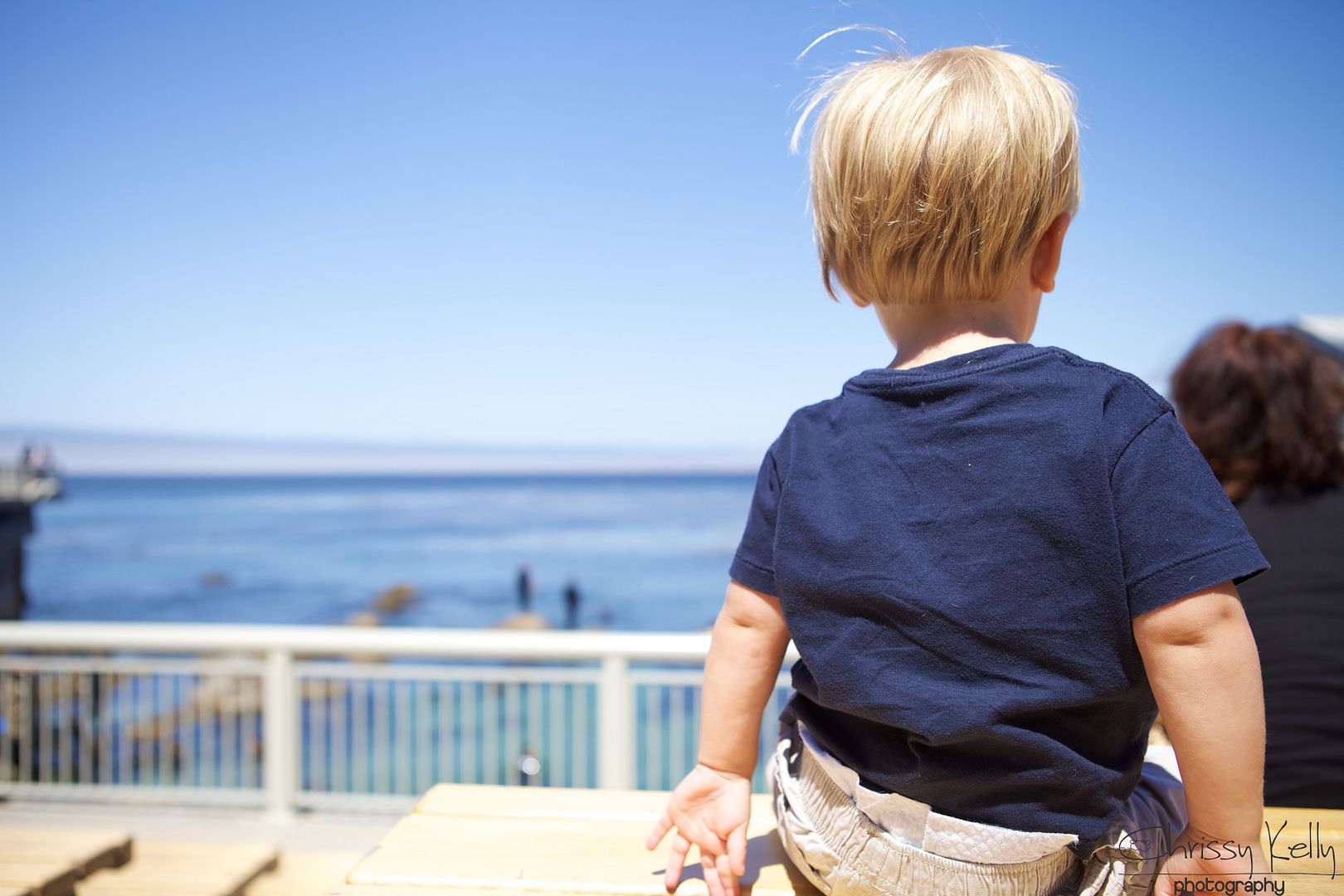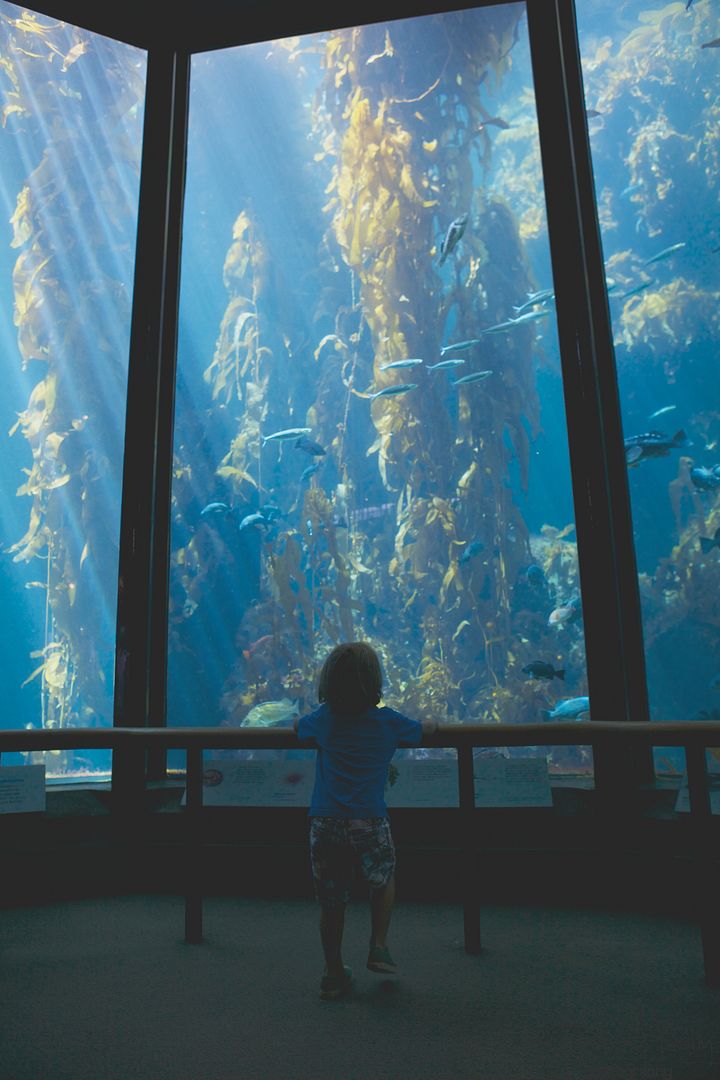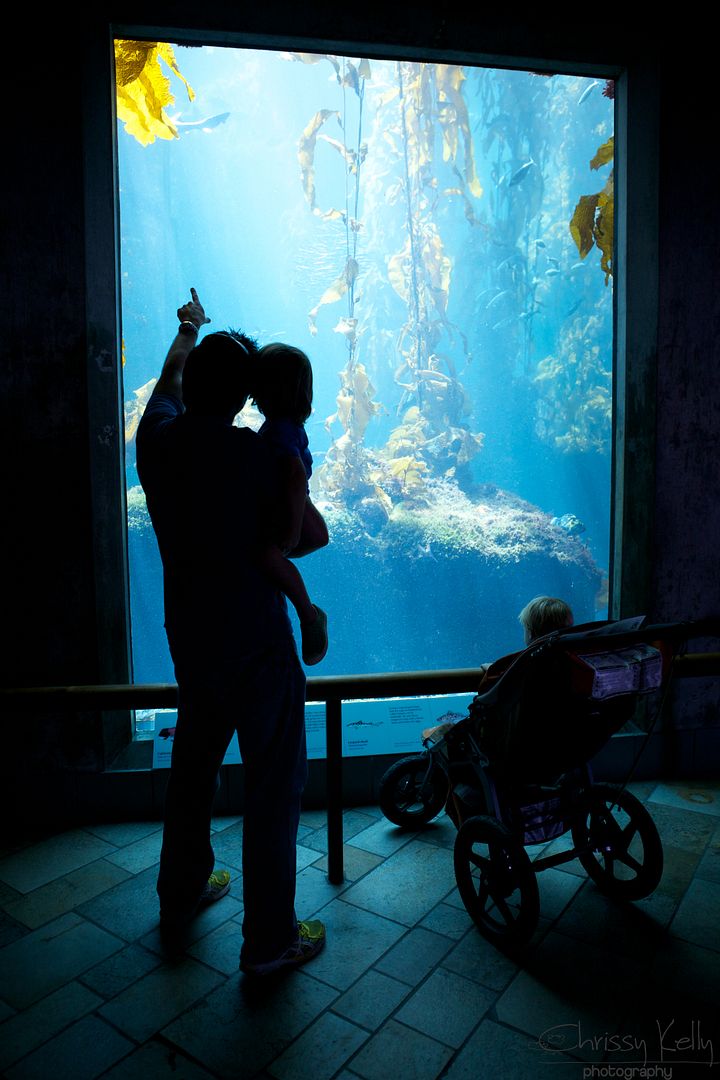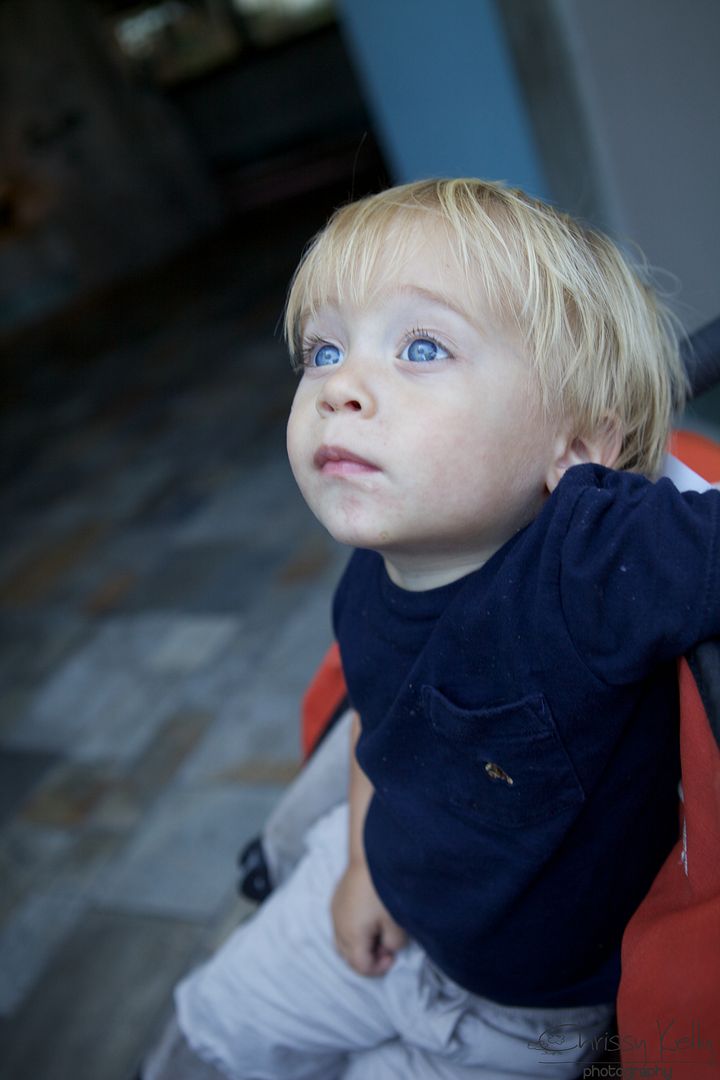 I enjoyed taking Parker in --even more than taking in the exhibits...
The greatest part of being a Parent is being able to say-
Here is the World... let me show it to you
...and then they too will view the World the same way we do...
I hope you see it good
...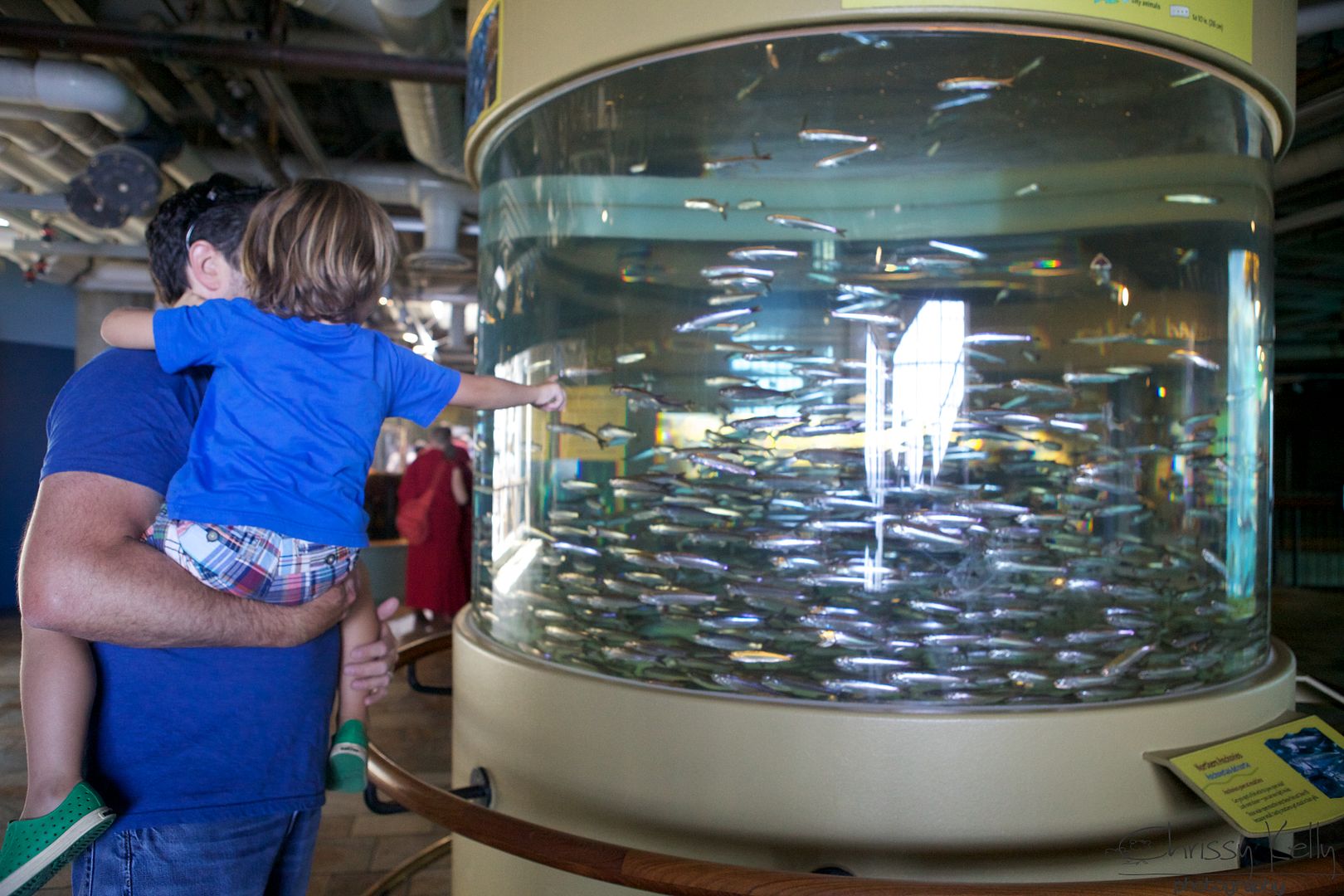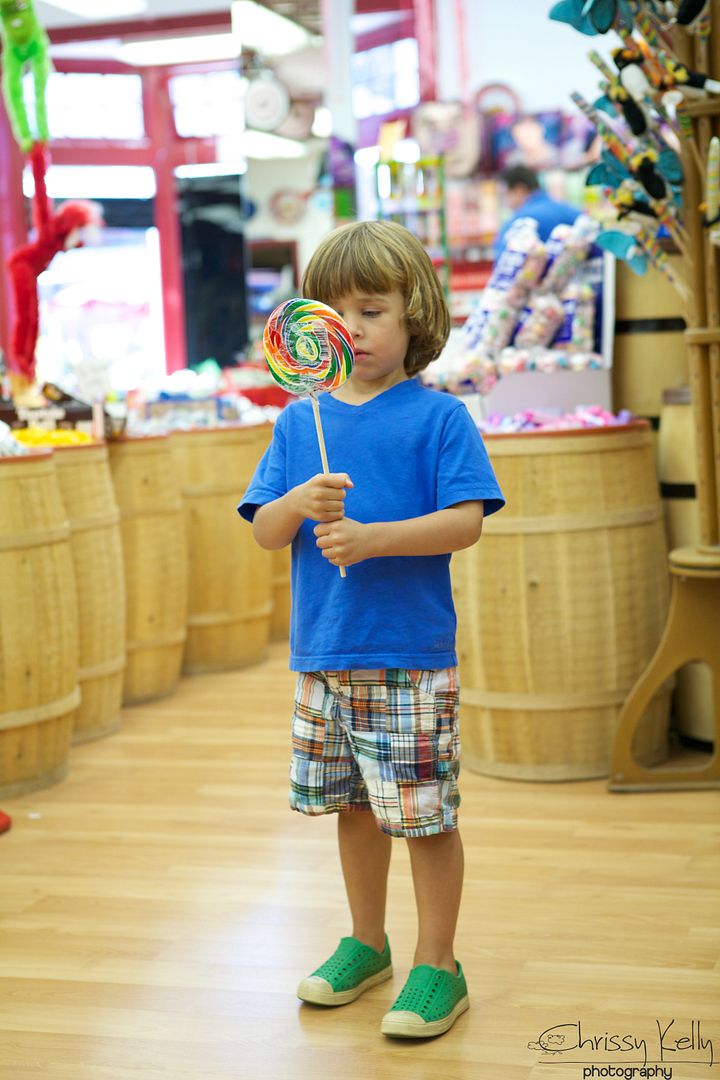 The whole trip was sweet...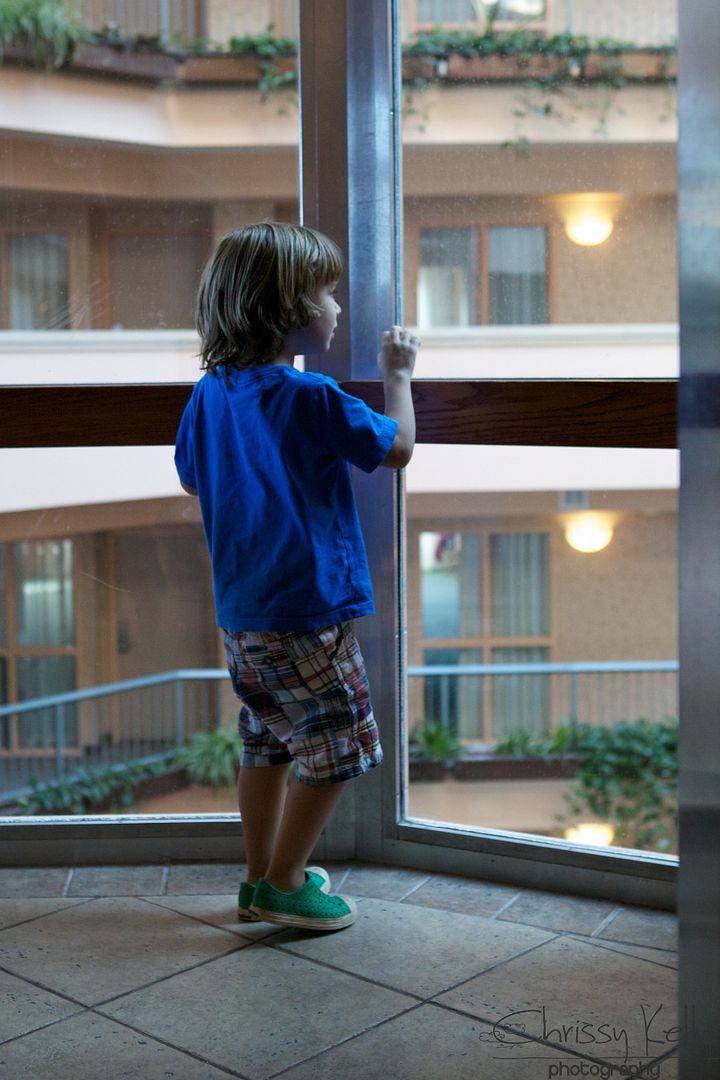 I'm pretty sure the hotel's elevator was in Grey's top 3 favorite things about the weekend... Sometimes we got on just to ride it up and down...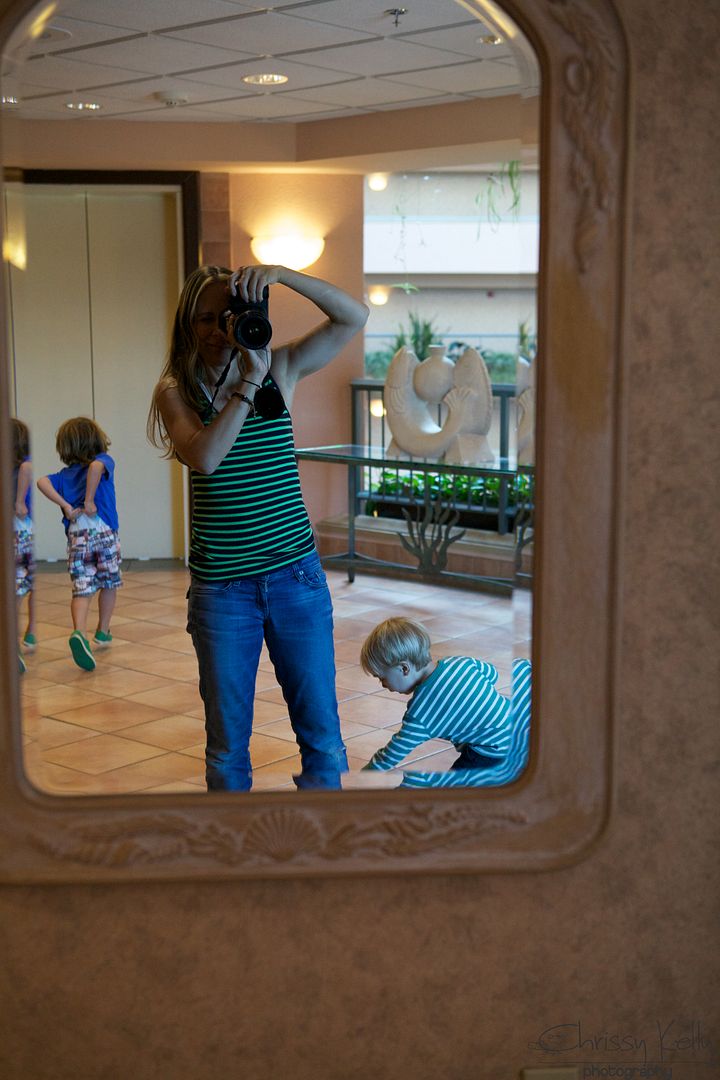 About once a year Michael and I will subject ourselves to going out to dinner with the boys... If I had to describe it- I'd say it's kind of like a kick in the teeth.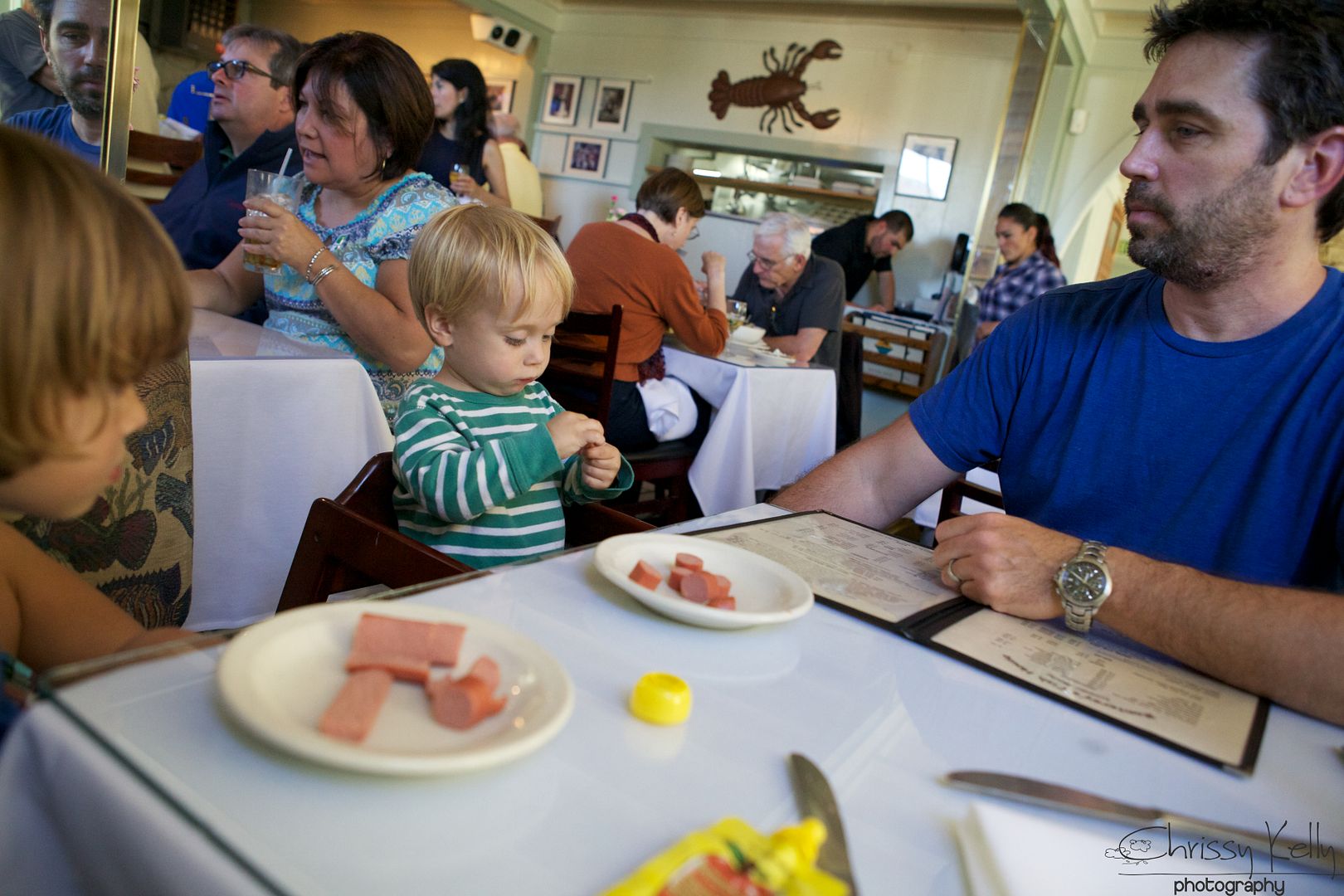 I started our meal by apologizing to both parties on either side of us. We ordered as quickly as we could. The restaurant was quaint (maximum capacity 67) and delicious.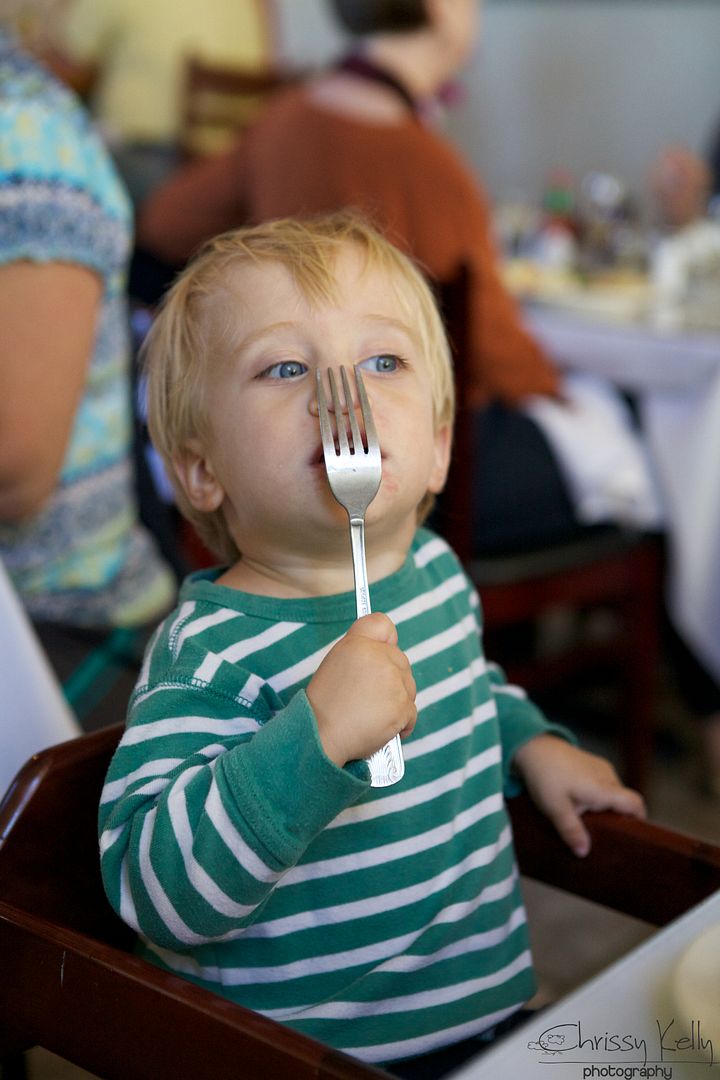 I told you Parker is funny... I don't think he knows it's supposed to be a spoon...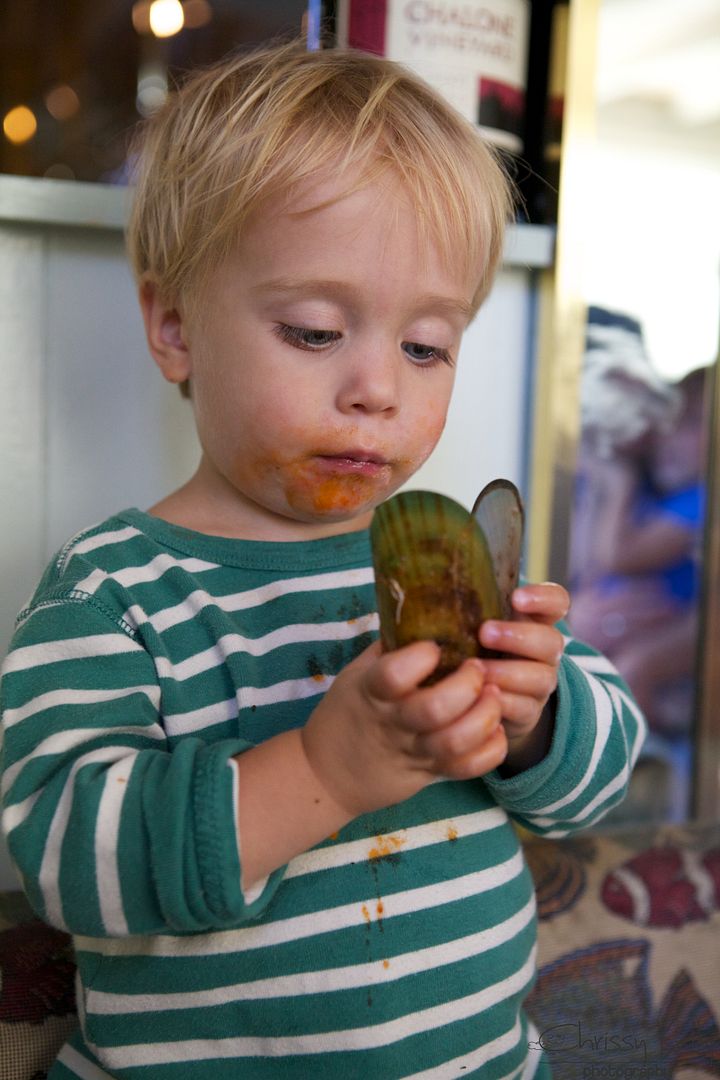 Parker loves trying new things... Grey- not so much...
And at night when we went back to our hotel room we even saw fireworks out of our window... In my mind I pretended like they were there just for Grey's special day.
I'll tell you about the rest of the trip tomorrow. Good luck with your Monday. I'll be over here Monday'ing too.
Love,
Chrissy