I'm so proud of us. And as I typed that I honest to goodness got the chills. We are all doing the best we can. Sometimes Life is very complicated and confusing. It takes so much work. We have to remember so many things...make a dentist appointment, pay the cell phone bill, passwords for online banking and email and gate codes or pin codes... Sometimes I think smoke will start billowing from my ears and I will short circuit. We have to work really hard to remember what matters.
Thank you for remembering with me.
May I tell you something?
You are enough
. You are more than enough. I see you, in your bed, in your room, in your car, on your porch, on your couch. Reading my words. I am sharing them with you, so actually they are
OUR
words. And so often we doubt ourselves. We wonder if we are taking the right path. We wonder why we aren't doing better or more or perfecter. But all we really have to do is wake up, do good things, breath in and out and try the very best we can for that day.
Every day is a fresh beginning.
I'm still new to this whole-
because I write about my life and give you an intimate and genuine glimpse into my home, feel free to throw any opinion you have my way-
stuff
.
It's not how I was taught, it's not how I will teach, and it's not what I do. I got a comment today on Facebook. I'll paraphrase because it was pretty long.
Is it too harsh to ask you to move past talking about the Garbage man? Your writing about it over and over and over and over and over
(there was actually a total of 3- THREE separate
over and over agains
)
is like trying to recreate the magic that was in the first article and you really just need to love it for what it was and move on.
Woah...and I thought the Poor people and mixing cheese quote was bad from Princesses: Long Island.
And tonight as I sit down to write, I laugh at myself. Here's the deal. I absolutely do
not
lead a glamours or slightly exciting life. Sometimes I get so bored with my Life I think I'm going to
diiiiiieeee
.
The most exciting part of my day. Getting cupped in Physical Therapy.
My day to day is Physical Therapy, Speech Therapy, and Behavior Therapy and driving to and from. Most days I am tied down to my house while the boys are doing in home Behavior Therapy.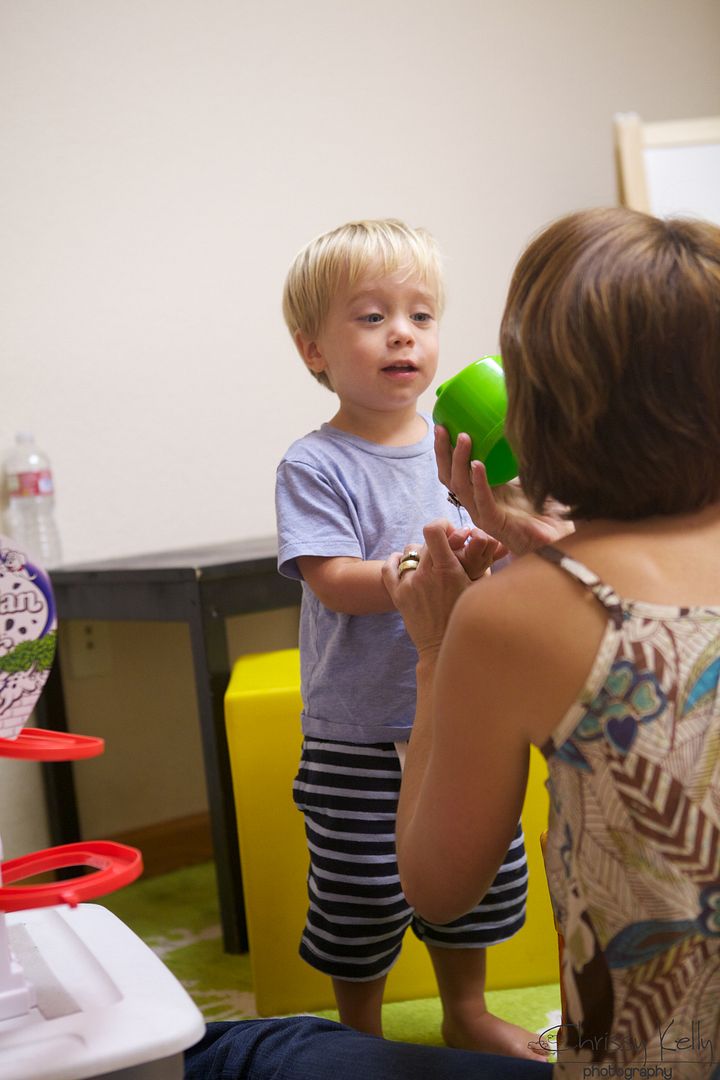 Doodle at speech late this afternoon.
Both my little dudes put in Investment Banker hours working hard to navigate this world. Boy am I lucky all of these resources are available to me and my boys. I am beyond grateful for the people that teach my boys, for the state that provides some of these resources and to God for giving me such a beautiful project to manage- Greyson and Parker.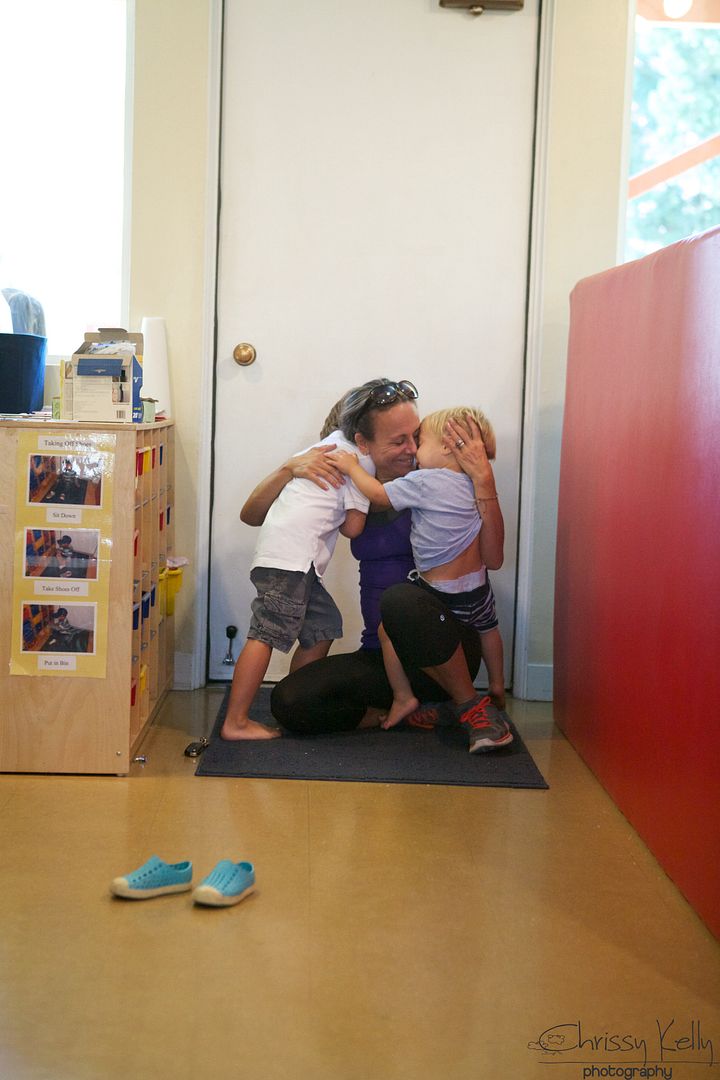 Picking the boys up from therapy. Thursday mornings they do Behavior Therapy outside the home.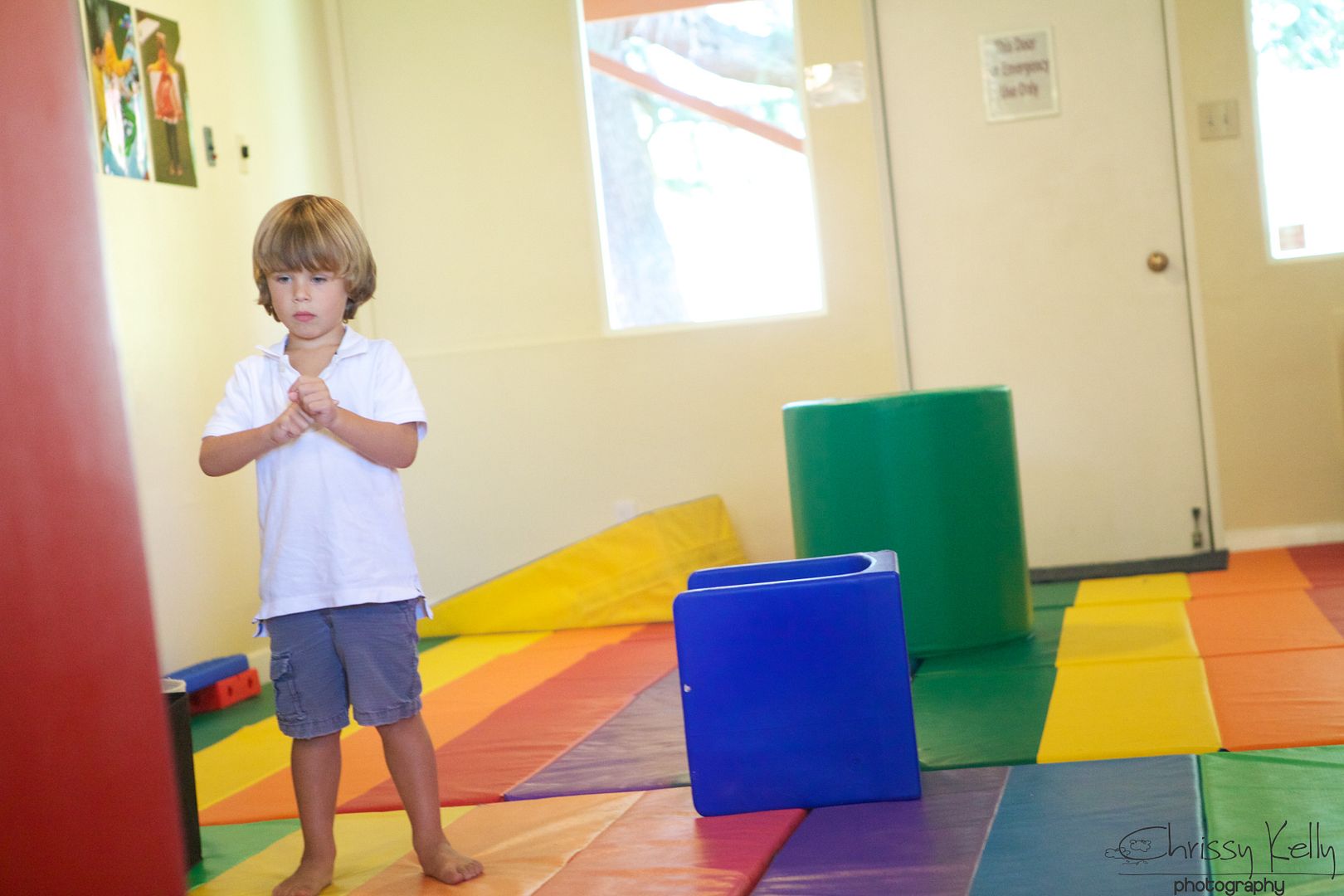 When I first enter a room I have to break into Greyson's world before he realizes I am there.
I do not go to fancy parties. I do not travel outside of California. I do not go to a job during the day. I feel like a Golden Girl because I rarely even drive at night. My week days do not involve going to the zoo, the water park, or even on play dates. I'm putting my own photography career on a shelf now because this blog is currently my part time job. When I really think about it, sometimes I can't believe I have a single thing to write about. Our weird little world is beautiful and unique though.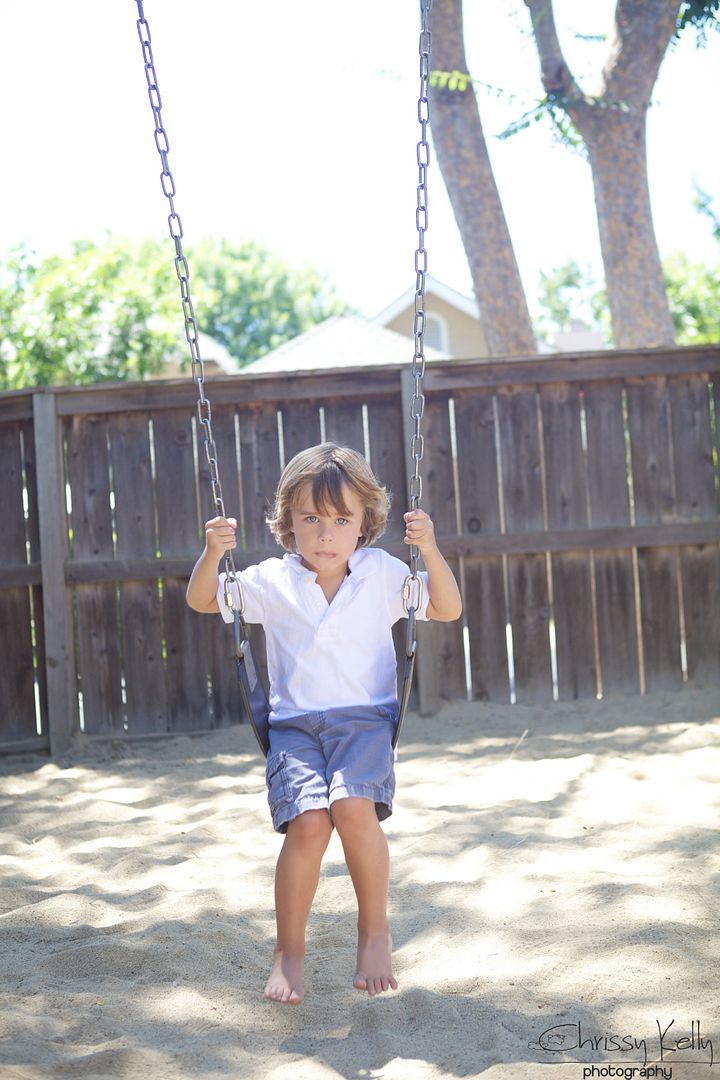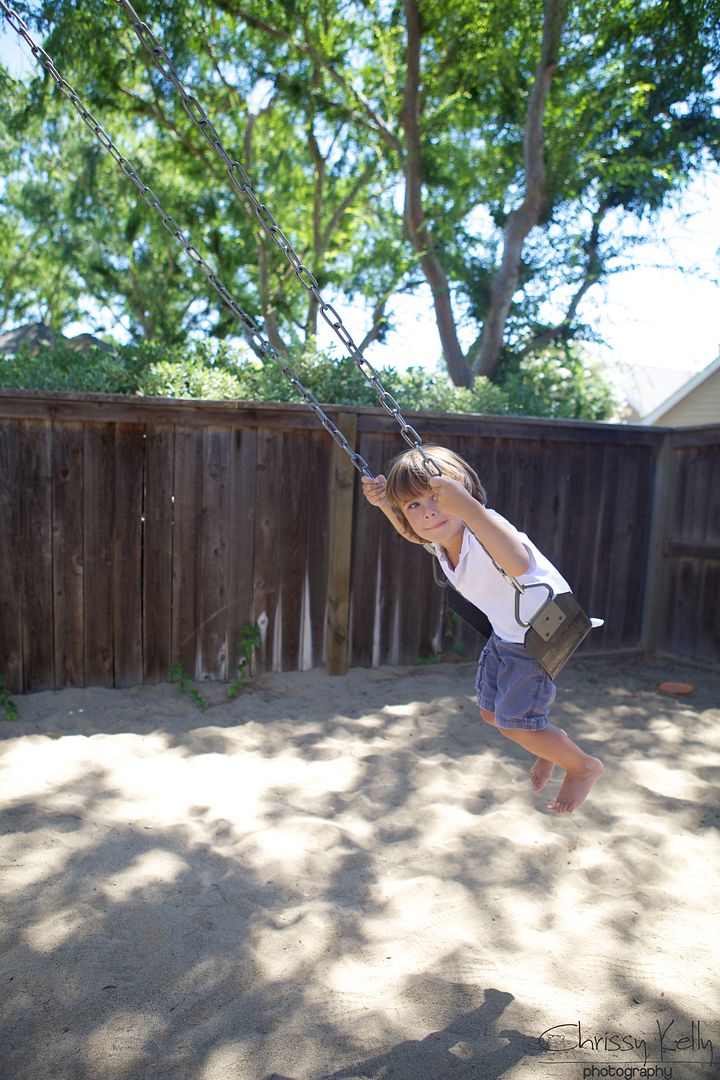 We stayed at their school for a little while so we could swing. When Greyson swings, he comes alive. I
feel
him with me. We share the same space. It's kind of the greatest.
But at night, I share my heart with you. My words travel the globe.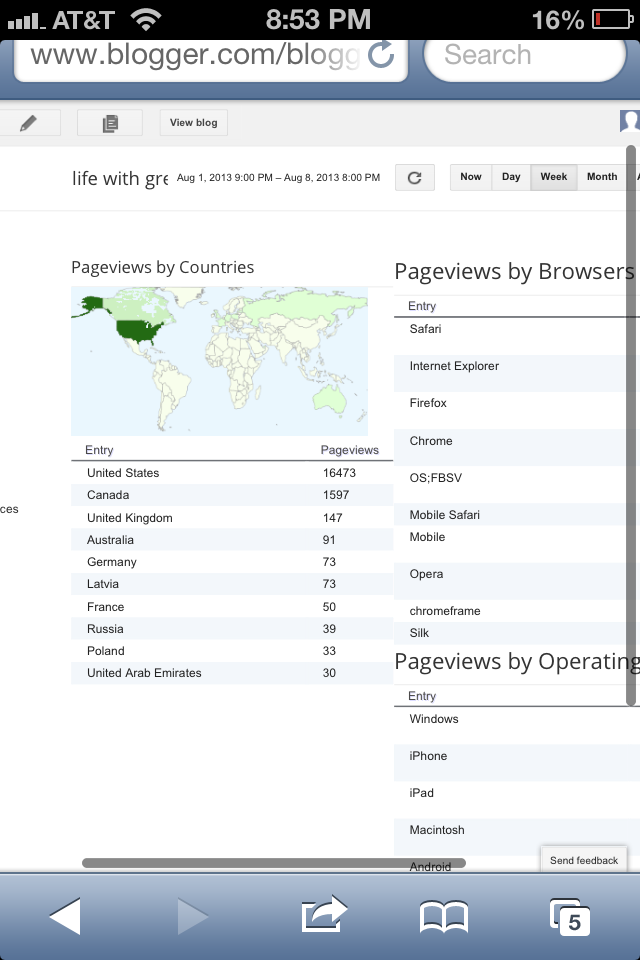 Here are our pageviews by countries for the week.
When I write, I share my day with you. I share my musings on Life and love and fear and shopping and autism and sadness and God and people and goodness. It is intensely personal and uncensored.
And if you love me, if I am your people, I am so glad we found each other. But if you have something to say that isn't kind or productive, I just can't afford to hear it. I'm so proud that my skin is getting thicker, but those comments still hurt me and distract me.
I've hurt enough, Friend
. Hurting is the downside of being so intensely emotional and expressive. When I get an unkind comment I feel like saying-
Let me into your home and your life. Let me witness you doing the work of your soul, so I can then criticize you --so you can see how horrific it feels.
And, here's the deal. God sent me the gift of Frank to my actual
home
- like a UPS package, because He knows I am here doing very important work, He knows I can't leave, and He knows I need inspiration and reminders of just how good people are. Yesterday Parker spontaneously gave Frank a kiss and the look on Frank's face is making me cry right now as I type. We have no family here, and honestly, Frank feels like family.
And Frank is not a
news story
. Frank is not the
garbage man
. Frank is a blessing from God and a recurring role and Family Friend now. There's a pretty good chance I'm going to write about him every Wednesday.
Author Byron Katie says, It is not your business to love me. It is mine.

So I continue to work on loving me, just the way I am.
And I realized today, that I grew. I get some of the most beautiful and amazing messages from you and I am changing the world for my boys and for anyone that needs it too. That's what is important.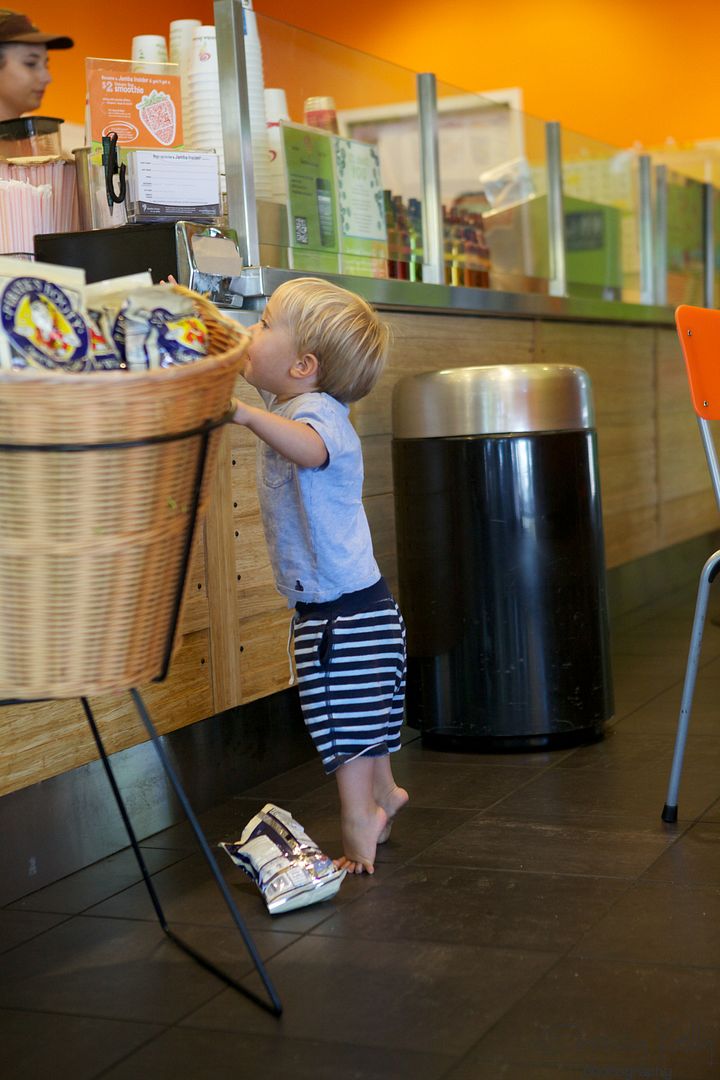 A very special blog reader Friend surprised us today with an extremely generous Gift Card to Jamba Juice for the boys.
Thank you so much sweet B
. People are so incredibly good.
I am so honored every time I get an email from a Mom the night before going in for an autism evaluation. She is so scared and I remember that feeling so vividly. I so desperately hope my words help. I hear from Moms reeling after they hear those horrible words,
Your child has autism
. These emails are very sacred to me. No matter what I am doing I make sure to write back. I do my best to hug them and listen via email. I hear from you with typical children who just GET it, how exquisite and excruciating life is sometimes. I hear from those of you without children. You don't need to have or do or be anything to come here and connect. You just have to
feel
.
You are so amazing. You make me cry. You show me more goodness and kindness than I ever knew was possible. I honestly love you.
So because of you, and because of who I am and who I want to be- I'm not going to talk anymore about the wonky comments I so rarely receive. I just wanted to talk about it today because it was on my heart.
I'll leave you with the true words of author Miguel Ruiz.
Be impeccable with your word. Don't take anything personally. Don't make assumptions. Always do your best.
Much Love,
Chrissy
Life with Greyson + Parker is on
Facebook