I woke up today a blank slate. I yawned and stretched. With one eye open, I reached for my phone to tell me what to do and where to go. As usual, I read comments and messages on Facebook and the blog. It's like my morning pre-coffee. And you and I sit and wax about life, although we wrote words at different times we connect. You enlighten me.
But this morning, someone pooped in my pre-coffee. Because I am SUPPOSED to think and speak and answer all things autism in a very specific way and apparently I did not do it right for this ONE PERSON.
And after an initial stew, I finally realized- GOOD ON ME. I don't want to think and write and feel and be like everyone else. I want to be my very own ME. The real version- not watered down for public consumption. I'm not running for office, I'm sharing my heart. I'm not always PC. I give direct, honest and thought-filled answers. When in doubt I always choose kind. People who take the time to point out what others are doing or saying wrong- are also missing out on all the greatness life has to offer. It's impossible to be a pain in the ass and judgey and jumping with intense happiness and joy. At the end of the day when I ponder about who I want to be and what I want to do- I am at peace.
We all have a choice. To censor and say what we think is the right thing so others don't take us the wrong way. Or to be our kind and honest selves, to tell the truth and let other people be responsible for how they take things. Their thoughts aren't our responsibility. That thought brings me peace. The potential reaction of their thoughts should not make you change you. For every one person who doesn't get you - there will be hundreds or even thousands that do, and they will appreciate it even more because they are getting to know the real you.
Parker's morning Behavior Therapy session was cancelled today, so I got permission to bring him to Grey's preschool to hang out in the younger kids classroom for a little while.
The second we walked in God's personal angel helper kid made himself known, and I smiled. Sometimes God's ways are in your face and not at all mysterious.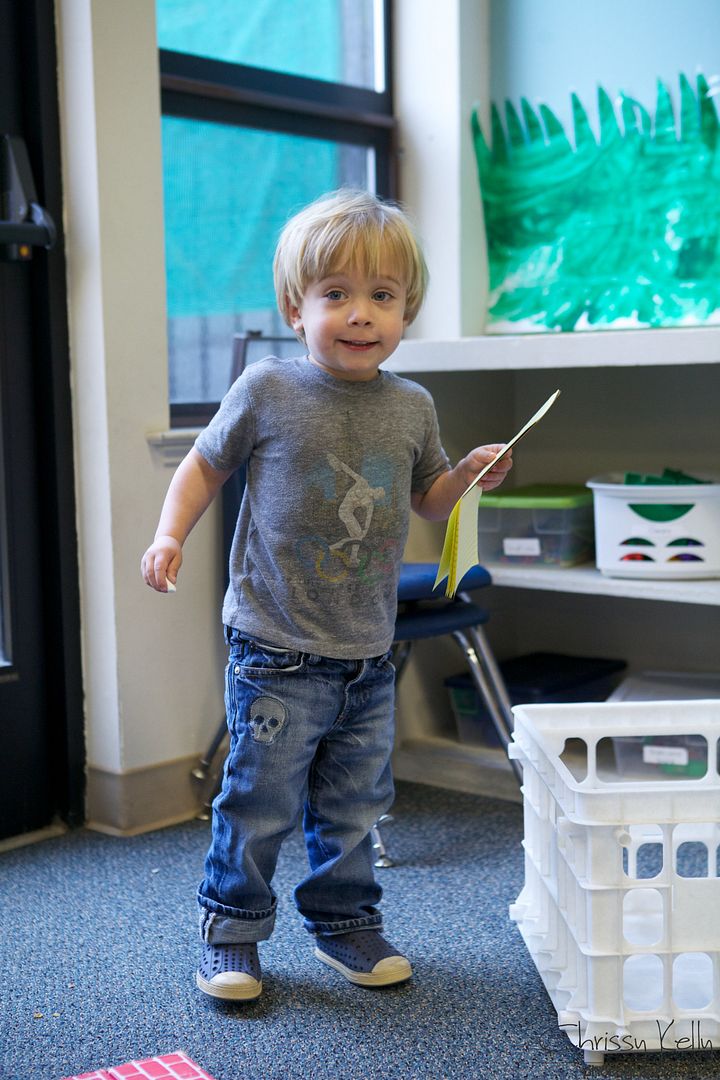 Oh this boy. Words can't describe the love for this boy in the world. We are crazy in love, I always tell him- because it's true.
It's strange to see Parker in direct comparison to a group of peers his own age. Today shocked me. It's different seeing it live versus knowing it from a text book. When I look in as an observer it's fascinating- it's just facts. If I had to guess I would say the other three year olds are most likely functioning at a 32-46 month old developmental level. When referring to developmental categories you are looking specifically at things like language, self-help, cognitive, sensory/organization, social, gross motor and fine motor skills. When you have a child with developmental delays you school yourself and become an honorary Rock Star on Childhood Development.
What was smooth as an observer was sharp as a mom. It sucked concrete thoughts out of my head and left me empty and pretending to function and smile and talk.
It's extremely easy to get engulfed in the pain of comparison. Not for the wrong reasons- like I want my boys to be the fastest or smartest or best for my own personal bragging rights. It's bigger and deeper and much more organic and maternal than that. It's one part irrational, one part fear. The Momma bear almost feels like she has to fight for her babies very survival.To see Parker's peers tracing their names and standing in line and sitting quietly on carpet squares and talking, socializing and functioning without an aid or parent. Despite the fact that he will be three next month, Parker is more like a 18 month old. And I had this moment, after one of the teachers asked a casual- How's it going? That I thought I was going to cry.
I had to reach inside to pull myself out of that place in my head. And I realized right then- There are gifts, right here and right now in this room. But here's the catch- the gifts are optional. It depends on if you want them or not. You have to be willing to search and dig for them sometimes. So I focused on what was. I opened my eyes wider for the silver lining.
It could be worse- I told me. He has awesome gross and fine motor skills. Some children with autism have to struggle and work on those things too. And although he doesn't seek out the other children, he is okay with being around them. He never tried to leave the room. There were many, many gifts when I stopped to think about it. I GET to be a stay at home mom and do everything I can for him. We get to spend much of our day together. I get to smother him with kisses whenever I want. And when I really thought about it- it was like Christmas with all these gifts lying around. I wonder if God is sitting up there all excited, just hoping like crazy we notice all the beautiful gifts he has laid out before us. And one of the greatest gifts of all- He was happy, friend. You should have seen his big blue eyes- they were so happy.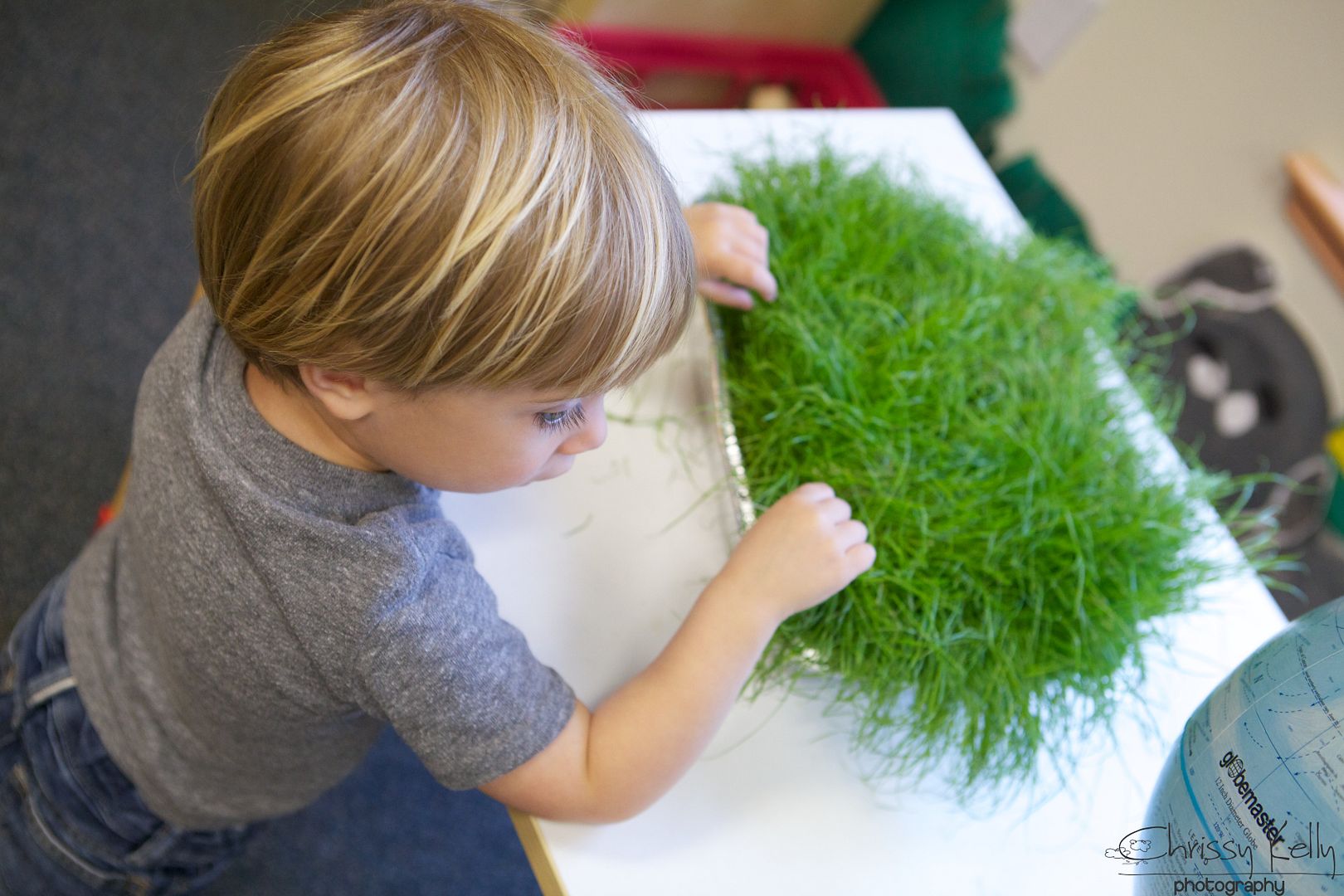 He loves to explore the world. How lucky am I to have a partner who loves to explore life as much as I do?
When you first are in a new situation, it's not always easy to find the gifts. I think at first there needs to be a process of pain and acceptance and processing and discovery. It's not typical for most of us to walk into a new and frightening situation with optimism. Yay! I have breast cancer. This is bound to be an enlightening experience!
No, no, no. For most of us- we must hurt and ache for as long as we need to. We may need to scream and cry and be mad at God or turn to Him for strength. There is no one right way- just the way that works for you. But somewhere during the murky, you start to come to again. That doesn't mean everything is rainbows- but you can feel the tingle of life in your fingers and toes again. And before you realize exactly what happened- you look down and almost stumble over a little box with a sweet little bow with your name on it.
It's funny- today I texted a friend a screen shot of the poop comment . She just happened to be in the area so we met at the mall and coffeed and shopped and tried on red lipstick- which heals all. As we were leaving I realized that whole interaction probably wouldn't have happened if it weren't for the crap comment in the first place.
Turns out, maybe even that was a pretty little gift after all.
So much love,
Chrissy
Like Life with Greyson + Parker on Facebook. Help me change the world!