I'm a list maker. Whenever I start to feel unbearably out of sorts in my head, I make a list and it makes me feel so much better up in there. Things get sorted and categorized and urgent voices get hushed. The items on the list are never as big and scary as they feel in my head when I get to hold them and rub my finger over their smooth surface. I've been listing like crazy lately. I need listers anonymous. Lists in my special lists notebook. Lists in my bedside notebook. Lists on spare receipts and napkins. On whatever I have around with whatever I have around.
You see, the thing is- I get scared. A lot. Autism has taught me that despite the scared you need to do it anyway. That makes me angry sometimes- because I like to feel safe and swaddled by life. I want to stay in this warm womb I've created. And there's a part of me that is just like that naturally- and there's a part of me that turned into that because of life. There's this post traumatic stress part of me that feels like I must keep everything exactly safe and just so- because I can't bear to have my mind blown one more time in any big or small way for the rest of this lifetime. I guess the whole of life is about scared but doing it anyway. So this past year- with shaking legs I've been going out onto the limbs to get some of the sweetest fruit.
It's time to do it again. . This weekend I'm going on a writing retreat on the Orcas Islands in the Pacific Northwest. When I first saw the announcement it felt like the best idea anyone has ever had in the world. I was certain God created it just for me. I knew I would have just received Parker's autism diagnosis, and I knew I would need the trip to save me. To remind me that life is big and I am small. To remind me to dream big and believe anything is possible. Taking time to think about whether or not to book it wasn't an option- there were only 25 spots. Kelle Hampton from Enjoying the Small things blog and the book- Bloom will be presenting, as well as Claire Bidwell, author of the Memoir The Rules of Inheritance. I knew the spots would go in an instant. Practical me wins over fun me in 9/10 arguments. But this time- fun me won. Fun me did penalty-worthy excessive celebration in practical me's face. BAM. Immediately after signing up it was the worst most horrible idea anyone has ever had in their life. And now that time has passed I go back and forth, depending on the day. Throughout the past 4 months there have been days the thought of this trip has gotten me through. Days when 5:30pm feels like midnight and I don't know how many more decades I can wait until bedtime. It's saved me from many, many moments of despair.
And now that it's oh so close I'm back to the worst idea ever. Sharing a house that sleeps twenty - and even sharing a room with another person. What if I need alone time? What if I have to poop? What if I miss the boys so much I disintegrate all over?
And now that I'm leaving soon everything they do is perfect and hilarious and adorable.
I could watch him eat frozen yogurt all day long.
The what ifs are killing me. 40-year old what ifs that never would have occurred at 22. Yes, I've needed to grow up- make good choices, spend money wisely and put others first. But where do you draw the line and just let go of control?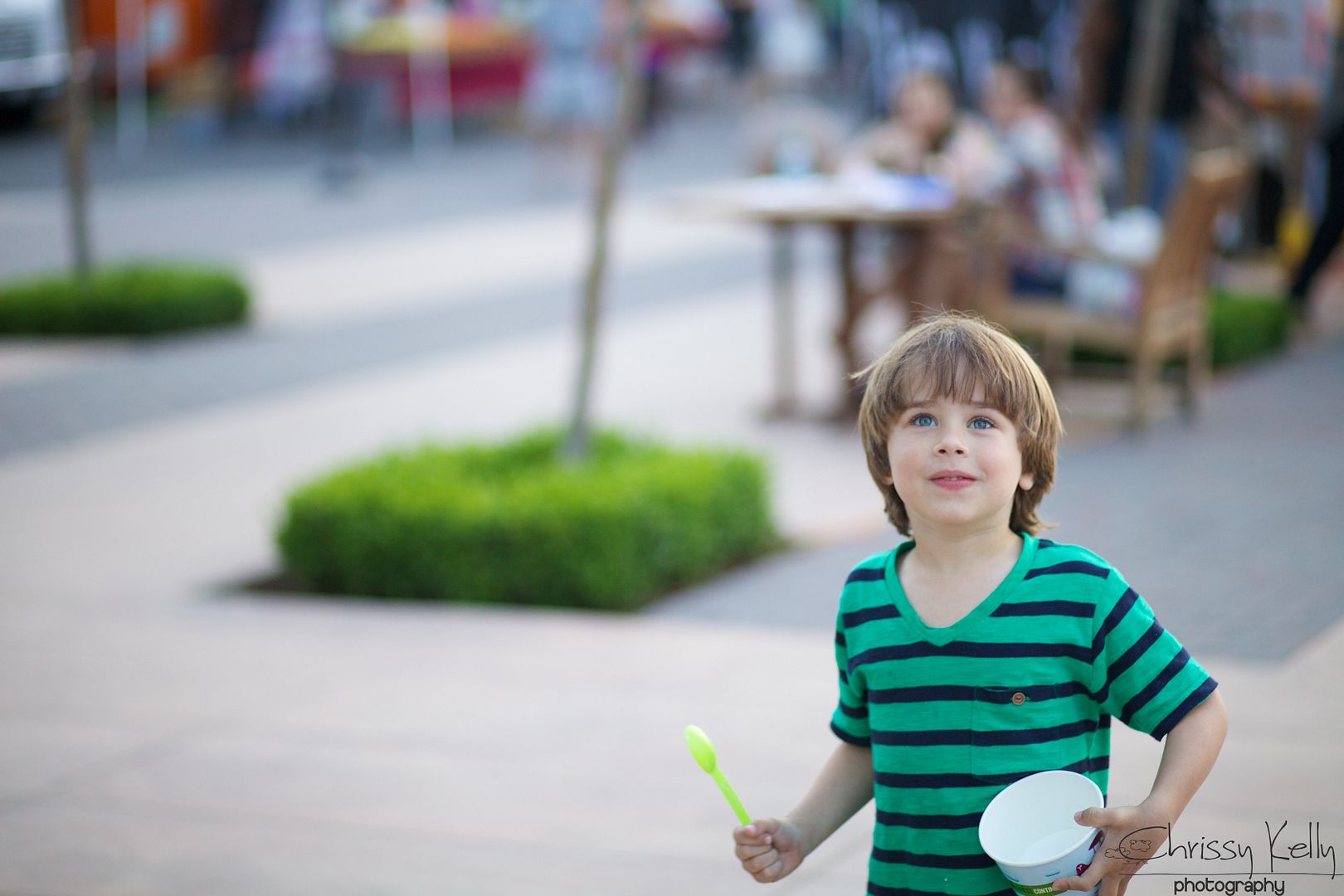 The time is now. For every one of us. The time to let go of the bad what ifs and turn them into good ones. What if I have the time of my life? What if I laugh so hard it hurts my stomach? What if I create incredible friendships that last the rest of my life? What if this adventure leads to many, many more?
Sometimes to change your world all it takes is a shift in perception.
I know, I know friend- It will be an amazing, once in a lifetime experience. I will come back bursting with life and so very grateful for the experience. Sometimes it just takes me a little to get there. I'll be sure and put Have fun on my list for while I'm there.
Big Fat Hugs,
Chrissy
Join me on Instagram @lifewithgrey
and FACEBOOK