The salty spray cascades down my sandy legs. My clothes are wet from a few energetic waves but I'm not cold, I'm warm from a blanket of adrenaline. I squint towards the horizon, desperately searching for my two hearts amongst a sea of surfboards. I feel happy and alive and as if every painful moment of the past few years has led me up to today and has been worth it. And no matter what happens in the future? Everything's going to be just fine.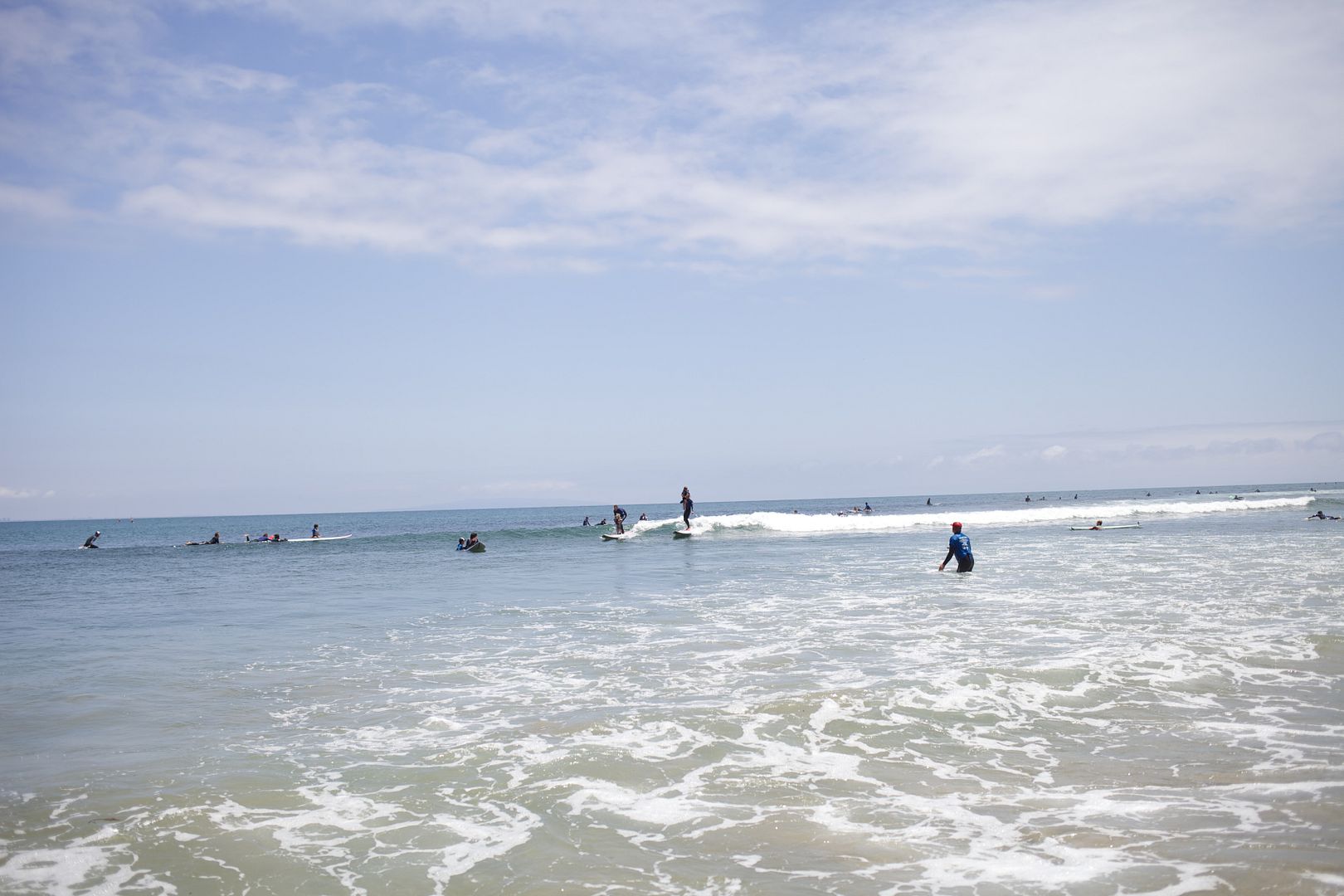 Except for
wow
,
truck
, and
chips,
22 month old Greyson still wasn't speaking. Every single day I woke up hoping THIS would be the day that the language explosion everyone promised would finally happen. His eyes, a beautiful blue that once locked into mine, were drifting off to sea. Every day he got further away, and I was desperately reaching my fingers out to him. I was scared because I couldn't stretch much further.
Our second son, Parker, was born and that slight divide between Greyson and I grew into a canyon. I set up camp in a place called denial so I could deal; it was easier there. Despite my disbelief we still saw a slew of specialists and started Speech Therapy and Early Intervention services through the state of California. I was excited for the day I could walk in to all those places and announce-
See ya later suckerssssss! Greyson was just a late bloomer, we're all good now!
That day never arrived. And a hole in my heart the day the doctor said, "
Greyson fits the diagnostic criteria for autism"
, grew bigger than the ocean. Grief became my wingman. I believed everything it told me, including we would never find happiness again.
Fast forward three years to now, and one additional autism diagnosis for Parker. Here I stand in awe of the Pacific Ocean as well as the enormity of life. I can't remember the last time I felt this happy. This alive. I pull myself out from deep inside my always thinking mind and force myself in the present. I feel so much that at times it's hard to make sense of it. I feel the sand on my feet and exhilaration in my chest. There's nothing better or more real than this very moment.
For Greyson's 6th birthday we signed up for a very special surf camp for children with autism.
Surfers Healing
is a non-profit organization started in 1996 by pro surfer Izzy Paskowitz and his wife, Danielle. They were inspired when they saw the dramatic and transformative effect the ocean had on their son, Isaiah. Isaiah has autism, and Dad- Izzy had a feeling that surfing might just be able to help other children with autism too.
It's not often that you get to see someone doing the very work of their soul. Someone who listened to that inner whisper and didn't let life's 'what ifs' hold them back. It inspires you to ask yourself-
what more can I do
?
While helping to heal these kids souls, I think Izzy is also healing his own too, as well as so many proud parents who have had the honor to participate in his surf camps.
We gathered Saturday at Surfriders Beach in Malibu CA, home of some of the sweetest, smoothest-breaking waves.
It was amazing to see the shore lined with people gathered for the very same reason as we were.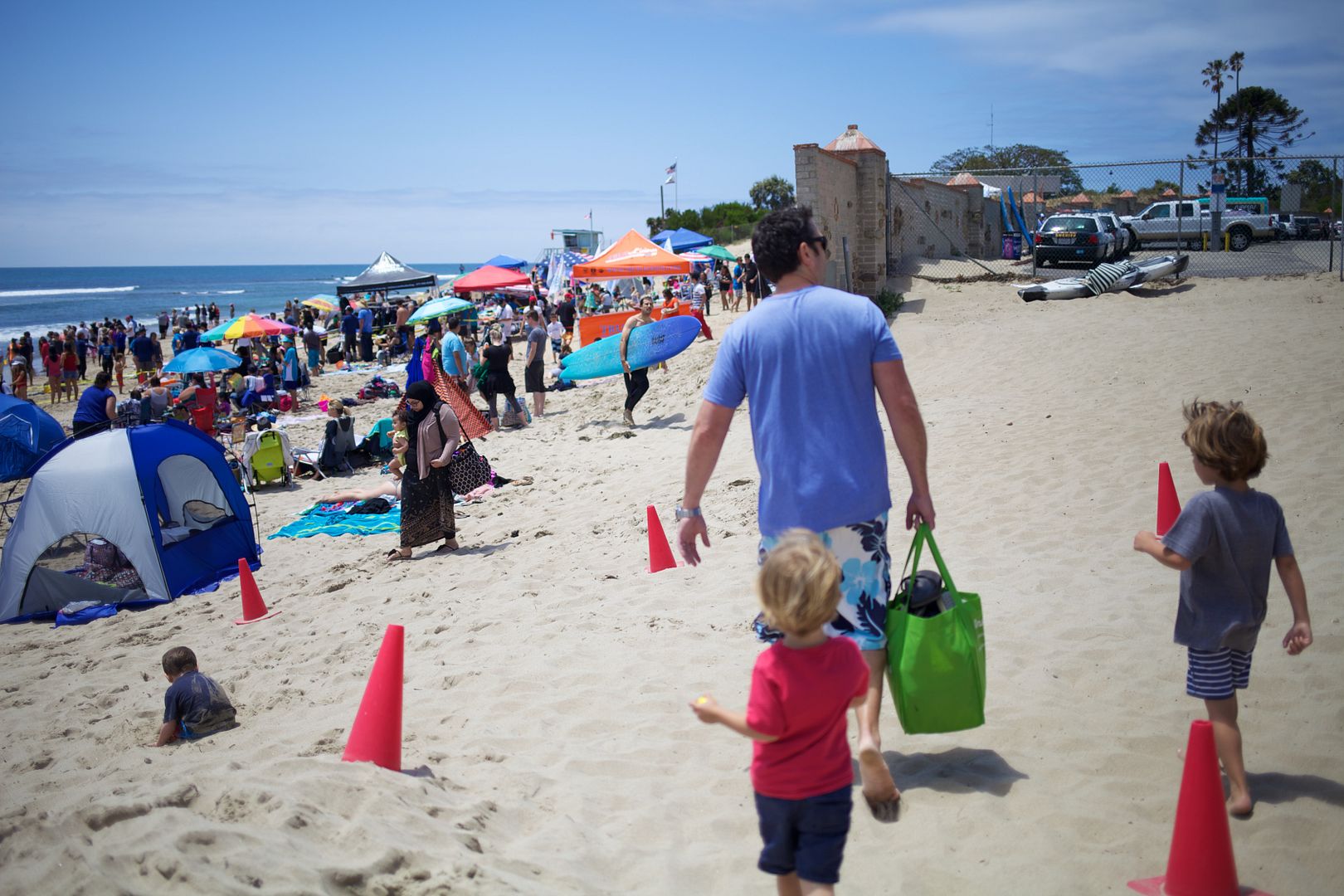 I love that on this beach, in this little slice of heaven -I am kind of the minority. I am in Spectrumville. I look from left to right and see and whole slew of kids- fixating, happy and flapping. It was amazing to watch.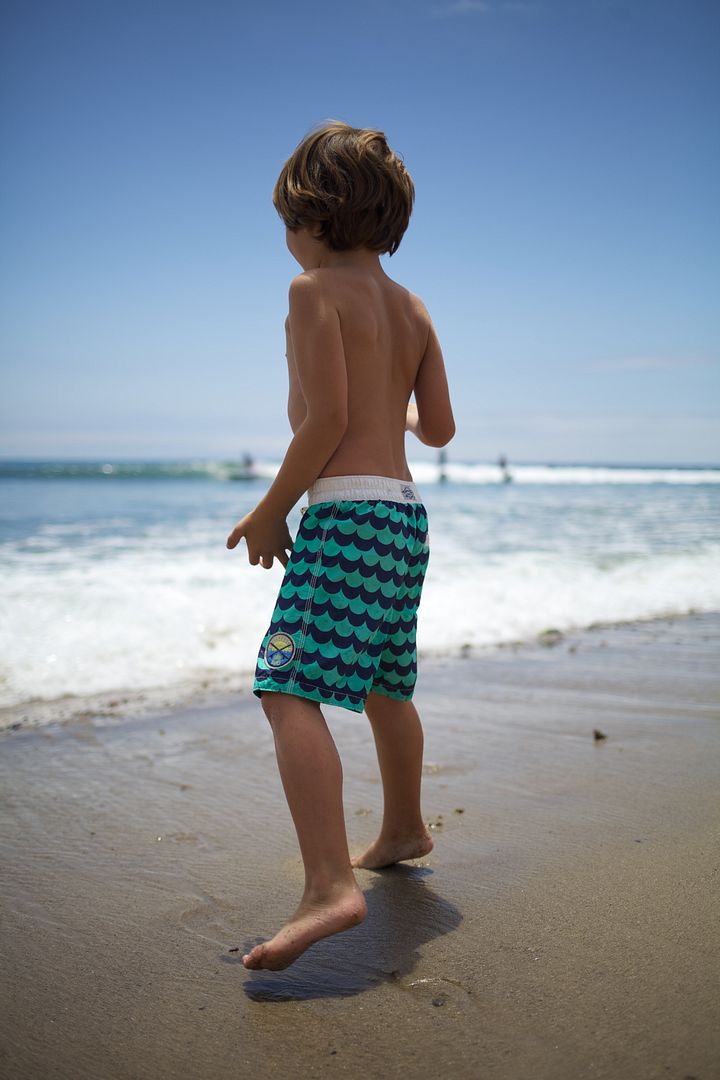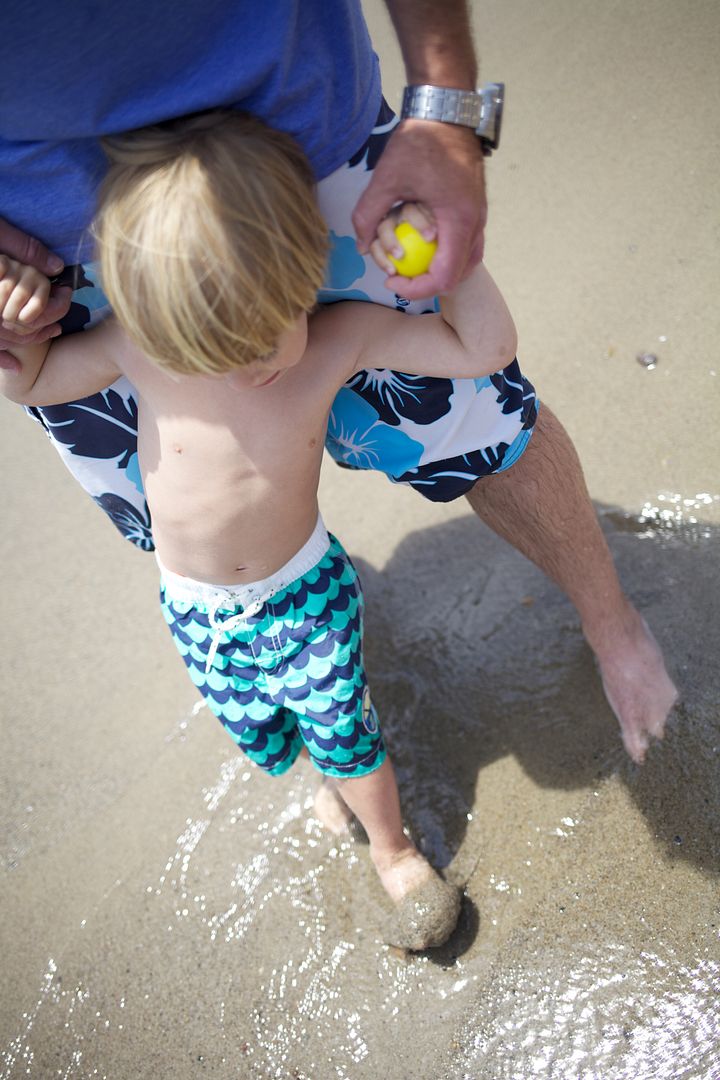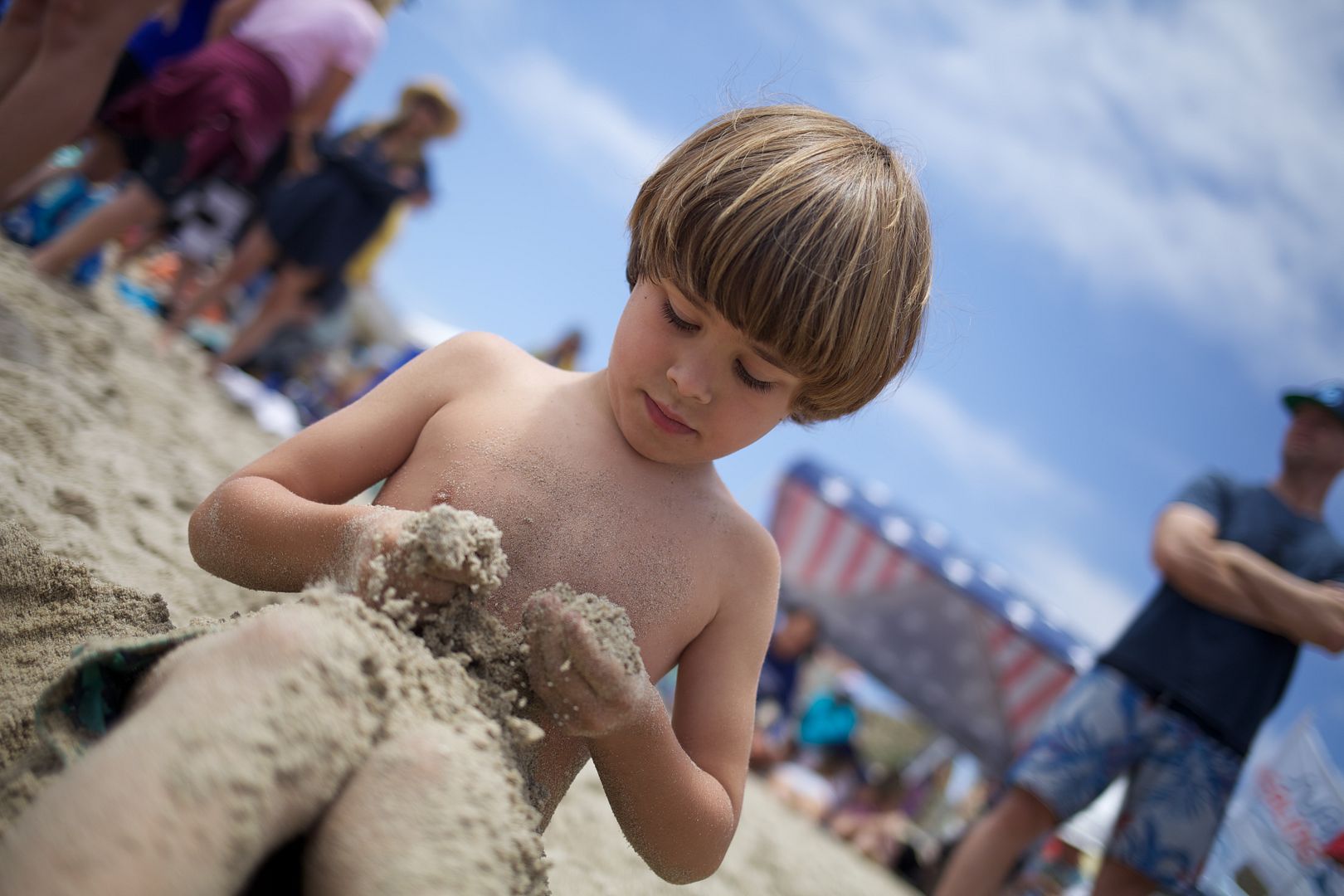 Greyson is in sensory heaven.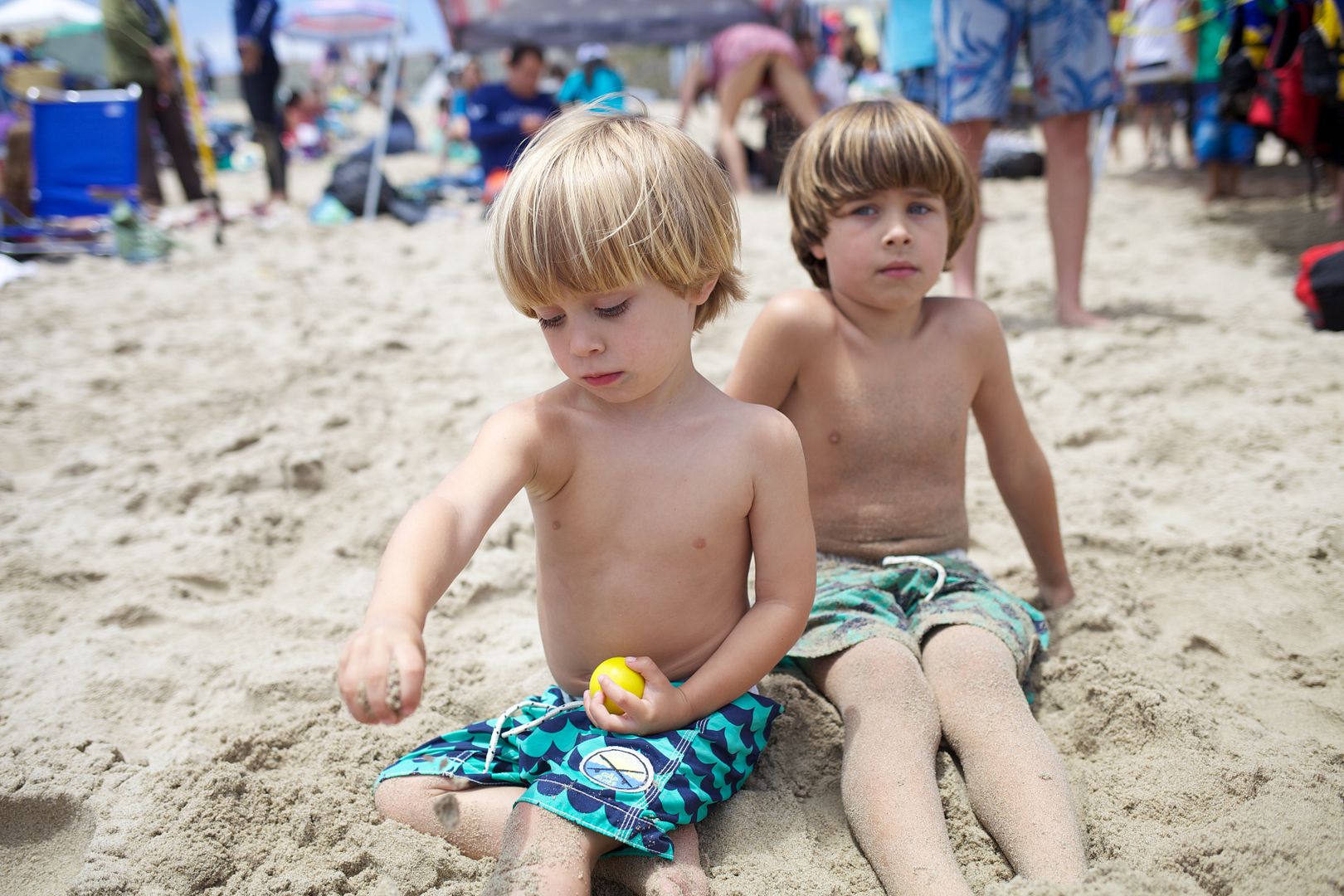 It makes Michael and I so so happy to see our boys so completely at peace and so happy. Every time we go to the beach it's feels like we are all encountering a long lost friend.
My throat gets tight and my eyes glisten as I think of all of the awesome volunteer surfers sharing their talent and time, wave after wave, all day long. They have some serious brass to ride tandem with kids of all sizes, paddling and balancing all that extra weight. Some kids screaming and crying, many are unpredictable. Some clawing to get their arms around their necks- to be held like little baby monkey (ahem -Parker). Some doing all of the above. There were also many kids who headed out scared, and rode back with grins as big as the ocean. And some who were just chill from the beginning. Here- anything goes.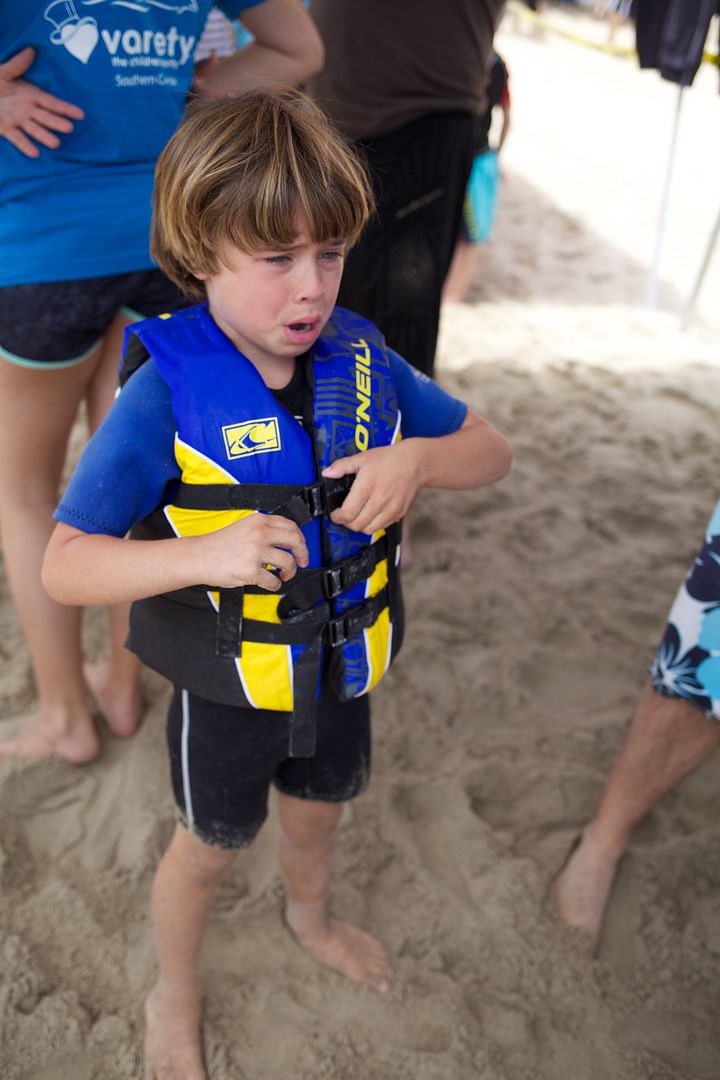 There were definitely some tears. Clearly both boys were way out of their comfort zones. The volunteers were confident and patient with them.
I see two tiny black specks grow into surf boards as they grow closer. Life is moving so fast I can hardly process as quickly as my eyes can see. In disbelief I realize BOTH Parker and Greyson are riding the same wave towards the shore, perfectly choreographed in synchronization. I'm shocked- I had no idea surfers could work such magic.
Did they work that out during the lull of the waves?
I wondered. (Check these rad little dudes out.)
I later found out the incredible surfers, Peter and Brandon, had no idea Greyson and Parker were brothers. They both just happened to grab the exact same wave at the exact same time. Trust me when I tell you God was there on the beach with every one of us, working exactly that kind of magic all day long.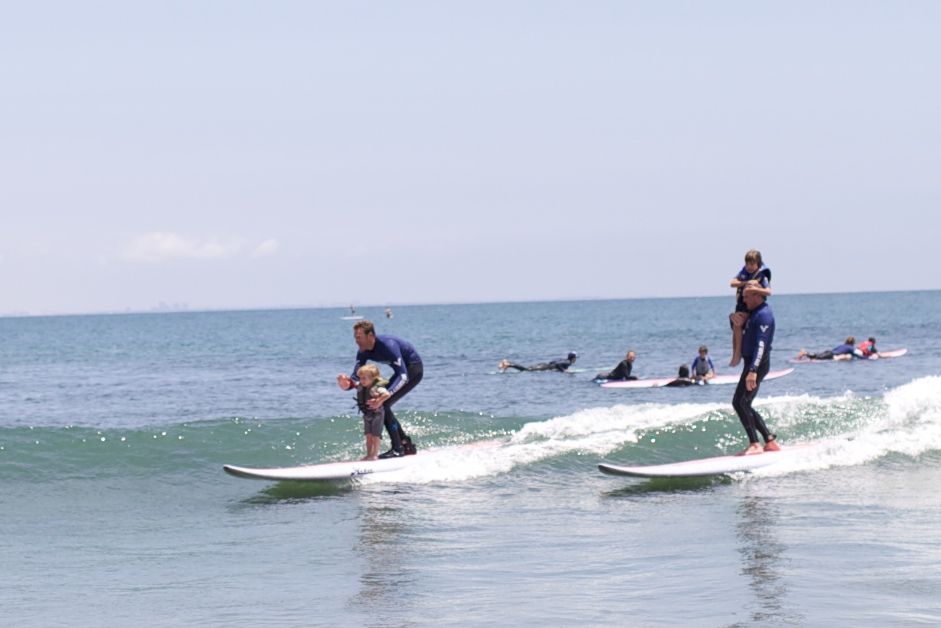 I can't even put words to the feeling of this moment. Both boys- same wave=Perfection.
(Awesome picture courtesy of Caryn Baitel- Thank you!)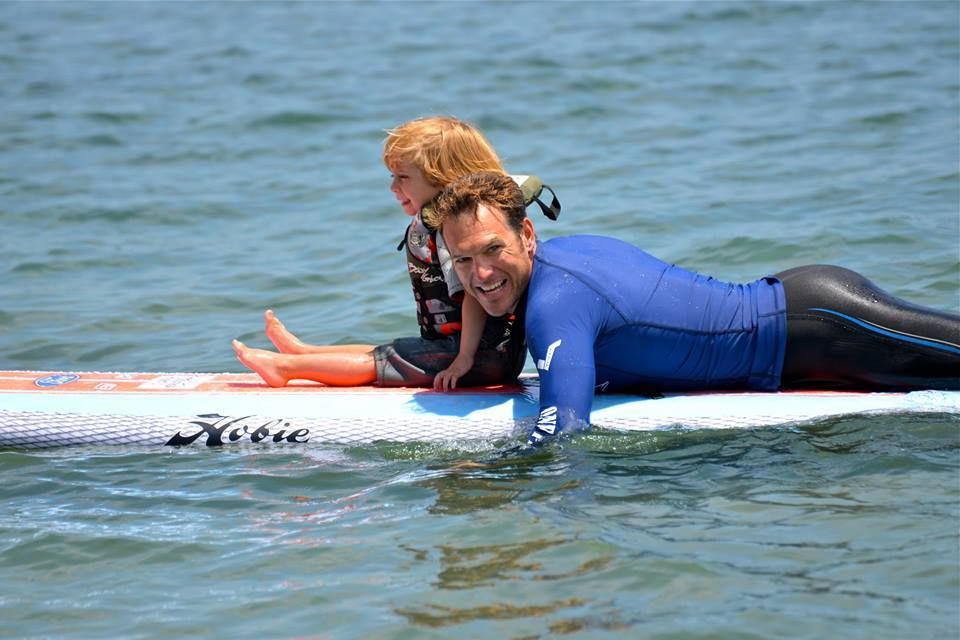 Picture by Caryn Baitel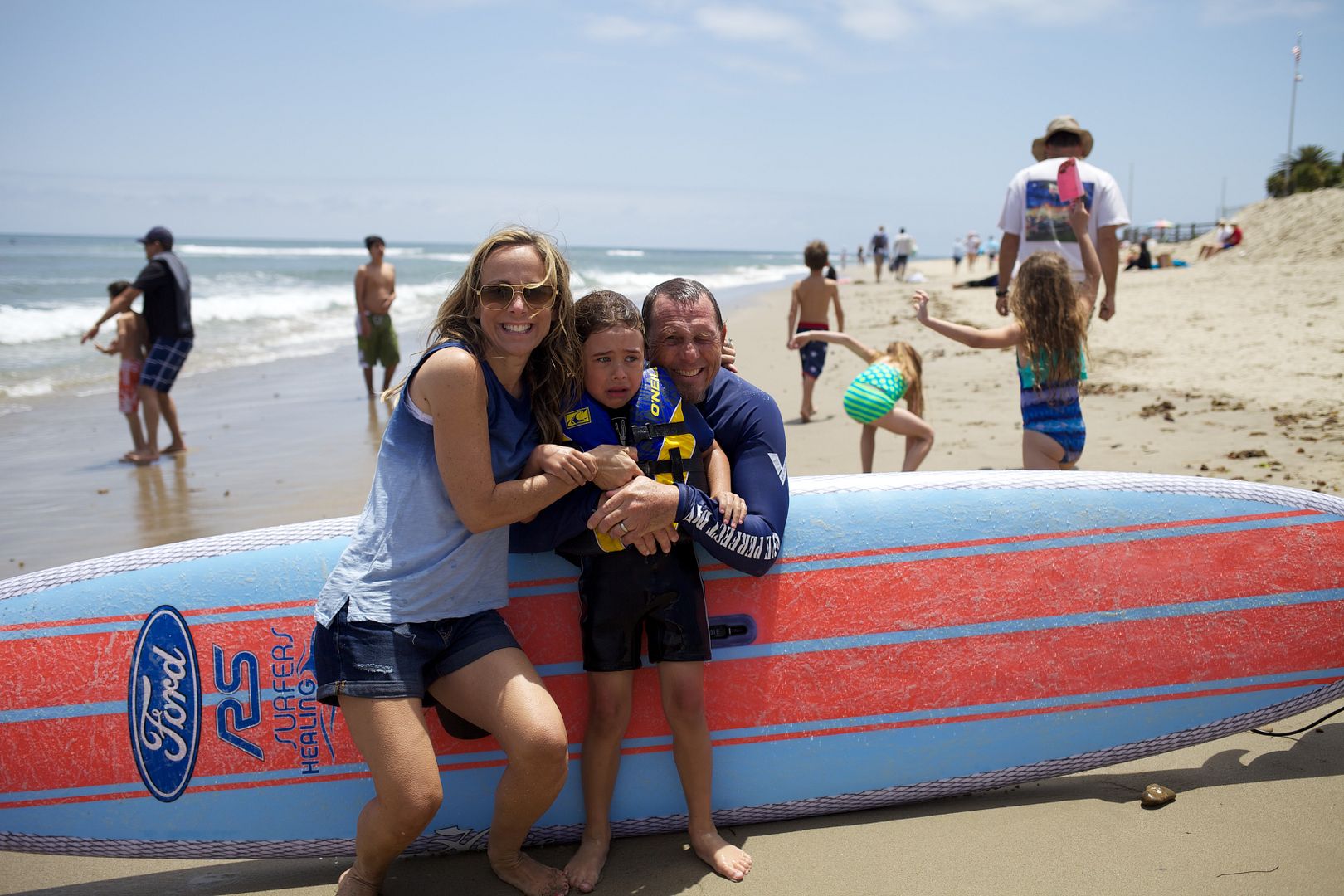 Pay no mind to the boy's sad faces, they were overwhelmed here- but they still had an incredible experience. They are like me- sometimes they just need time to process. And the volunteer surfers are FRICKING AWESOME.
Nothing could have ever prepared me for the pain that autism can bring. But even more indescribable is the immense joy that frequently threatens to make your heart explode right out of your chest- like it did here. I love my boys for cracking my heart wide open and teaching me what really matters in life. Autism can be so hard, but it also just slaps you on the face and cuts through the bullshit and yells --THIS. PAY ATTENTION. THIS IS WHAT LIFE IS ALL ABOUT.
Yesterday I realized that life and autism are a little like the beach. There are many people who go and hate it. They just don't get it. They complain that the sand gets all over everywhere, and they got a sun burn, and parking sucks. The water is cold and salty and hurts their eyes. Yet still there are others, they may experience some of those feelings, some of the time, but they pay attention to the good stuff too. They find the water cold yet exhilarating. The sand- warm and calming. The horizon hopeful. They relish the wave that sucks at their feet at the shore before heading back home.
No matter what your life's circumstances, make sure you find the good in it. It's there, I promise.
Izzy's take on surfing, found in his honest, hilarious, raw and heartwarming book
Scratching the Horizon
is also a perfect rule for life- "A lot of times, you'll see surfers hanging on the outside, sitting on their boards, waiting and waiting on the perfect wave, but that isn't the Paskowitz way... A lot of folks don't get this. Serious, kick-ass surfers - some of them just don't get this. They'll see me point for a nothing-special wave, and they"ll call out to me. They'll say, "Hey, Izzy, there's a much bigger set coming." But in my head I'm gone. In my head I know there's no such thing as a better wave than the one I'm on."
Today, June 7th we celebrate Greyson's 6 years on earth. I've learned more in these 6 years than the entire 35 that preceded. I'm emotionally hung over from our trip. I don't want to leave this little pocket of wonder and return to the sameness of our days. I'm infused with calm, and desperate to make some of yesterday's perspective stickier than the sand on our legs.
No matter what happens, I'm ready to catch the next wave, no matter what it looks like as soon as it comes along. I'm ready to ride it out. To borrow from Izzy- "There's no such thing as a better wave than the one I'm on."
A very very special thank you to Surfer's Healing, especially Izzy and beautiful mermaid Danielle. We are so grateful to be on this earth at the same time as you guys. Also- thank you to Brandon and Peter for taking such loving care of our little guys. If anyone would like to make a donation to Surfer's Healing-
CLICK HERE
. They don't charge a dime for their camps, and they need the generosity of sponsors and donors to make this kind of magic happen for as many families as possible.
Happy 6th birthday, Bitty G. You beat my heart. XOXO