I think about it
alot
…how important Mom-
ing
is to me. I try to take inventory here and there and define and redefine the answer to
What makes a good Mom
in my soul. We owe it to ourselves and to our kids to do that every so often. Since it's my full time job, I need a business plan for it...A Mission Statement.
Today I will stretch to be On Purpose. Since my job is a stay at home Momma, I will be an On purpose Mom today...It's a philosophy I am trying to adopt. I am not just going to try to make it through today, I'm going to savor it.
In order to be an
OPM
,
I will focus on the
Now
when I'm with them. I will give them my full attention. When I am with them- I will be
with
them
. I will put my phone away when we are at the park…I will go down the slide with Grey because it makes him happy. We will do bubbles and sidewalk chalk because that's how G defines magic. I will stay off the computer and phone and
be
with them. I will not check and recheck how many people have stopped by the blog (but in case you're wondering- Monday we had almost 600 people here. That's an all time daily high!)
Yesterday we took a bath during the day...for no other reason except they love the bath....and oftentimes night baths are more about getting clean in a hurry and less about playing...
I love his little puppet mouth.
Grey, I am totally showing this to your future girlfriends, if I ever let you have one.
I'll try to say
get
instead of
have
more…I
get
to give
Greyson
a bath….…I
get
to help run ABA programs. They are joyful things that could easily be turned into chore mentality.
I will take pictures to be On Purpose....I find when I take pictures I do more things that are fun....because who wants to see pictures of me cleaning the toilet while the kids watch Yo
Gabba
Gabba
? Anyone?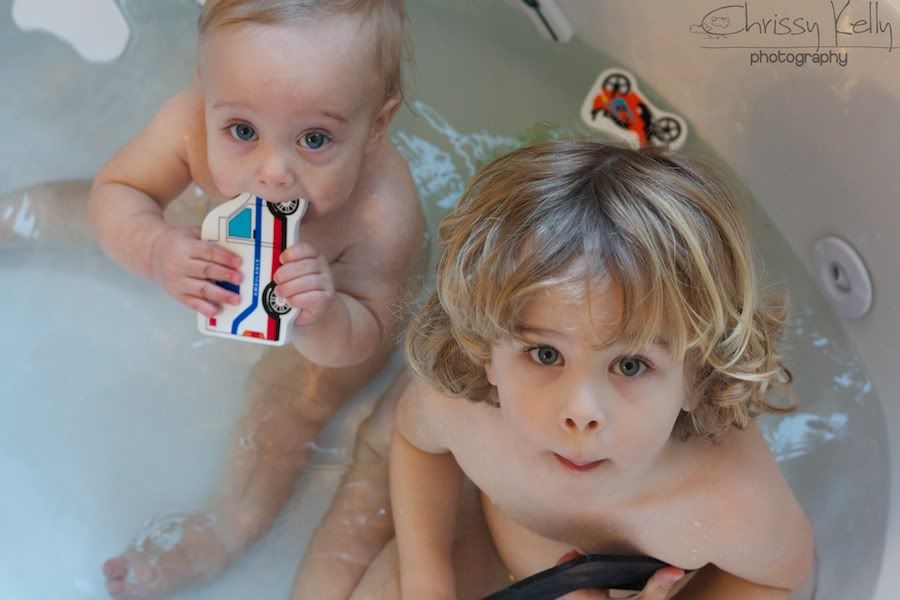 Look how good his Eye Contact is here. We work on it every day, all day using ABA methods. Most Spectrum kids don't like to make eye contact. Early Intervention is awesome because it makes it easier to reverse some Spectrumy Behaviors like lack of eye gaze.
I will act as if.
Some days I feel overwhelmed. Some days I feel not good enough. Some days I compare myself to others and feel as though I fall short. In these instances, I will act as if …
I will act as if I am not overwhelmed….I will act as if I do feel good enough….I will act as if I don't fall short… And I find, when I act as if…..I actually start to believe.
Whatever you find yourself doing today friend...I hope it feels on purpose.
Happy Friday!
I think I like you. Do you wanna be friends? You can find me on
Facebook
...