Sometimes the hole gets bigger...and I feel like I was practically assaulted. Like when I see T-Ball pictures trickling down my newsfeed on Facebook...and in that instant I feel sucker punched by sad, and I want to never go on Facebook again so I never feel that again... But I can't exist in a bubble...
But I want to go there...a World where I can experience those kinds of things and take them for granted- because I would...I would assume it's a parent's right to experience that kind of stuff- like T-ball or random Zoo play dates...because it is... It's just not my right...
And so I repeat my words that seek out the sad and make it feel better...
Listen toots...There is unfathomable greatness in your future... It's gonna be alright.
Mostly I run because I hate not running more than I hate running... Make sense? Good... Some nights I am a weightless running feather fairy and I can go far and forever...but many nights I am a pot belly pig with leg weights clomping along...
I love having have run...Past tense...
And I feel like I am Greyson now that I am relearning how to run...So many of the things he learns feels so foreign to him...and he has to work so hard to grasp concepts we find simple... And so when I start to think- I'm gonna just quit running and find a new exercise- I think of Greyson- and how he can't quit...
Quitting isn't an option...
I picked Greyson up at typical preschool today... The kids were in the Chapel preparing for an end of year program...
Grey was going nuts over this drum set in a glass case... Shaking in his shoes... You better believe we are buying a real deal drum set this weekend...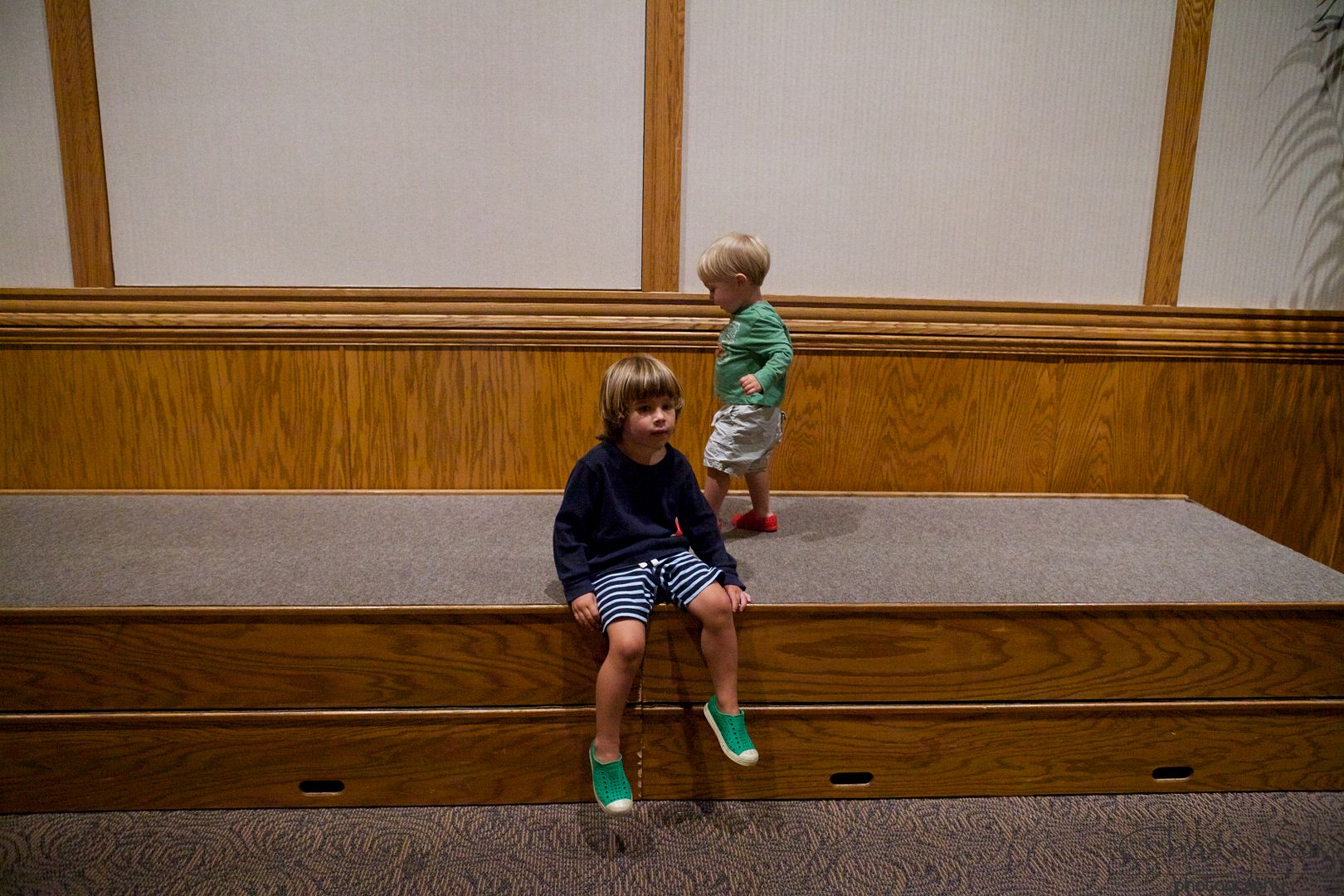 Parker went up to the cross and knocked on it... If you recall in speech therapy knocking means open... God- Parker's knocking- can you please let him in?
I was on a mission to find the right pair of barefoot shoes today... Impatient and obsessed are alternative words that could also be used...
Right after I picked up Grey- and before Speech Therapy we made a little stop at a local running store... No dice... But they had this awesome treadmill/camera setup because apparently I'm not the only screwed up non-runner- runner in town...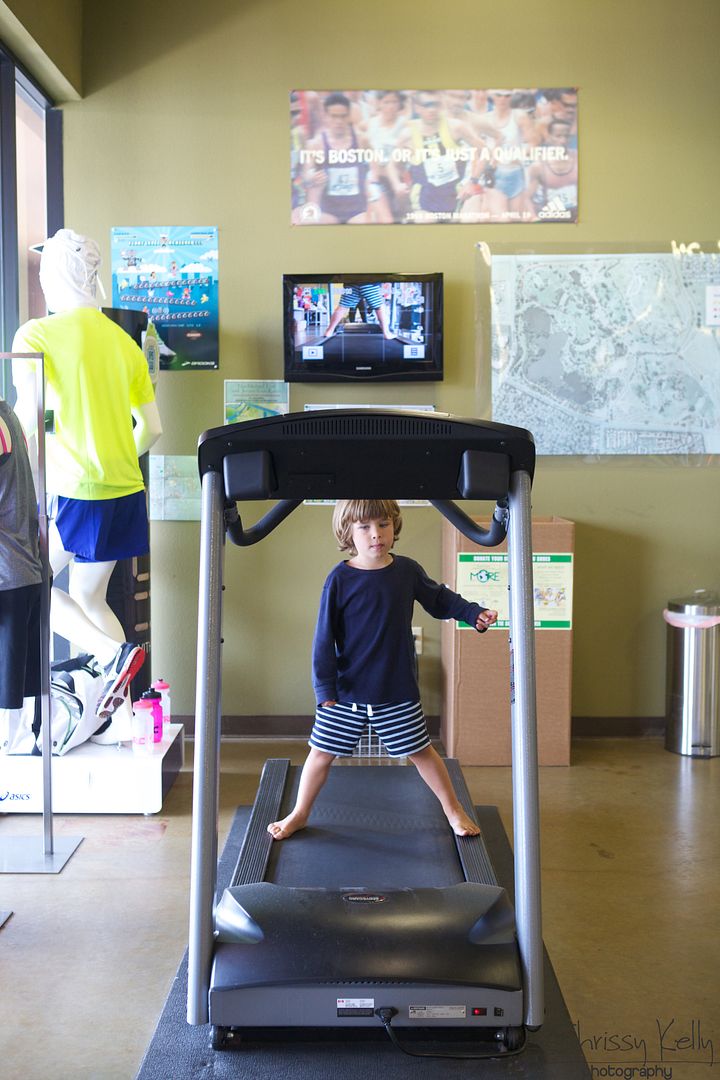 In speech Grey drew some more of these guys...
And I added my own smiling mouth part...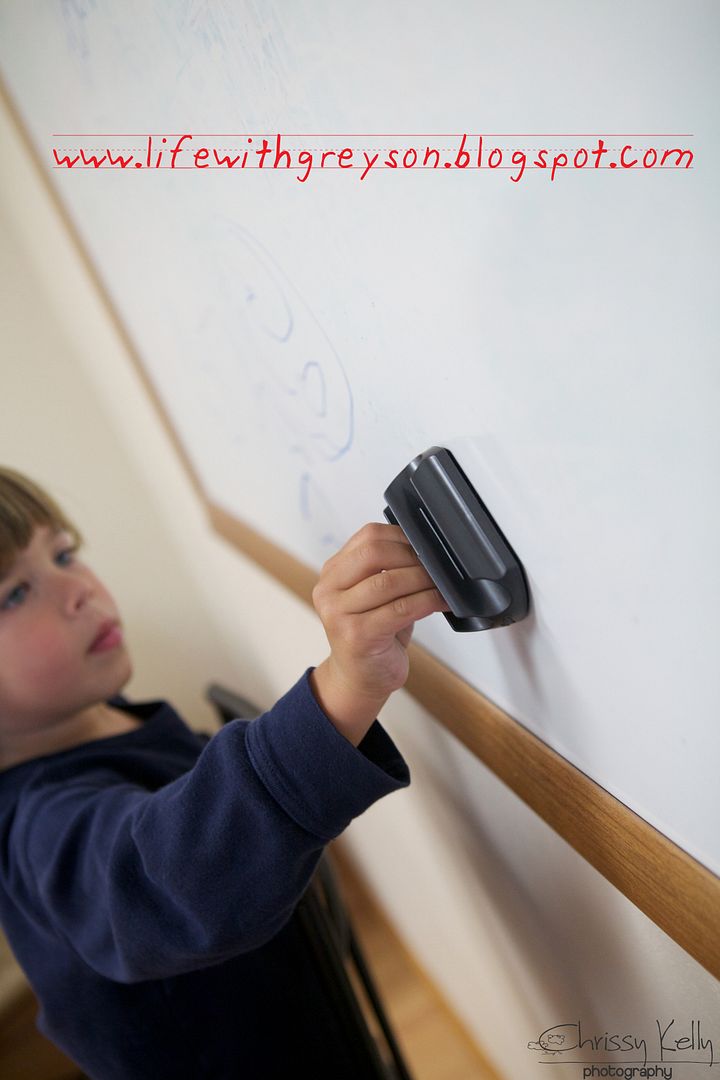 Going to Speech with Grey is my favorite...Hearing him say words is my favorite too... Maybe I don't have T-ball, but I still have opportunities to watch him shine, and in Speech I even cheer out loud...
And after Speech we made a quick stop to REI to look for those damn shoes...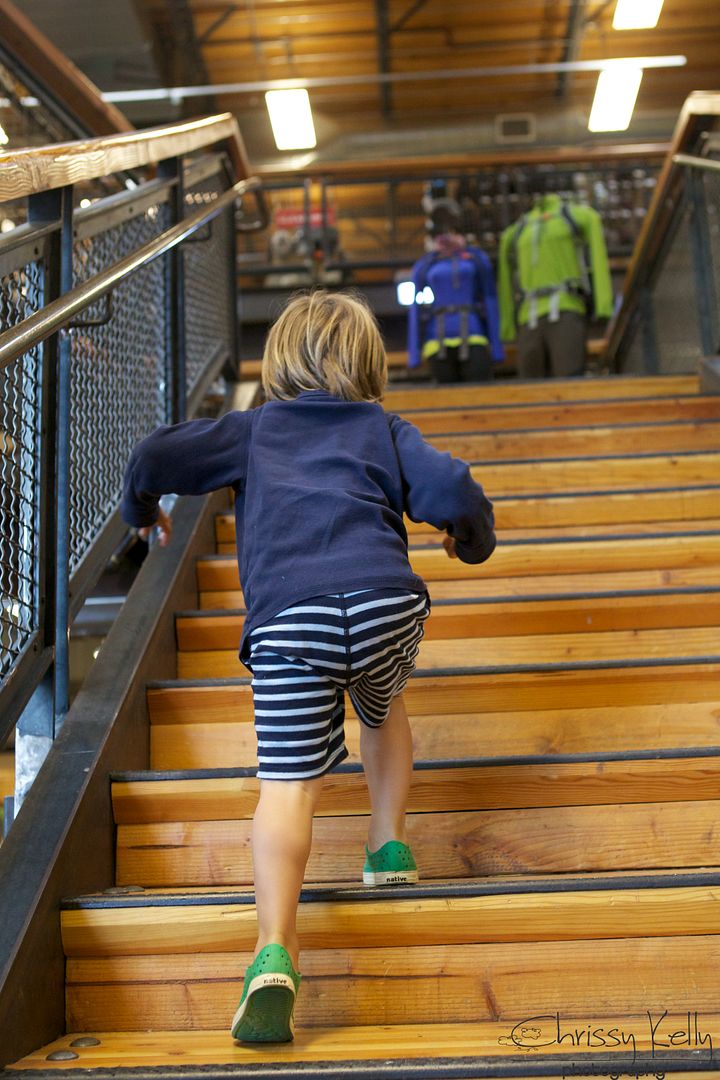 Greyson loves to explore and he wouldn't stay near me- so I would quickly try on some shoes- and then I would actually get to test them out as I ran to grab him...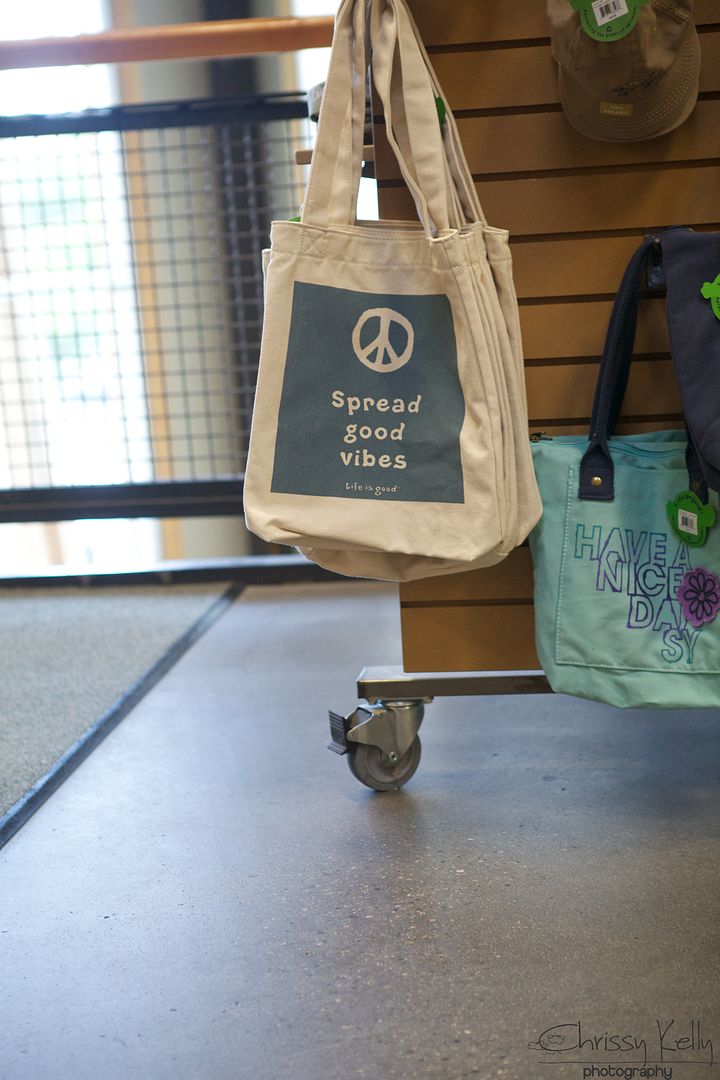 And I am now the proud owner of this ugly guys... so ugly in fact, they are almost cute...If you live in Fresno and see me ridiculously and improperly running on the side of the road- feel free to yell out random insults at my shoes.
When it was time to leave the store, Greyson had a tantrum... Usually he will scream for 5 or so seconds and it's over- not a tantrum but a melt down...but this one was bigger... He was screaming because he didn't want to leave...If I didn't hold onto him- he would bolt... So he was at the cash register with me screaming....
blah blah blah blah save $11 dollars, says the cashier... I'm sorry- I can't hear you?
If you want to sign up for our rewards program- you will get $11 worth of points in your account- which at the end of the year (long explanation) so for only $20 (more long explanation)....
I just stood there listening to her and to the screaming and then finally said- No- no- no thank you... I don't want to save $11- I just want to pay... I wanted to say- DO I LOOK LIKE I HAVE TIME TO SIGN UP FOR YOUR STUPID COSTS MONEY PROGRAM? PROGRAMS SHOULD BE FREE AND WOMAN WITH SCREAMING THEIR FACE OFF KIDS SHOULD NOT BE BOTHERED ABOUT FILLING THINGS OUT.
For someone so little he sure does scream loud, she says...
And for one second I thought about telling her that Grey has Super Powers...but I only would have done that so she didn't think I was a bad Mom or that Grey was just a bad kid...and honestly? I really don't care what kind of Mom she thinks I am- and the fact that I can say that- and at least for today know it's true- makes me happy...
Every single child with Autism is so completely different. Many of them have tantrums or melt downs - but to varying degrees- no two are the same...
Greyson's tantrums are stressful- but I hear of others experiencing much worse- so I feel lucky. Since Greyson didn't want to leave REI- he tried to run away from me...and when I picked him up he bucked and tried to get down... He tried to hit my face and he screamed and screamed...It's the kind of scream a Typical child reserves for when he is in danger or hurt- it's loud and has so much intensity... Grey's face was red and he was crying...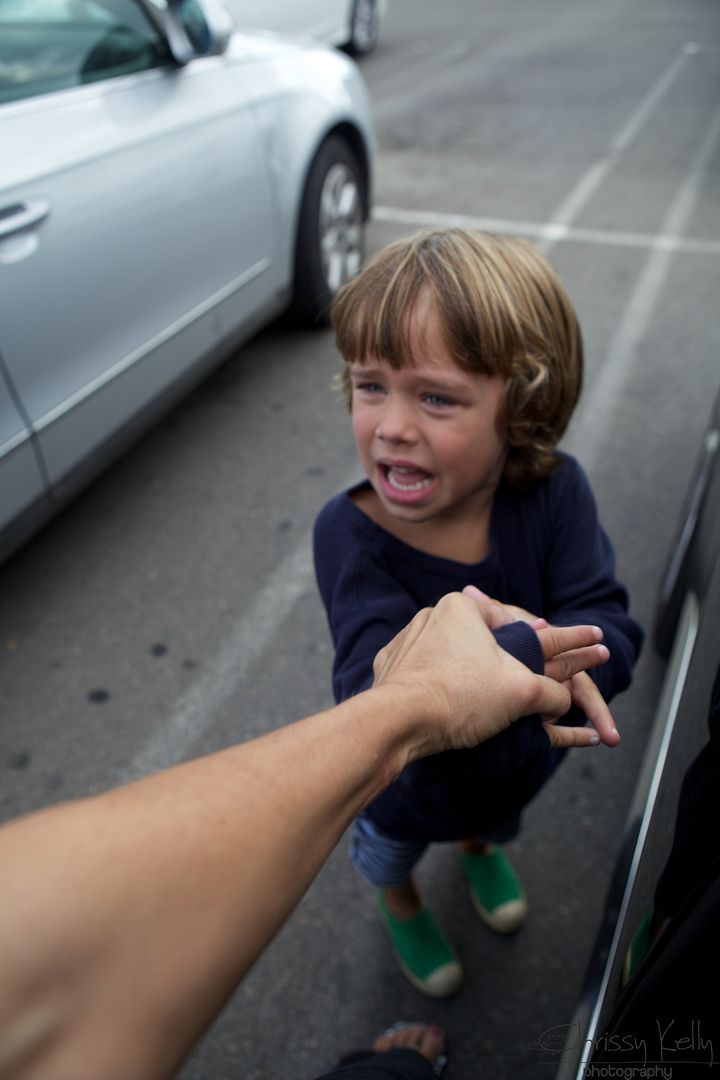 Sometimes when Grey melts down I get angry with him- but sometimes I can tell that he is not OK in that moment and I just don't get mad... I feel a little scared and a lot sad... In those moments- when he is sweating and swatting at me and there is fear in his own eyes-- I don't discipline him... I just squeeze him tight and I rock him and I love him so hard that my eyes are watering as I tell you this right now... I want to make it better- I want to take it away...I just want to help him feel better.
There is unfathomable greatness in Grey's Life too though, so it will be OK... Doodles too... God and I will make sure of that. I think in fact, that might have been what Doodle was knocking for...
Love,
Chrissy
You, me- Life with Grey and Facebook...