Once upon a time I was a single girl living in Hermosa Beach in Los Angeles, California. LA is where I met the husband, got married and then had one precious baby boy named Greyson. We moved from Hermosa to the Central Valley of California just 3 years ago.
It's kind of like Spring Break all the time in Hermosa. On occasion during the weekend I found myself attending an organized pub crawl. They began early, often around 11am and went until the wee hours of the night, although I never was able to make it that long. I'm not a big drinker. You would bike with a group of friends traveling together from bar to bar.
And that's exactly what I did tonight... except instead of bars, I went from grocery store to grocery store. Yes, that's what I did with my 2-hour babysitting window. I went to 3 grocery stores in all. It was just like a pub crawl in Hermosa, but instead of riding my bike, I drove. And instead of getting sloshed, I got groceries. And instead of looking cute, I was sweaty and unshowered. And instead of being surrounded by friends, I was alone, yet happy.
Bob Dylan was right...
The times- they are a changing.
And here I am now, simmering in my so called life. I'm wondering what I did to deserve it so good. And I'm grateful that this moment is perfect and even more grateful that I have the ability to recognize it.
Enjoy every moment
is not something that will be muttered from my mouth. Some moments are forgettable. Some moments are painful. Some moments deserve do overs. I think the key is being able to recognize the outstanding moments as they play out. Give them a standing O and ask for an encore. They will come back around.
Come gather 'round people Wherever you roam
And admit that the waters Around you have grown
And accept it that soon You'll be drenched to the bone
If your time to you Is worth savin'
Then you better start swimmin' Or you'll sink like a stone
For the times they are a-changin'
Sometimes God reveals the world to us in layers. I usually think I want to see it all at once, but God knows best. The layers don't always make sense until we see the big picture. Sometimes the big picture takes months or days or years or even a lifetime to make sense. Don't wait for the big picture. Enjoy your current birds eye view.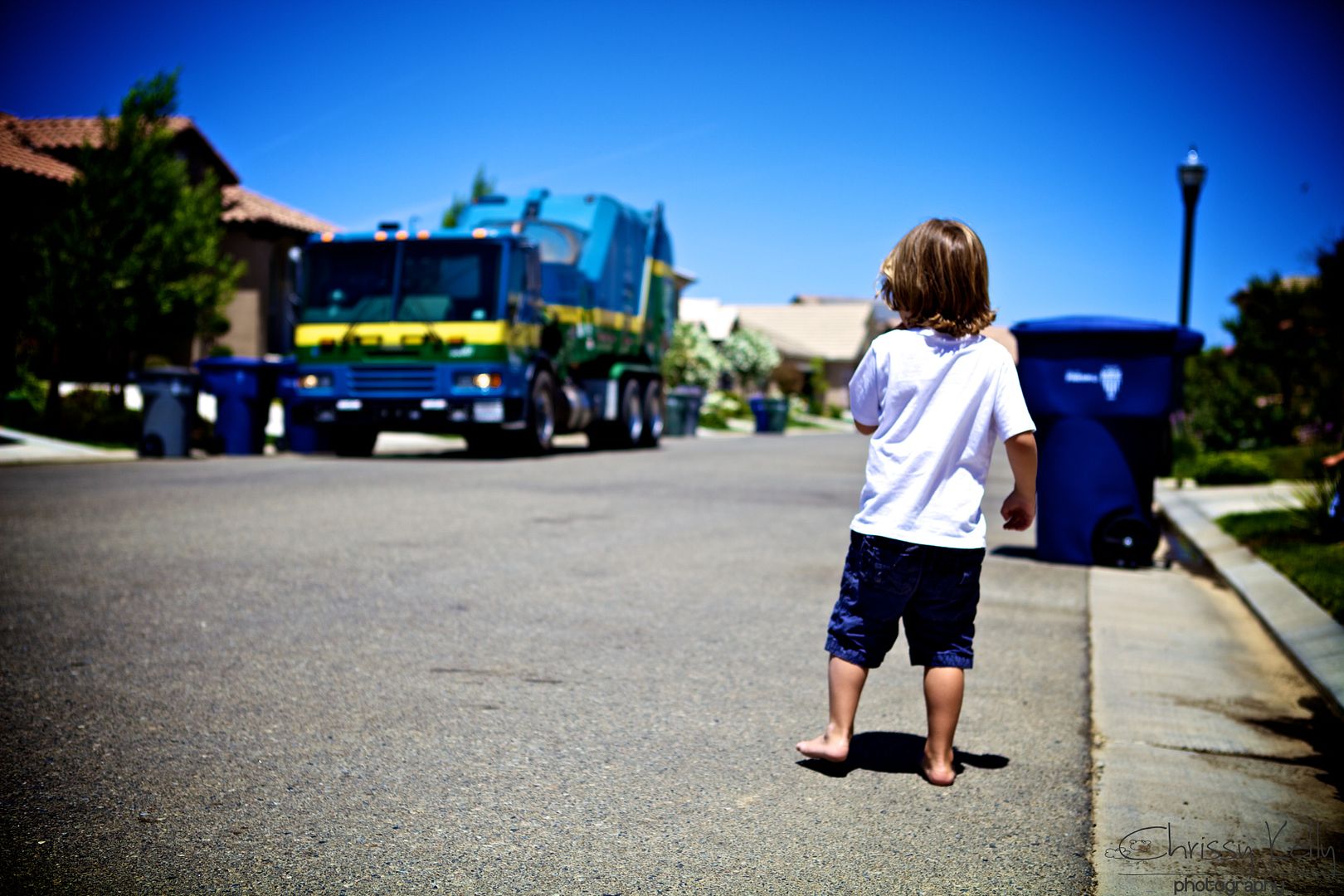 If you haven't yet- please read the
People are Good post
written last week. I shared that post with the folks working for the City of Fresno...and last night I was humbled and touched to receive one of my favorite emails ever.
Hello Mrs. Kelly,
This is Frank, your City of Fresno green waste driver. I had to let you know that my boss did make it a point to make sure I received your beautiful story, and how touching it was! You are so right when you said "you have no idea the impact you have on a Wednesday". I truly had no idea. Your story moved me to tears as well as many others throughout the City. Words can't express how it touched my heart and how it brightened my day. Also, your pictures are outstanding! You seem to catch the very essence of life. I think I will print out the picture of Greyson sitting in my truck and post it up in the cab, to remind me every day how precious life is. With so much negativity in today's world, experiences such as these are so uplifting. My wife and I took the time this evening to go to your blog site and read about your son Greyson and your wonderful family. I can tell that Greyson & Parker, have such a wonderful, special mom and dad and you have two special boys! Like you mentioned in one of your blogs, they truly are Gifts from God! Even though this imperfect world hands us challenges that we don't ask for, our Heavenly Creator can help us meet those challenges as long as we rely on him for that help, he never expects for us to carry the load on our own. As long as I am the green waste driver for your area, I will continue to look forward with expectation every Wednesday to see Greyson's smiling face.
Frankie
And Friend, it's just so good it hurts. All of it... At the time Frank thought he was making one little boy and his Mom happy, but over 7,000 people read the post and were touched by his gesture. We all have that ability to impact a life, we just don't always get to see how it plays out. There's just so much I want to say to you about the beauty in the world that my words get all jumbled up and my throat gets tight and I just want to cry. God creates direct paths to people we are meant to meet. Opportunities for us to inspire and be inspired by. It's so easy to go through life choosing to look down and just going through the motions. I wonder, has life always been this painfully beautiful, or am I just noticing it for the first time?
Today, look up. Engage. Every person can be an opportunity to connect. Be open to the gifts that are being sent your way. You deserve it. And like Frank said, know that whatever load you are carrying- you don't have to do it alone.
So Much Love,
Chrissy
Come connect with me on
Facebook
. That's all. And I love you.
Oh wait, one more thing- when I went to upload my pictures for tonight's post- my card reader and camera card broke. I'm working through it. I'm deep breathing. I'm practicing not sweating the small stuff. I stink at it so I am PRACTICING. I didn't say I was PERFECTING.