Your talent is God's gift to you. What you do with it is your gift back to God. Ronald Pratt
What is this?
I held the frame my sister, Lisa had written the quote on, complete with my Dad- Ron Pratt's name, laughing.
It was something Dad said once that I really liked.
LISA! Maybe he said it- but Dad didn't come up with that quote! It's like- famous.
It is? She said, and we both died laughing.
And for those of you curious, it was actually Leo Buscaglia who came up with it. Thank you for that Google.
But that's just the thing, it's not unreasonable to think that my Dad could have come up with it because sometimes he says really amazing things. My Dad has a way about him--he doesn't talk a whole heck of a lot, but when he does, it's often important. He's taught me so many lessons I still think about today. Like never quit a job until you have another one lined up. Save some, spend some, give some to church. Leave things cleaner than they were when you got there. Be true to your word and don't hide who you are.
See- He's a very smart man. He is a great Dad. I'll let you in on a secret though- he is not even a little bit perfect. I think about how hard we beat ourselves up over some parenting choices. All the reasons we find to feel not good enough. My Dad had a temper that scared the skin off of me with just a look. He was very impatient. He didn't ever change diapers. He was an alcoholic for years. And the funny thing is- I had to dig down deep into my memory to recall the imperfect things about him. They were never the attributes of his that stood out. They were the things that made him perfectly human. I hope I am able to teach my children to accept me exactly for who I am too. I can start by learning to accept myself too.
I'm positive I like people that have an edge the most. People that know that Life is hard but love it anyway. All the pain and sadness can either make you cold and angry or break you wide open to all the goodness and realness in the world.
Blessed are the cracks for they shall let in the light. Groucho Marx
I think that Fathering has had it's own revolution. Back in my Dad's day- Fathers often didn't change diapers or stay up with sick babies. They went to work. They paid the bills. They ate the dinner that was on the table. Now days many Fathers are much more involved. They change diapers and wake with babies, and go on outings and give baths and so much more.
Sometimes I get really mad at Michael for working. I get mad that the majority of the time, I take care of the kids. I get mad at him for going out of town every week for work. But I know that none of those things are his choice. He doesn't want to be away from us so much.He has to work to support our family financially. I'm lucky I have a choice to stay at home with my boys. I have plenty of other things to be mad at Michael for, so I will try to stop being mad at him for something he has no control over. I will try to be more grateful for working so hard.
____________________
Super Power Parents- you are amazing- you are awesome. You are strong and brave and do things no parents should ever have to. You work harder than anyone I know.
These next words are for everyone else:
Thank you. A million trillion thank yous for being here. For reading. For caring. For a willingness to learn more about autism which will then gift your life in so many ways. It will help you focus on what really matters. It will help you see beauty inside different. It will help you support others going through hard times. It will help any interactions you have with someone with a labeled disease, condition or disability.
I am in no way in line with many of the autism awareness messages I read.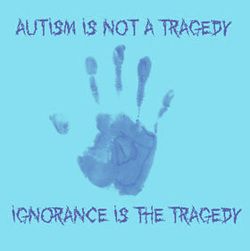 Don't even get me started on the lack of apostrophe in the it's.
They make me sad. If I walked into a store with a sign that said, You break it, you buy, I would leave that store without buying a thing. Because here's the thing, if I would have broken it, I would have insisted I pay for it. That's who I am. That's what the Igonorance Awareness signs feel like to me. It's not just autism- I've seen this message parlayed into other medical conditions. People are so ignorant about blank.
To me it's the equivalent of saying, HEY STUPID, come listen to what I have to say now.
I don't think the world is ignorant about autism. I think unaware would be a better term. Just like I was before it affected my life. Why would I Google something that wasn't a part of my Life? If that were the case I would have to spend my nights Google'ing all the terrible diseases, disorders and conditions as to not leave any group out.
I think that there are some conflicting messages being shared, which can make things confusing too. I think there's a lot of sadness that ends up coming out as anger directed at you. Just because I have two boys with autism, I don't think it's YOUR job to learn about a condition that doesn't affect you. I think it is MY job to teach you in a kind and real way. You being here, reading- is not MY right. It is my honor to share awareness with you. It is my job, my heart, my passion and my love for my boys that trickles out my fingertips and runs all over the world, even when I sleep. It gives me chills sometimes.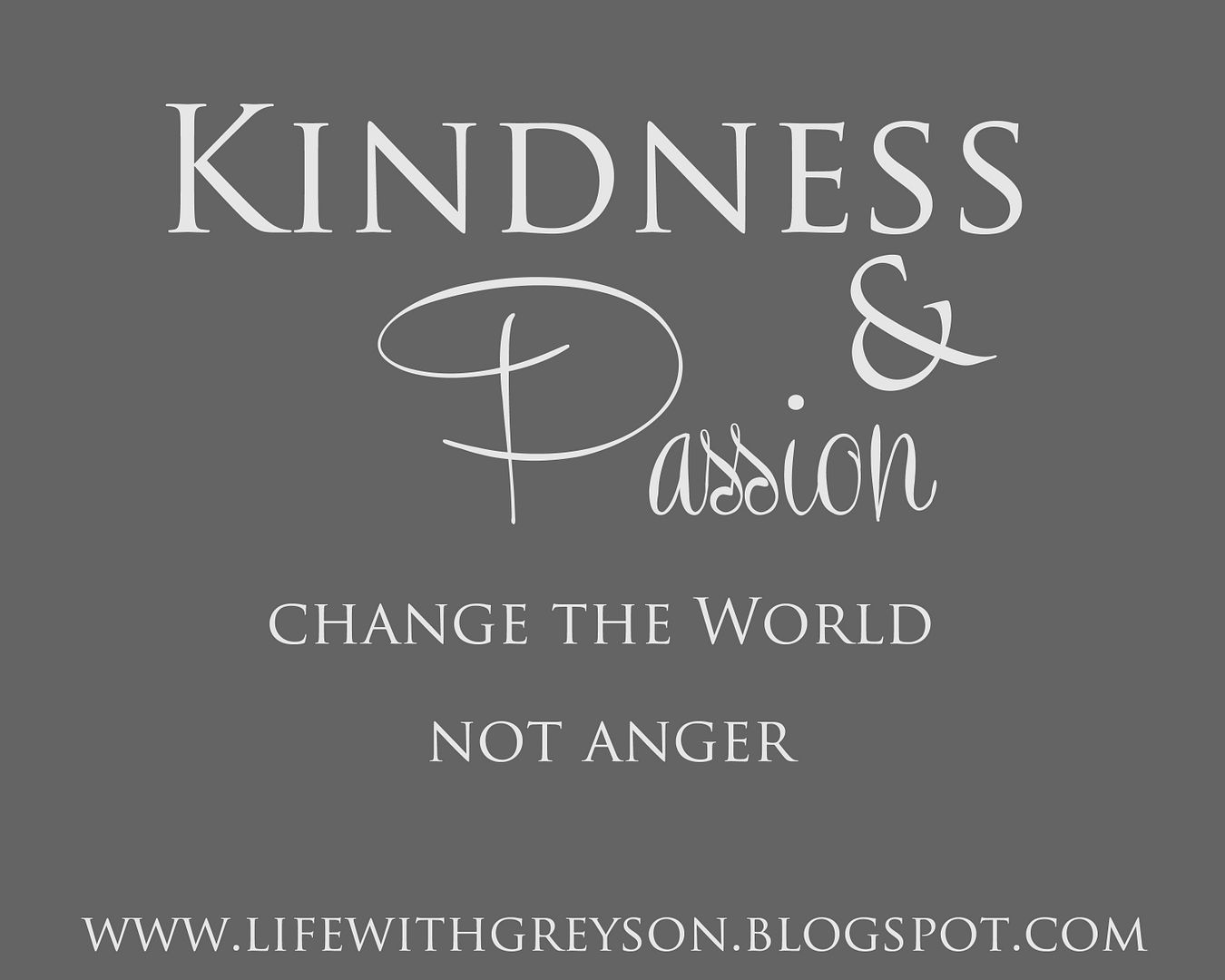 We had a day today. Quite possibly the boys had my Monday.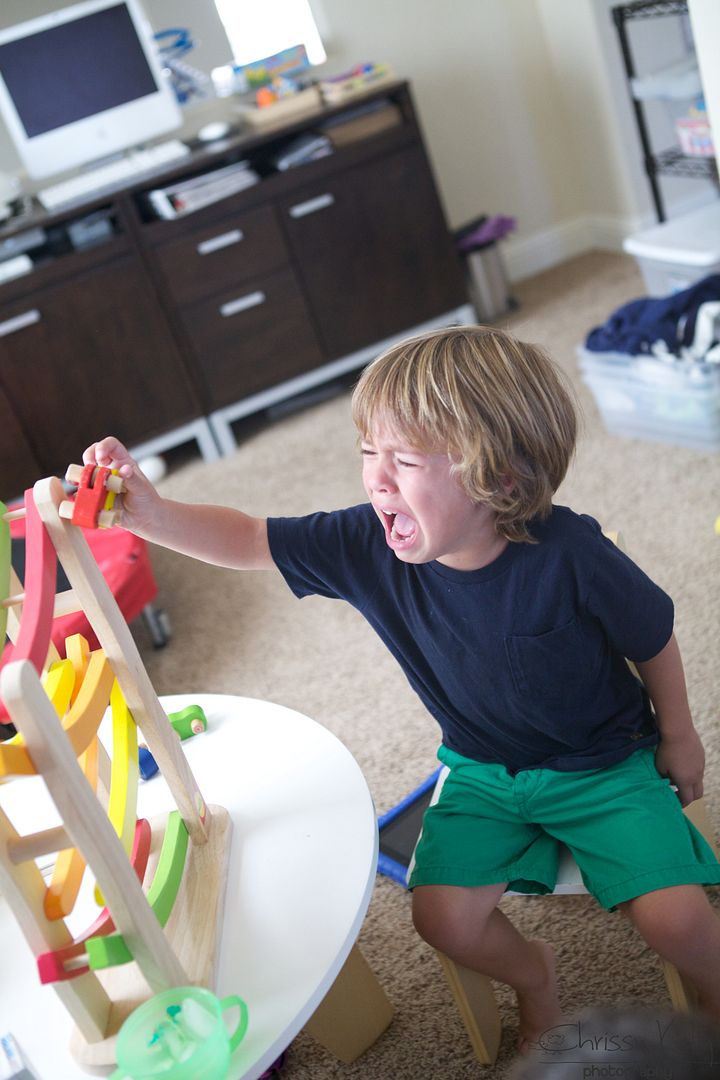 Grey during Behavior Therapy. YES I'LL PLAY BUT I DON'T WANT TO.
Greyson is continuously taught to try and play the appropriate way. Which now sounds funny as I type. Why can't he just play the "wrong way" because clearly he likes it better and it makes more sense to him? He would prefer to hold cars, line them up, or spin and stare at the wheels versus putting them on the track or making them go vroom.
He doesn't want to interact with anyone either.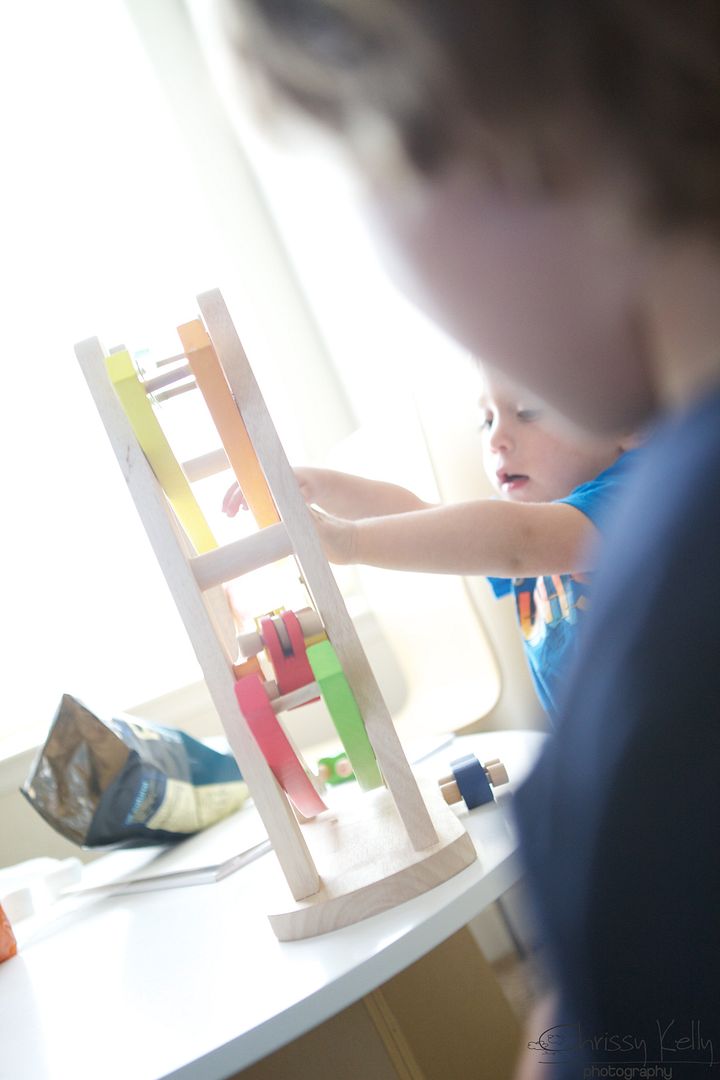 Doodle liked the play part though.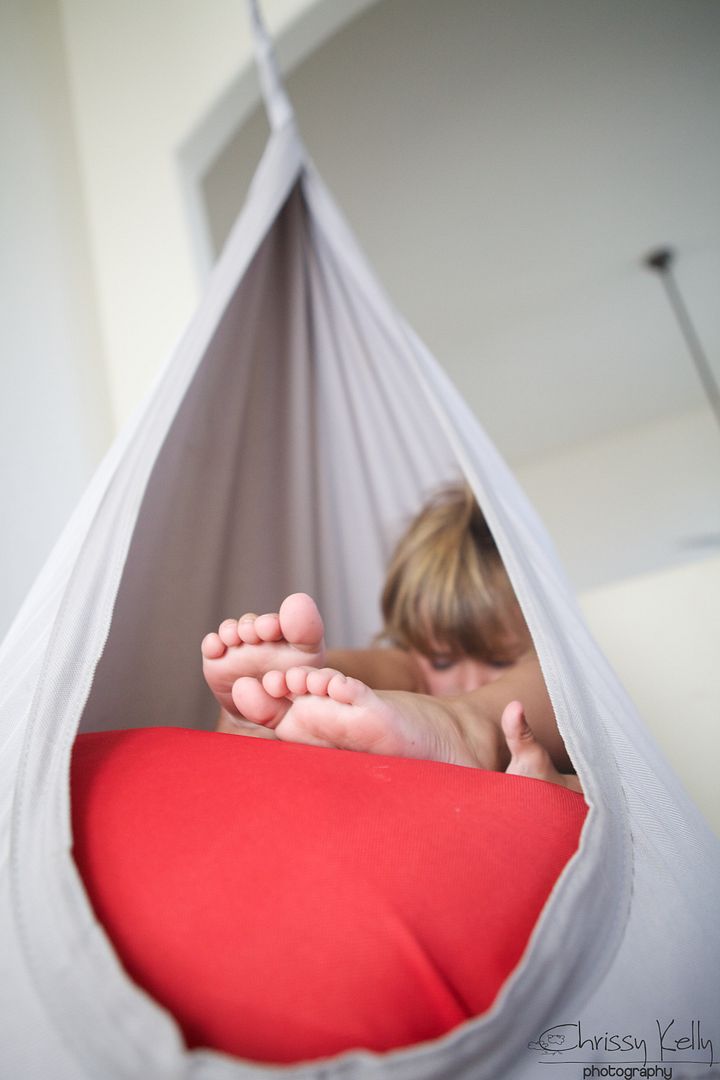 When Grey is in a funk, swinging and being squeezed help. This swing is a double whammy.
They both finally found their happy.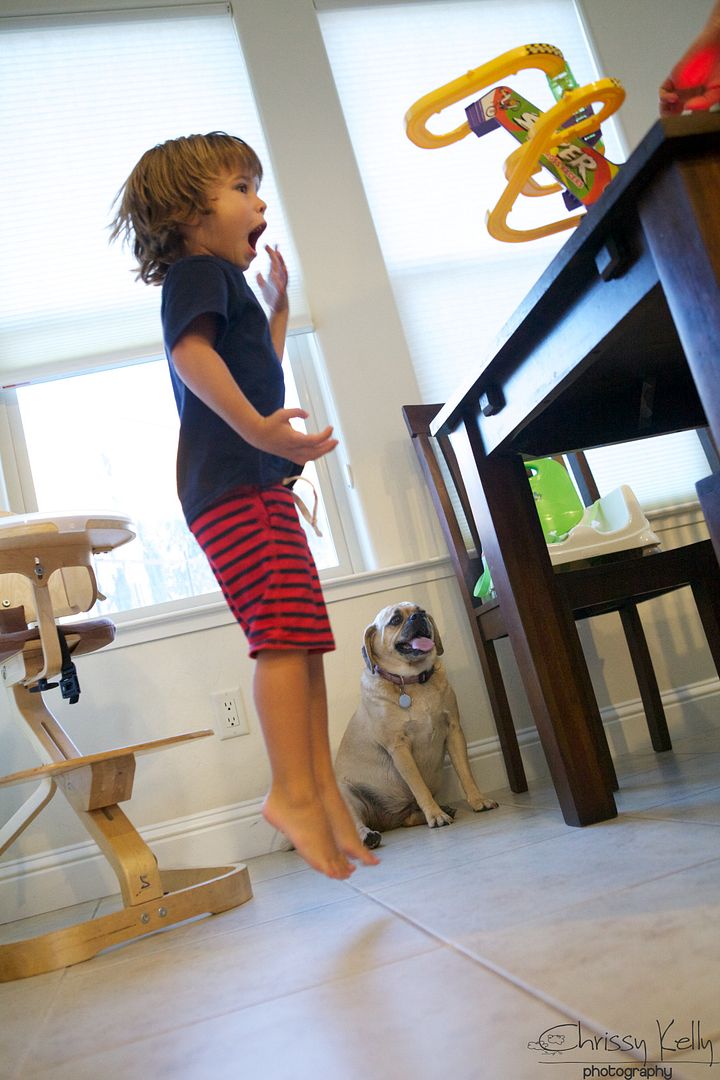 Our NEW favorite toy. Jumping, mouth open FLAPTASTICNESS.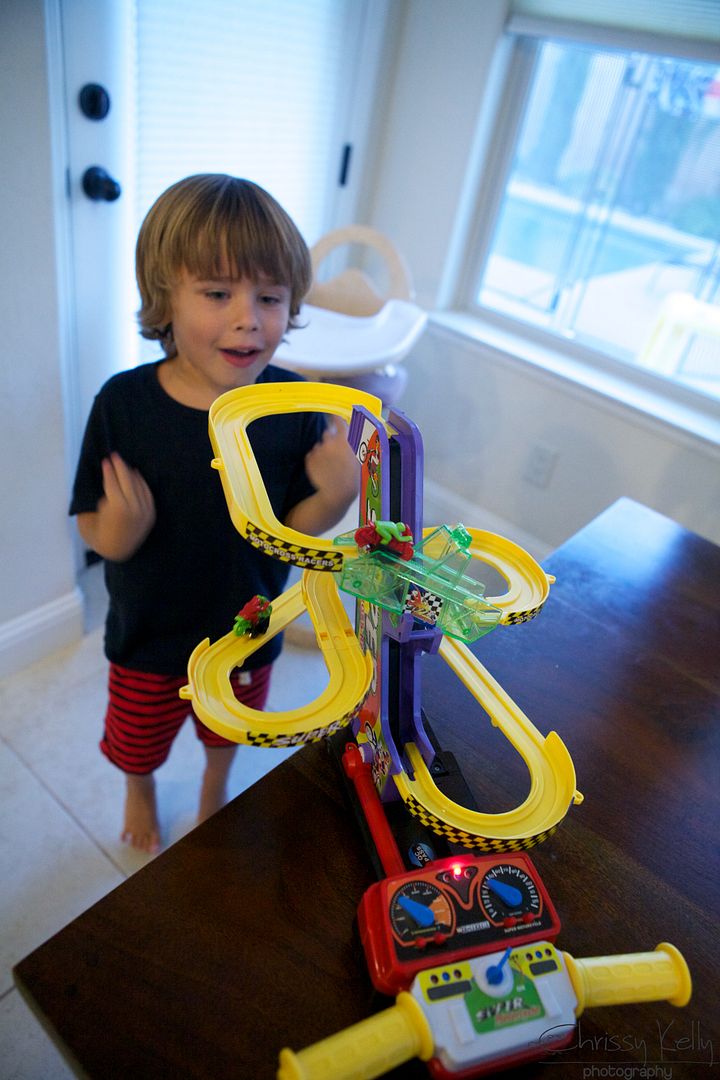 This evening I had an amazing sitter come over. I was too tired to do a thing, so I went to my room to regroup and relax. I gorged myself on Princesses:Long Island, Real Housewives of New Jersey AND Real Housewives of Orange County all in one sitting. Oh, and can you believe The Bachelorette Finale? I can't even BELIEVE I still watch that one. Ughhh. I have saved a little Interior Therapy with Jeff Lewis for tomorrow. (Dad- those are all reality shows. I don't want you to be confused right now). Refueling is a VERY important element in world changing.
I felt so much saner about my Life when I heard this quote from Ashlee, one of the Long Island Princesses who was preparing snacks for a slumber party with her girlfriends.
I got all different cheeses but it's all mixed. I'm not serving mixed cheese. That's disgusting. I feel like poor people mix things.
Wow. Just, wow. And just to be clear- that quote did NOT come from Ron Pratt
A special Thank You to my 3,569 Facebook Friends helping me change the World. Without your sharing, I'm just a girl and a computer.
So Much Love,
Chrissy