We all know this, right? But we forget every-single-day. It's great advice, but there in the heart lies a fatal flaw for a control freak like me. I can control everything. At least I am wired to think that way. And somehow, someway- everything I can control (as a reminder- which is everything in the entire universe) also REALLY matters. Freaking out matters. Like life or death matters. I leave the big things up to God of course- like I don't know- natural disasters or the pants you are wearing right now or... or - actually, I can't name any more of the things, because it's all up to me. EVERYTHING. Life. Autism. Traffic. Sickness. Jury duty. Food. Crime. Dogs in shelters. Rude people. Wrinkles. And it's heavy. I feel it crushing me sometimes- the whole big world.
I wonder how many times I sacrificed awesome because I was setting out for perfect. And even worse, how many projects or ideas I talk myself out of before even trying because I knew it wouldn't be perfect. Do you ever do that? I should start/try/fix/create/share THAT. What if it sucks though? What if they don't like it? What if I embarrass myself? I'm not very good at THAT in the first place. Yeah, I'm not gonna do it after all. That was a dumb idea.
The other night I hesitated for a second before I sat down to write the post about Greyson and Parker modeling for Gap. Gap won't care, I told me. You will never reach them. You look like a fool. How much energy are you going to put into this? I'll answer it for you- NOT MUCH. Your hands are full of daily and important things for the future of your boys. But people will help me, I replied to myself. And it's important to dream big, not just in words but in circumstance. I know I can't do it all on my own, but I'm not the only person who cares about this. People are awesome. They will help. Sometimes I have to hunk and peck for the right words, but the Gap post wrote itself. It was almost out of body. I know when something like that happens I have no choice but to share. The day after I wrote the post, I went to the Gap to buy some sweaters I don't even need but were 40% off- Share about Life with Grey and my mission to change the world. As I explained the situation out loud to the clerk, I suddenly felt stupid. Then I felt angry- and then I just felt sad. Why is special needs inclusive advertising something that has to be argued for in the first place? Why isn't it just automatic? Why are we on the outside? Why can't we all be together? Why isn't there some governing body that will make Gap legally HAVE to respond to me? I just want to know- WHY? I actually wanted them to say, Thank you Chrissy, but NO. And this is why. And I want it to make sense, or make no sense at all so I could go back to being mad instead of sad. I went into the dressing room at Gap and I cried. What did I think? GAP would call me immediately asking for the boys measurments and giving me flight arrangements to New York? Maybe (totally embarrassed smile here.) That's how I work. I think big and then get crushed when it doesn't instantly work. Nothing works that quickly, and I know that God reveals the world to us in layers, and only exactly when it's the right time. I'm working on being more patient.
And let's assume I never hear from Gap- does that mean I shouldn't have written and shared it? Does that mean I failed? Not in the slightest. Over the weekend I got this reply from Gap. Don't get excited, it's nice, but so OFF THE MARK.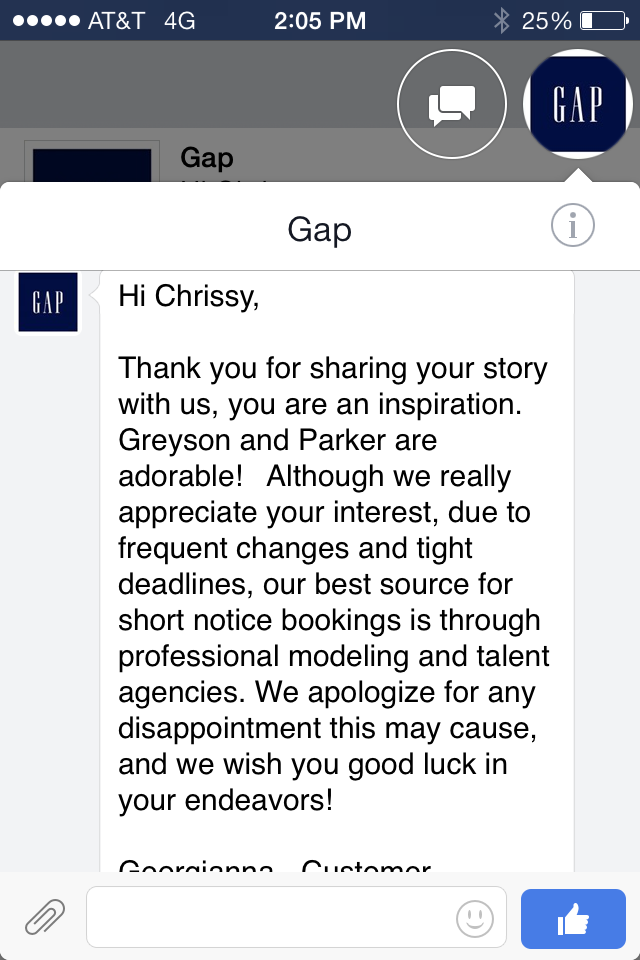 And that response made me even MORE sad and angry. That's NOT THE POINT, I yelled at my computer. I don't want my boys to be models. I just want them to have an opportunity to model and then potentially open up other doors for other children with special needs. If I contact an agency --they won't represent us because they only represent the specifics their clients are looking for, and currently, there's not a huge demand for special needs models. THAT'S THE WHOLE POINT. Stop pointing at the egg, chicken. Let's start with YOU!
And after a day had passed, I calmed down. It's about the process my love, not just the destination I said while patting myself on the shoulder. (I talk to myself frequently). It's about the feelings behind it, the possible other doors it opens and the willingness to do ANYTHING for your boys. And I realized part of my tears is because it will never be enough. Everything I can do will never be enough for them. I think sometimes we all feel that as parents. I think Special Needs parents feel it 100 times more. But that doesn't mean I must not try.
It's important to me that you understand I am not just fighting to change perceptions for my boys. Writing this blog has given me the amazing gift of perspective. Here lies a big umbrella of special needs. And there are thousands of specific groups. Autism, Down syndrome, cerebral palsy, achondroplasia, and a million other disorders, delays, syndromes and conditions. Some conditions are more rare, and don't have the luxury of being recognizable by name. I can't imagine how hard that would be to have to tell the details of your story over and over again to schools and friends and people. At least I am able to say, autism, and many people have some sort of idea what that may look like. Maybe our day to day details are different, but quite often our hearts and wants are the same. No matter your child's super powers. I want you to know I am here for anyone who wants to be part of this club we never asked to join.
We often hear that part of changing the world, is changing your own world. Stepping out of your own comfort zone to make change. In small ways I am trying out a new way of thinking- more awesome, less perfect. It's such impossible work trying to be perfect. You have to miss out on so many things. You miss out of connections with other trying to be perfect imperfect people. You miss out on finding your passion, because anytime you start something new- it's just about the most imperfect you can get at something. You miss out on art and creating and laughing and trying new things.
And so I am nervous and scared and excited and THRILLED to take a big leap. It's something I've wanted to do for a long time, but the fear of being imperfect has stopped me every single time.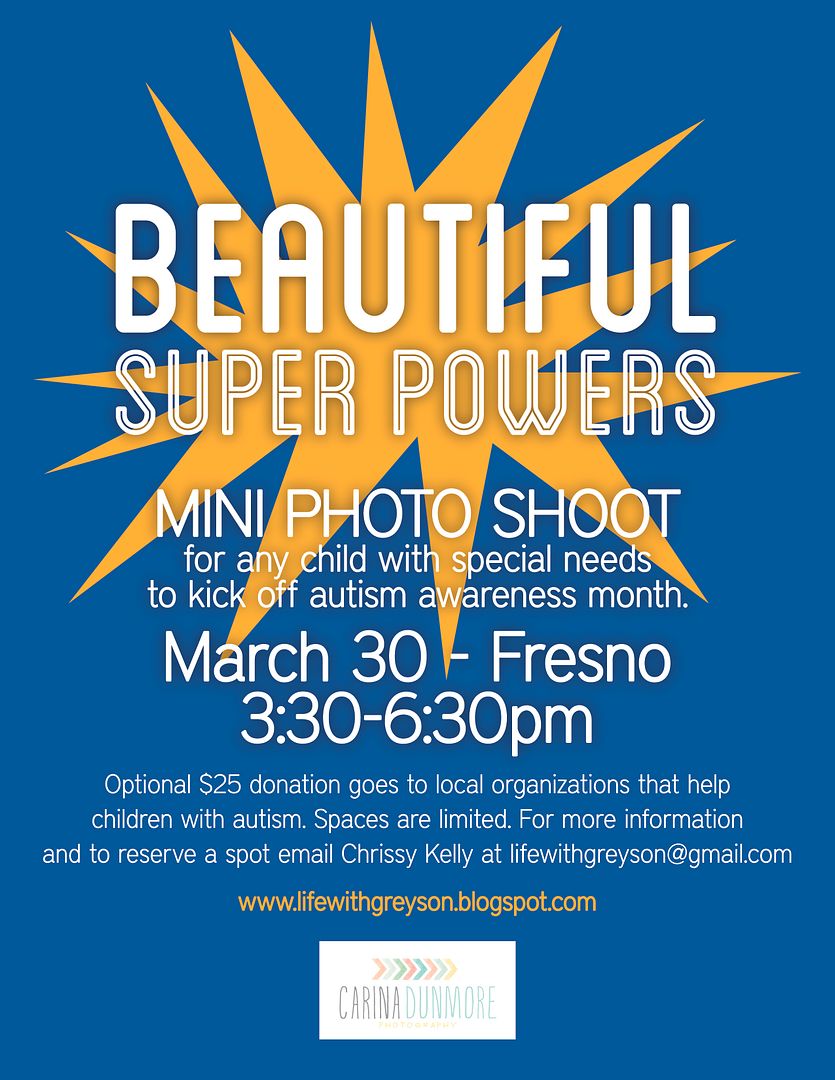 This is an offer for you, blog friends- and your loved ones. I'm partnering up with awesome local photographer Carina Dunmore who has experience working with children with autism. We want to give free mini photo shoots to children with Special Needs. This is not only excluded to children with autism, it's for children with all Super Powers. Here's the fine print. You must be willing to share your child's image on Facebook, my blog and social media. These are children that should be seen and celebrated more. Who needs Gap when we can start celebrating all forms of beauty right here and now? WE can be the change. This shoot includes three fully edited high resolution pictures emailed to you, as well as an 8x10 print- based on the photographer's choice. One child per shoot- this particular offer does not include families or siblings. Spaces are limited so email now to make a reservation. lifewithgreyson@gmail.com
So I'm gonna do this. WE are going to do this. We are going to have a photo shoot celebrating the beauty of children with Super Powers. And it's going to be awesome and not at all perfect. I may overbook by mistake. I may get 1 person interested. It doesn't matter, it's about the journey for every single one of us.
So much Love,
Chrissy
A very special thank you to my friend Jenn Bier for my flyer. You are the real deal and always there when I need you. XOXO
Find me on Facebook.