I went to the dentist for the first time in 6 years last month. Seriously. It was a supreme act of martyrdom on my behalf. I'm too busy to take care of me- I said, benefiting not a soul. So I finally sucked it up and went. Today I had to go back to get an old filling replaced and a new one put in. The work that needed to be done was on both the left and right side of my mouth but I requested it be done all in one appointment.
Are you sure? Dr. Gutierrez asked. Your whole mouth will be numb today. I don't mind if you want to come back in a different appointment.

More dentistry? No thanks. Besides, I'll take physical over mental discomfort any day.
And he numbed me up and gave me ten minutes to process. Michael stopped into the office to take care of a bill and popped in to see me. As we talked my mouth started to go numb. And I tried to continue to speak, the sounds wouldn't come out right. I tried to coerce my mouth muscles to do what they are supposed to do and no matter how hard I wished and tried, they just wouldn't.
My entire body started to shake. Practically convulse. My arms, my head, my legs. I could hear the chair shaking under me. And my heart bled out all over the floor in front of me and I started to sob in a panic so painful I could taste it. How am I going to pick up the kids from therapy? How am I going to do anything? What if something happens? What if I need something? I can't speak at all. I was unraveling and loosing control because the whole time this is all I was thinking...
This is how Greyson must feel. Every day.
I couldn't bear it. My brain willing my mouth to work and nothing coming out right. I would be so scared. So lost. So anxious. So hopeless. So confused.
Are you going to be okay? Michael asked when he say my eyes.
We must help him.
We must help him.
We must help him- I kept saying in a panic.
We are, he said earnestly.
No, no no. We must help him MORE. We must do more. I sat there feeling hopeless. Feeling like my skin was too tight and I wanted to rip it off and start running until my feet bled.
I can't remember the last time something scared me this much. I'm grateful for the perspective because sitting in that dentist chair is something I will remember the next time Greyson has a melt down over not being able to communicate.
****************
Last night Greyson had his end of the year program at his once a week typical preschool. Last year's was a capital N Nightmare. This year I had zero expectations. Scratch that- I kind of expected it to be horrible. I wasn't dreading it- I was just preparing myself for horrible...which never really works because the horrible still ends up feeling horrible- so I really need to reevaluate my methods. Thanks for that. Y'all are better than therapy.
Where are we?
Oh, yes. The school program. Last year it was as good as my dentist appointment was this morning. I wanted Grey to try and stand on the stage for one song of the program. He filed out with the other children and took his place on stage. His has a personal teacher shadow that stays with him during preschool. She was there with him and he fell into her like a limp noodle. She tried to pull him back up and he hit her. I was in the front row so I tried to subtly go on stage to... to... I don't know what I was doing, I just needed to stop the train wreck. And Grey started running and screaming and I realized I was making it worse- so I sat back down. But then Michael went on stage and he was chasing Grey. And it was like a terrible episode of the Three Stooges. After Michael (finally) caught Greyson we just left. I got into the car and cried.
So- at least you can see why I was expecting something close to the same. As soon as we got into the auditorium Greyson wanted to leave. It was too loud. He put his hands over his ears.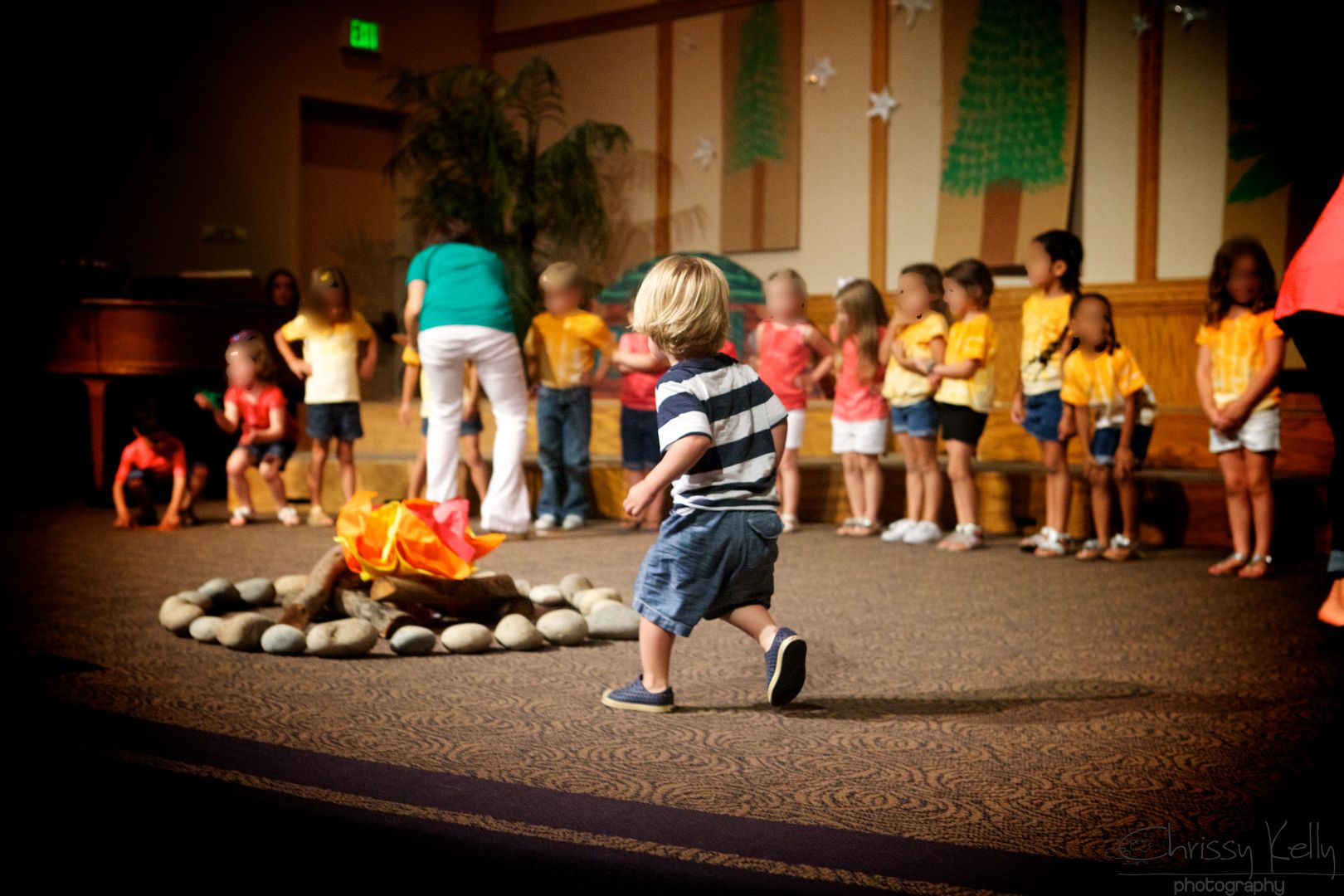 However, Parker was dying to be on stage.
One song, buddy. You need to do one song for Momma and for you- because I know you can do it. I know it's loud and I know it's hard- but you can do it.

Greyson waited in the back until his song and I saw him file out. I was holding my breath hopeful. And the singing started and I knew it was too loud. He put his hands over his ears. He didn't do the gestures like he had practiced in school.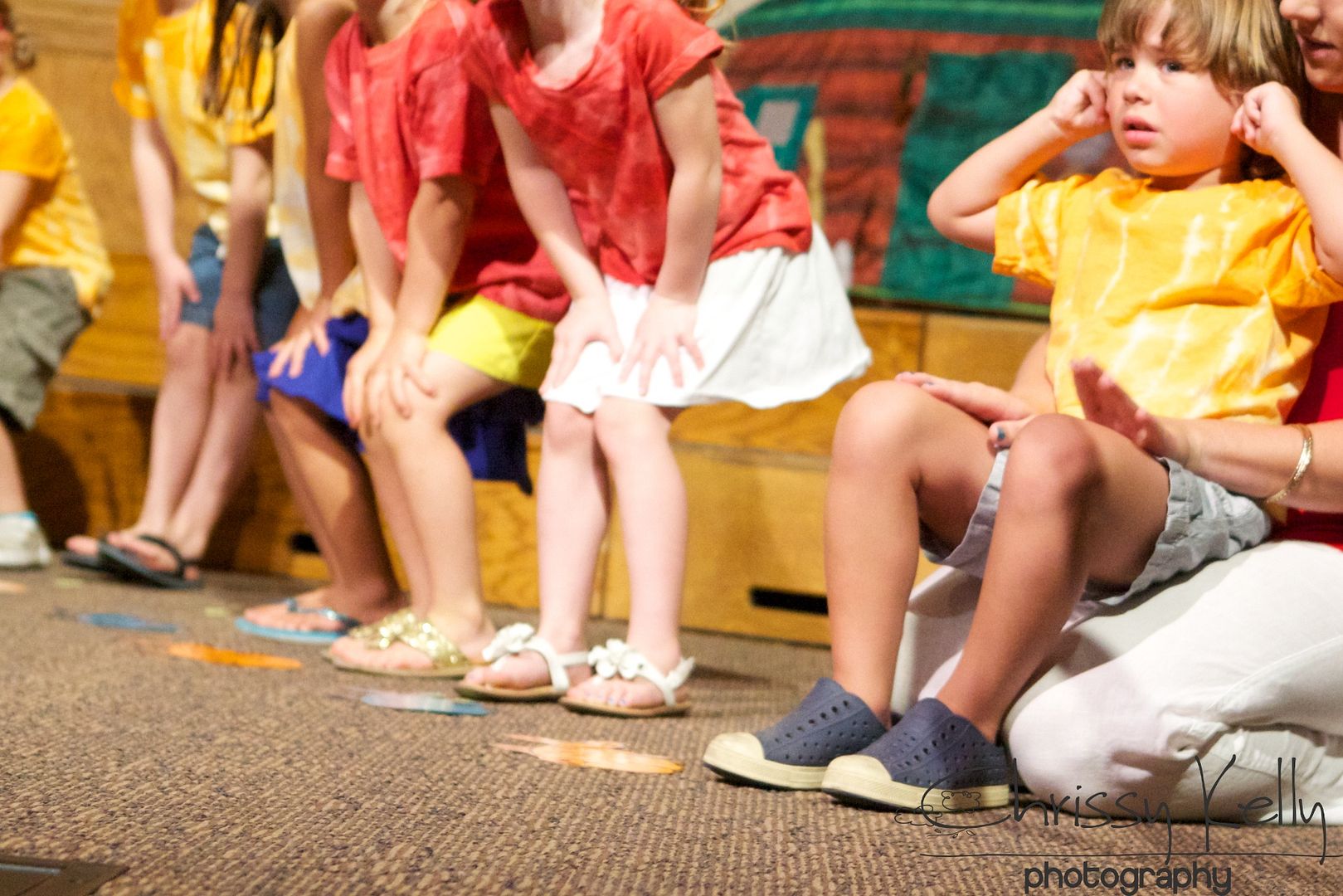 And it was AWESOME. ALL CAPS AWESOME. There was no hitting. No running. No screaming his bloody lungs out. Michael and I stayed off the stage. In other words, it was all perfection. I love how my ideal of perfect is evolving. It only took me 40 fricking years.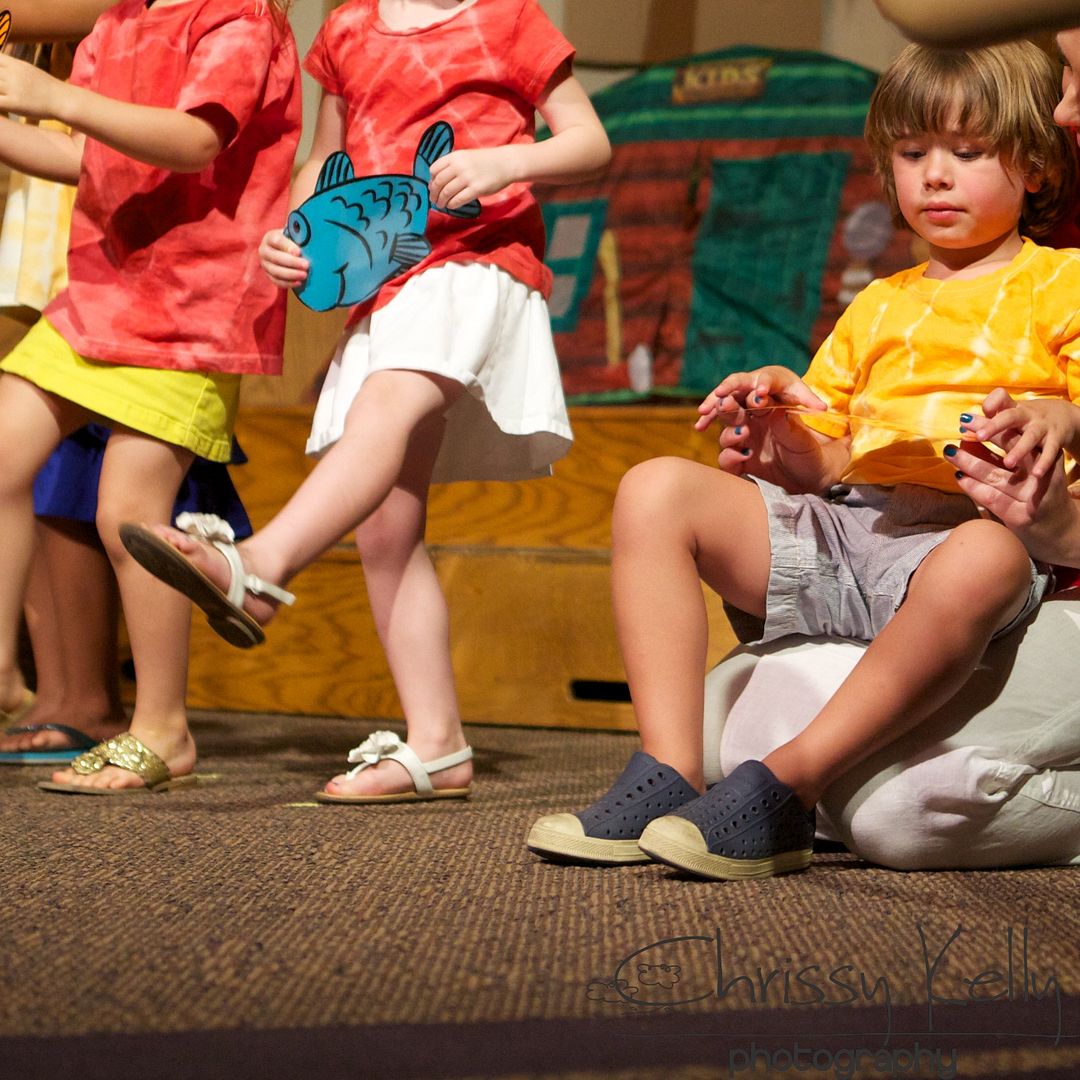 By the end, he even took his fingers out of his ears.
Me- PROUD. Him- afraid I am going to make him go back up on stage and wanting to get in the car.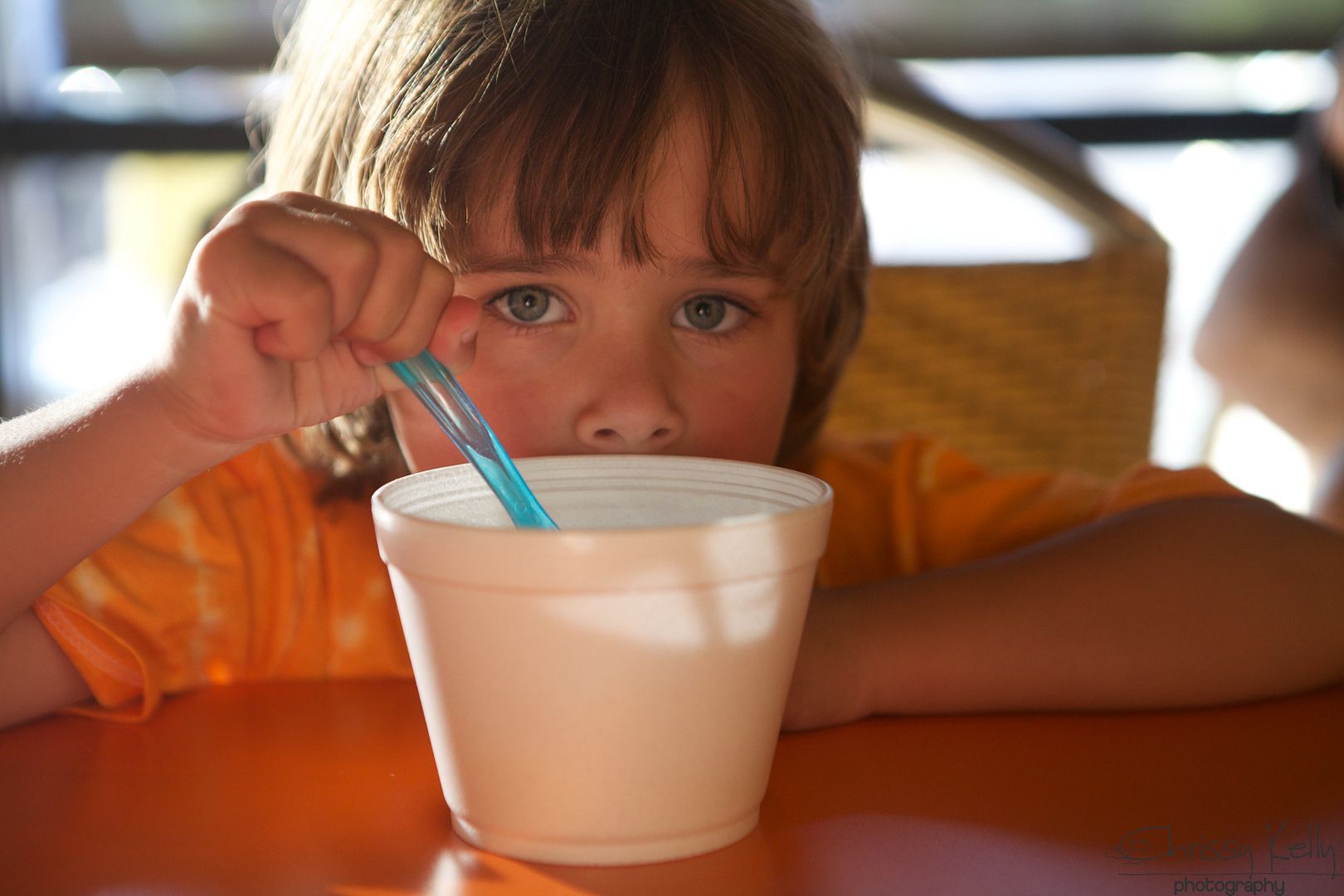 We went out and celebrated like he won a Pulitzer Prize or an Emmy. We had frozen yogurt. I assume that's what most very important prize winners do.
And went to the park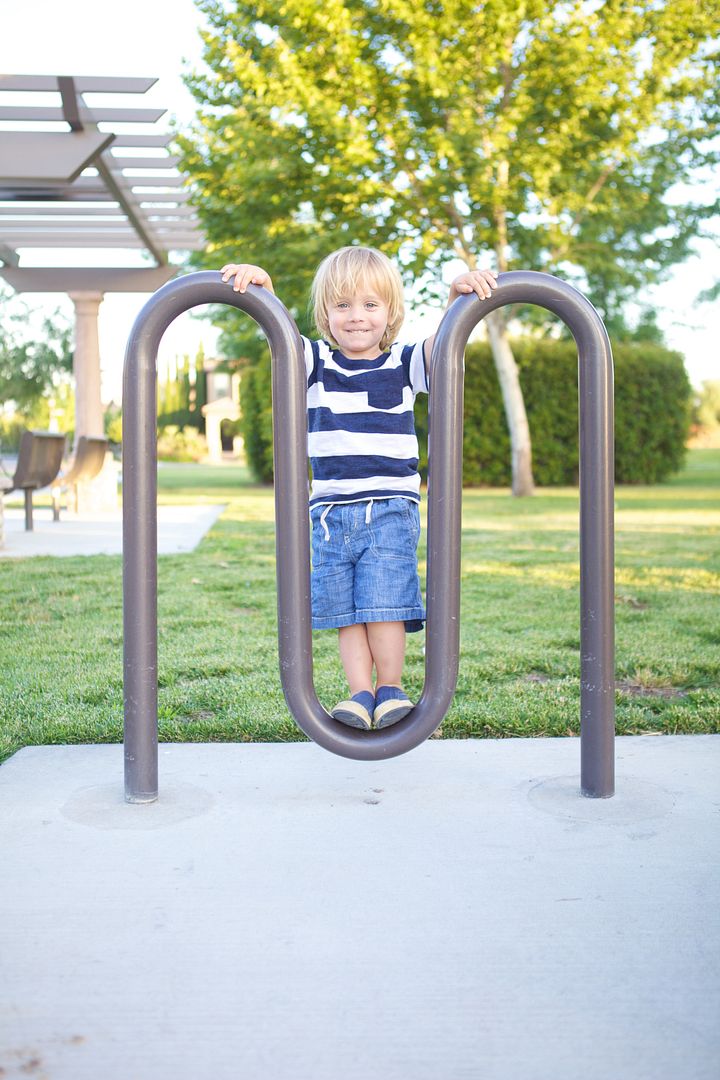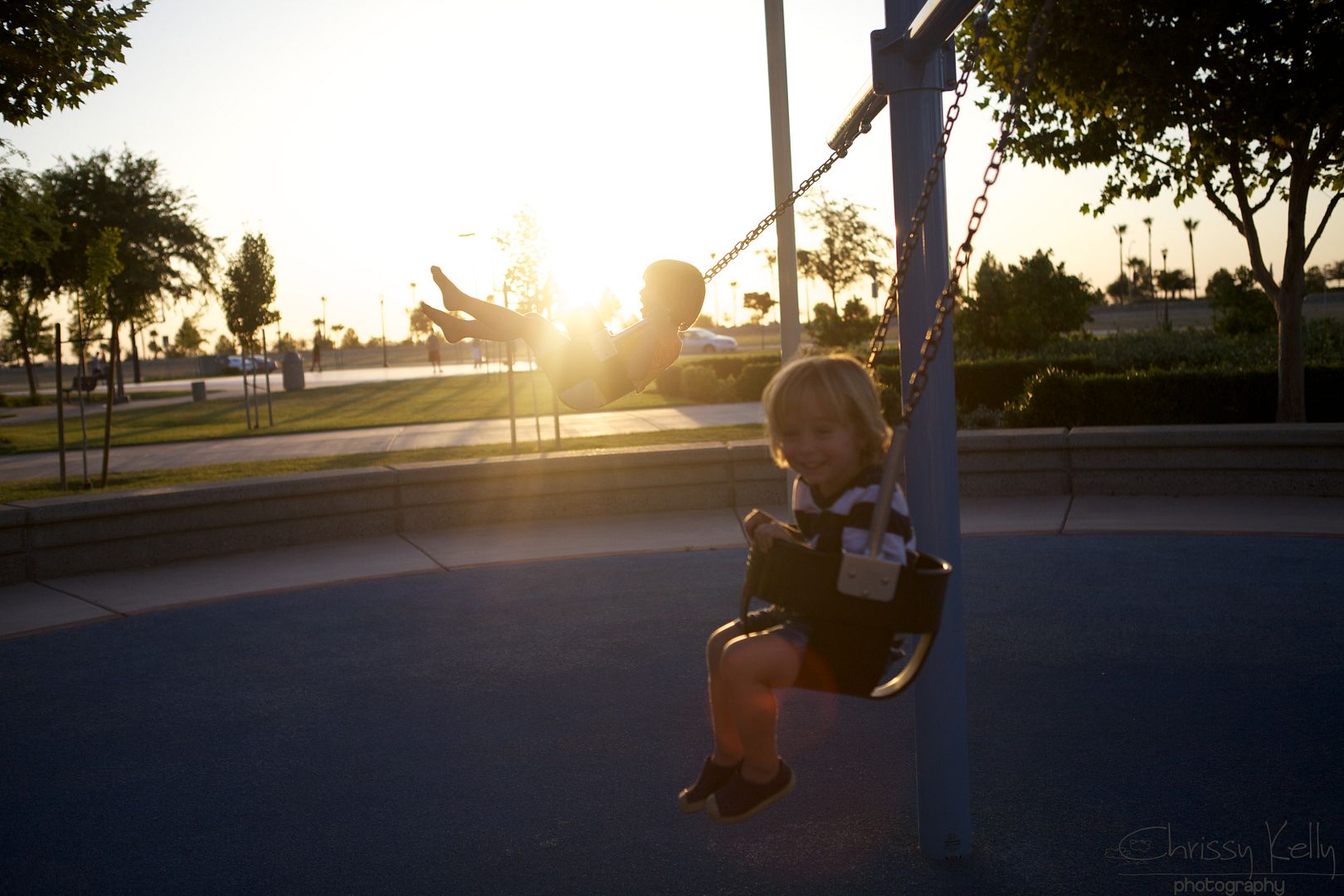 And we swung into the sunset. Imperfect is the new perfection.
Love,
Chrissy
To commemorate Greyson's 5th birthday we want to make the world a better place. During the month of June, please consider donating to your community or any charity. No amount is too small. Seriously. And if you don't mind, tell me about it on FACEBOOK, or send an email to lifewithgreyson@gmail.com so I can keep tally. We are trying to raise $100,000! We have an Autism Speaks tribute page set up for Greyson and Parker. If you would like to donate there, click HERE. I'll post an update once a week.
And check out one charity someone is donating to. 99 Balloons and Baby Eliot will change your life.