With one final, excruciating push he flew into the world. All the pressure was released and for the first time in so long I am able to take in a deep inhale. In that same very instant a brick house of expectation was also born.
He was perfect. Ten finger and toes and I sighed, and fell in love with every single blessed detail. Soaked him up and felt it- the sweetest, purest love. I didn't know it existed quite so lucidly. My expectations already had his life all planned out for him.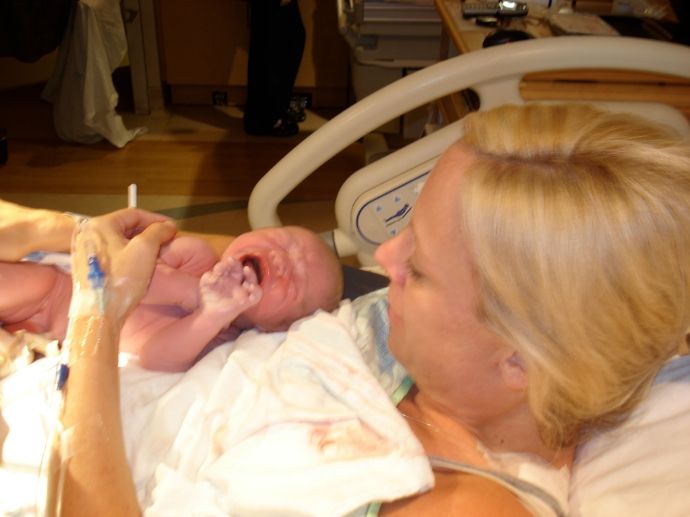 He will smile and sit and crawl and one day even walk. He will say Momma, and love ice cream. He will dress up for Halloween. He will love his birthday. He will say the funniest things.
I will read him books at night and scare the monsters away from under his bed.
He will ask for extra pancakes and wrap me around his currently teeny tiny finger.
He will go to school. He will be smart. I will help him with science projects and pretend to be annoyed but actually love it. He will play sports, and be a humble winner and the very best loser. He will be fast. He will be brave. He will be kind. He will go to college and get married and have babies.
I had great expectations.
And then right before his third birthday, I heard the words, "Your son fits the diagnostic criteria for autism" and I thought he died- my precious son. In an instant, my boy's life vanished right before me.
I didn't realize at the time, but he didn't die at all. It was really just the death of expectation. You see, I confused the two; my real boy and the son I expected him to be.
And mourning expectation is so very hard. Letting go of years worth of day dreams doesn't happen in a day or a week. And like many before me, I deeply grieved the loss of that expectation. Some of what I expected for me. Some of what I expected for him. I ached for each and every single one of those experiences I might not ever have. I couldn't really relate to Welcome to Holland, an essay written in
1987 by special needs parent Emily Perl Kingsley. Kingsley describes her parenting journey as being excited while preparing for a vacation to Italy (her expectations) only to find that she actually lands in the country of Holland (reality of special needs parenting).
You see our reality didn't really feel like vacation at all. It felt like a death.
And the more I shed the pain of expectation, the better I got to know my boy. The real one I got, not the made-up one I expected. He doesn't deserve to be expected to be anyone other than who he is, and who he is- is amazing.
It took time and strength and a determination to willingly let my expectations go, without throwing hope out at the same time. To wake up every day still, and decide to let go again and again.
And the truth is that my real boy is alive and better than any of my wildest expectations- in ways completely different than I could have even imagined.
And as far as his future - anything is still possible. I just don't need certain things to happen in certain order to be happy and to measure the worth of my parenting experience.
The truth is, for most of us, reality is nothing like we expected.
It is only in the letting go of our expectations that we are able to realize that our reality may not be so bad at all.
When you are living an unexpected life it is easy to focus what you don't have. But there is also incredible beauty, perspective, love and experiences that come with the unexpected. It's so important that we notice those gifts too.
Sometimes I have moments when I still focus on the death of the expected. But now I remind myself how awful it would feel if someone constantly expected me to be different- and to be someone I'm not. I've learned the very definition of unconditional love is choosing to love someone exactly for who they are. A love not based on expectations, but on reality. I've finally knocked down that brick house of expectations. Turns out it was hiding the most incredible view.