My phone rings at 2:30am, and my heart stops beating. It is the call I have been waiting for with acid in my throat. With shaking hands I urgently hit accept.
"Hello! Yes? What's going on?" I yell, oblivious to waking seven year old Greyson nestled in my arm. "They found something on the ultrasound. It looks like his appendix might have already ruptured. They have to do a CT scan to confirm." My husband reports.
I feel like I'm in a dream where my legs won't work, and I'm in danger and desperately need to run but I can't. Except I know I'm awake. "What? Burst? No!" I truly can't process this. My exhausted brain literally
can
not
process.
He was supposed to just have a virus. I was just being paranoid! He was going to get fluids from the Emergency Room, and then come right home all fixed. This is not the story I had already written.
But this wasn't the case. And a CT scan confirmed the diagnosis of a ruptured appendix in my six year old son, Parker. I felt tremendous guilt, that my poor little boy with limited verbal ability because of autism had tried to tell us 100 times- "Tummy hurt" for six days straight, and we didn't figure it out. I stayed awake the rest of the night, waiting until I could take Greyson to school, so I could go straight to the hospital. We were waiting for a surgeon to arrive at the hospital to examine Parker, and I assumed do emergency surgery.
This story has a beautiful ending, and I'm so lucky to have this particular vantage point right now as I talk with you. Parker is in the back yard running around with his brother, and the light in his eyes is returning. We found our way back home.
A compass is an instrument used for navigation and orientation. It shows direction relative to geographic points. A compass is how you orient yourself.
We all also have our own internal compass that guides us- it's the pull on our thoughts, our actions and our soul. When we follow it, we feel like the me we were always meant to be. That pull is what we believe in, what we stand for, what we do with our time - those are our own norths. Sometimes life is so busy and complicated, that it's hard to feel the pull of our own north. Especially when the magnetic pull from other areas in our life feels so much stronger at times.
But when your child is in the hospital, life suddenly becomes so authentically clear. The love you feel for them pulls you straight to your own north, and you realize- nothing matters but their health, and the love and support from those around you. And all the other stuff, the stuff that doesn't even matter but you thought it did- its fades away in an instant.
We spent a total of nine nights and eight days in Valley Children's Hospital. I remember walking in for the first time. I approached Security and suddenly it was all too real. "I'm here for Parker Kelly," I squeaked out, while tears shamelessly rolled down my cheeks. "He's going to be okay", the kind woman assured me. "They are taking amazing care of him here", she promised.
"How is going to survive a hospital stay? I wondered in fear, on what seemed like a mile long walk to his room, Explorer 1535. This was a boy who it took almost a year of constant trying to even be able to wear a bike helmet long enough to ride a bike. Since Parker has autism, even the simplest things can be unbearable for my boy. I was certain this was going to break his spirit in ways that could never be recovered.
As soon as I walked into our room and was able to hold Parker and cover his face in kisses, I knew we were going to be okay in the end. I just wanted to hurry and get to the end part.
Walking into the room, I noticed a sign with autism familiar puzzle pieces on it.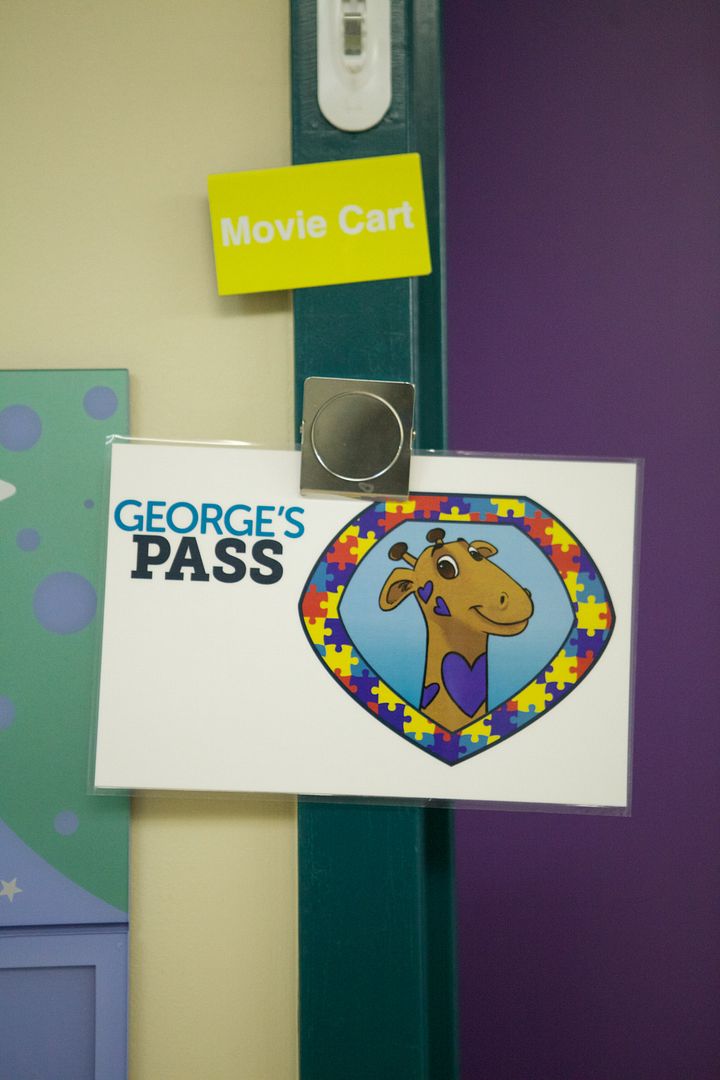 "Does that sign with the giraffe mean Parker has autism?" I ask Michael. "Yes," he responds. "They had me fill out a form in the Emergency Department, asking different things to figure out the best ways to work with Parker". I took a look at the form and couldn't believe it. It had real- Applied Behavior Analysis- the gold standard of autism therapy- things listed. Wow. Someone who did this actually understands autism, I thought. I googled, "George's Pass", the words on the sign and as I read, I started to cry:
…Valley Children's treats more than 300 children with ASD each year. George's Pass addresses these children's specialized needs from the moment they enter the hospital until they are discharged.
Program highlights include:
•

A George's Pass icon to identify patients to the entire health care team
•

Reduced exposure to noisy areas of the hospital
•

Individualized tours, education and hands-on activities with iPads and interactive toys
•

Private post-op recovery rooms (with a door and windows covered by dark curtains) where parents are welcome even prior to their child awakening from anesthesia
•

Various "Social Stories" composed largely of illustrations to guide the child step-by-step through the hospital experience.
We were somewhere that understood some fundamental things about my son, without me having to say a word. Without me having to explain autism to every person that walked in our door. And this incredible program, paved the way to an amazing hospital stay. And as crazy as it sounds- I miss it there.
I didn't have to worry about a single thing except for Parker getting better. He is the greatest day of my life in human form.
Not only did they take exceptional care of Parker, and our whole family, but we also made friends for life. I had the blessed honor of meeting an amazing and inspiring woman, and my new friend Nurse Shelly. George's Pass is her baby, her vision- created in honor or her son with autism. She took a challenge in their life and turned it into something beautiful. Shelly- we love your heart. You are an inspiration, my friend. Our community is so lucky to have you. And guess what- I'm going to introduce you to her on a Facebook live video soon, so we can discuss George's Pass in detail!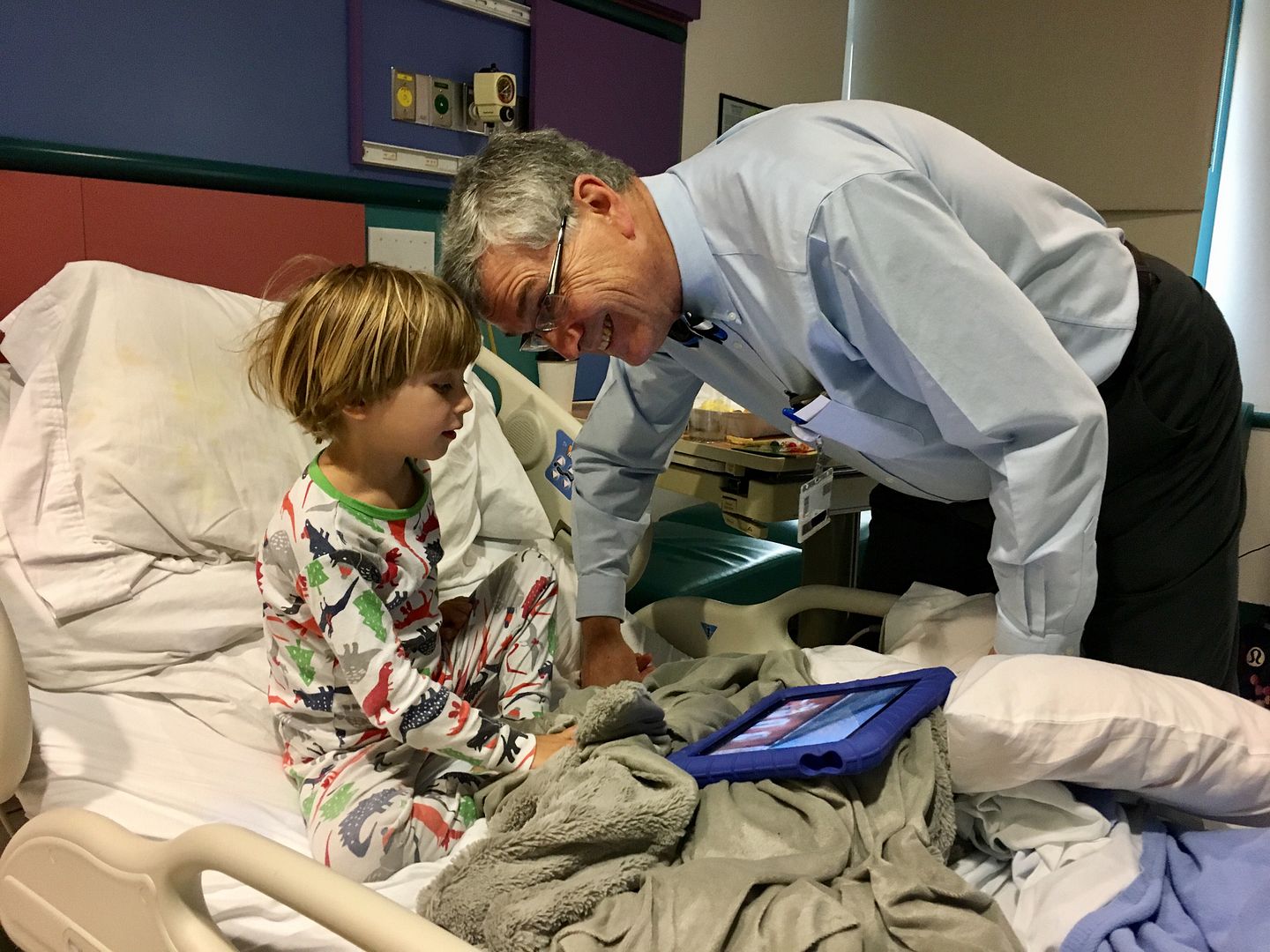 Parker's Doctor, the amazing Dr. Allshouse texted us this morning to check in on his little buddy. He was everything a Doctor in Pediatrics should be, and so much more. He's like a Norman Rockwell painting in real life. His own version of Patch Adams.This man's north is loving people, building relationships, and medicine. Boy does it show.
Our week was full of so many beautiful memories, which by far out shined the pain and stress. Parker did not have to get his appendix removed. This article explains why surgery isn't the automatic course of action better than I can.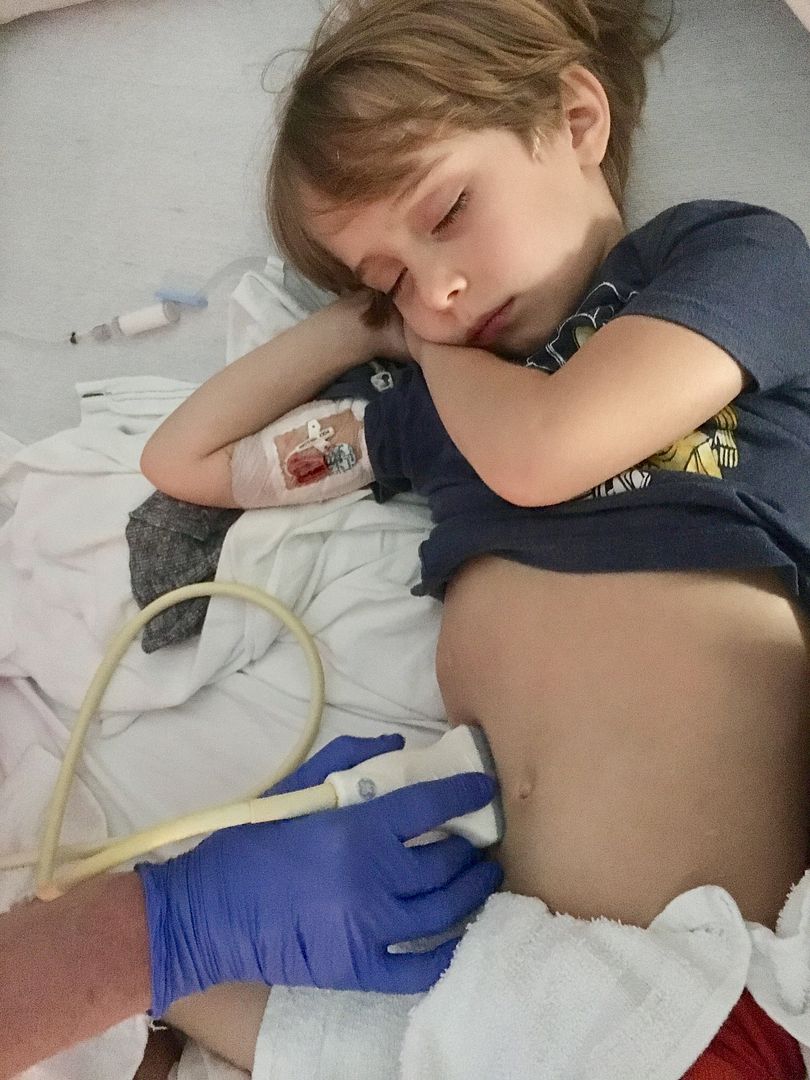 For a little while there, he was a pretty sick little dude. As a parent, it's such a helpless feeling when you can't make it all better. Luckily, Dr. Allshouse could.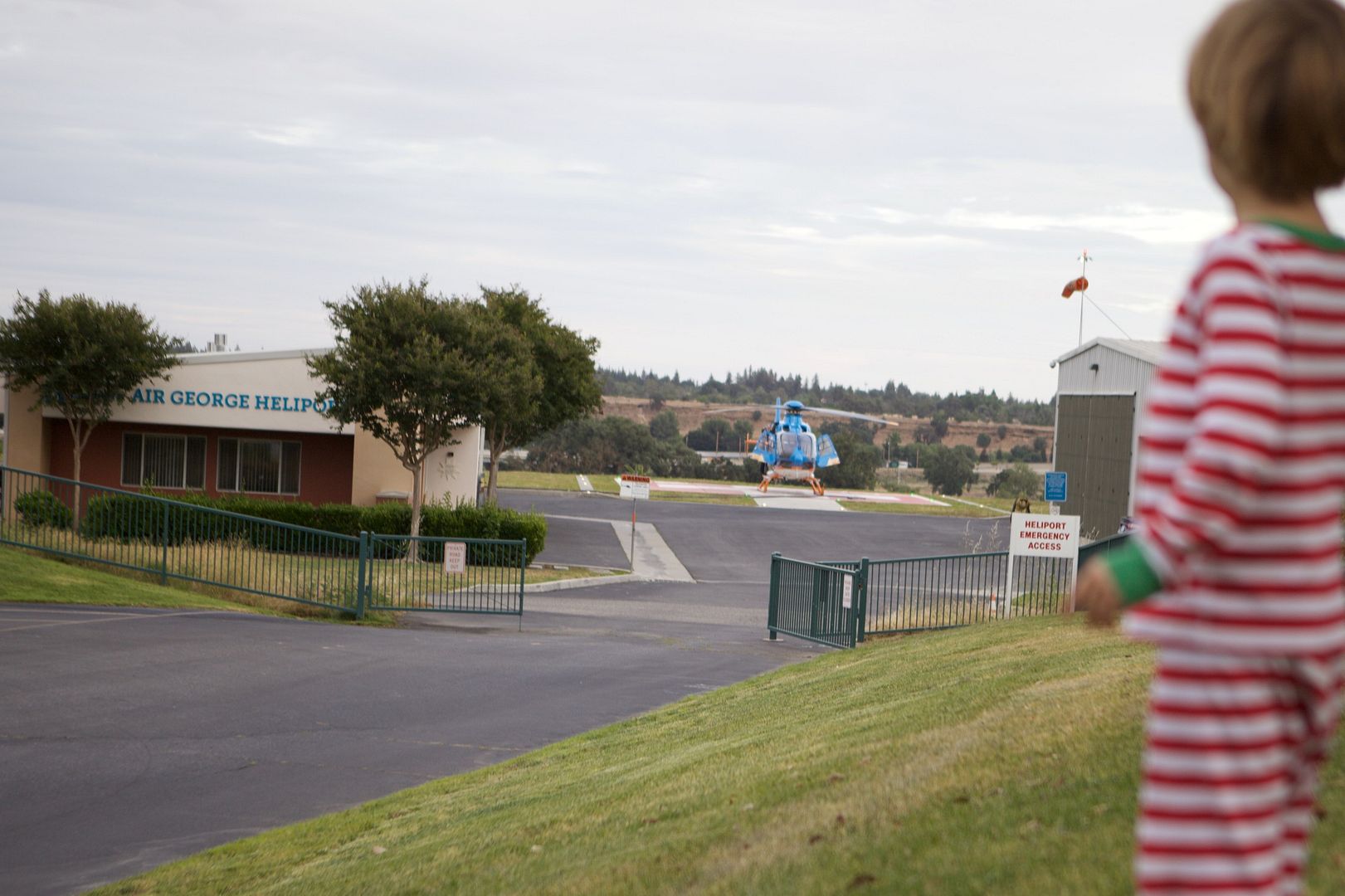 We got to see the helicopter land one evening while we were out adventuring.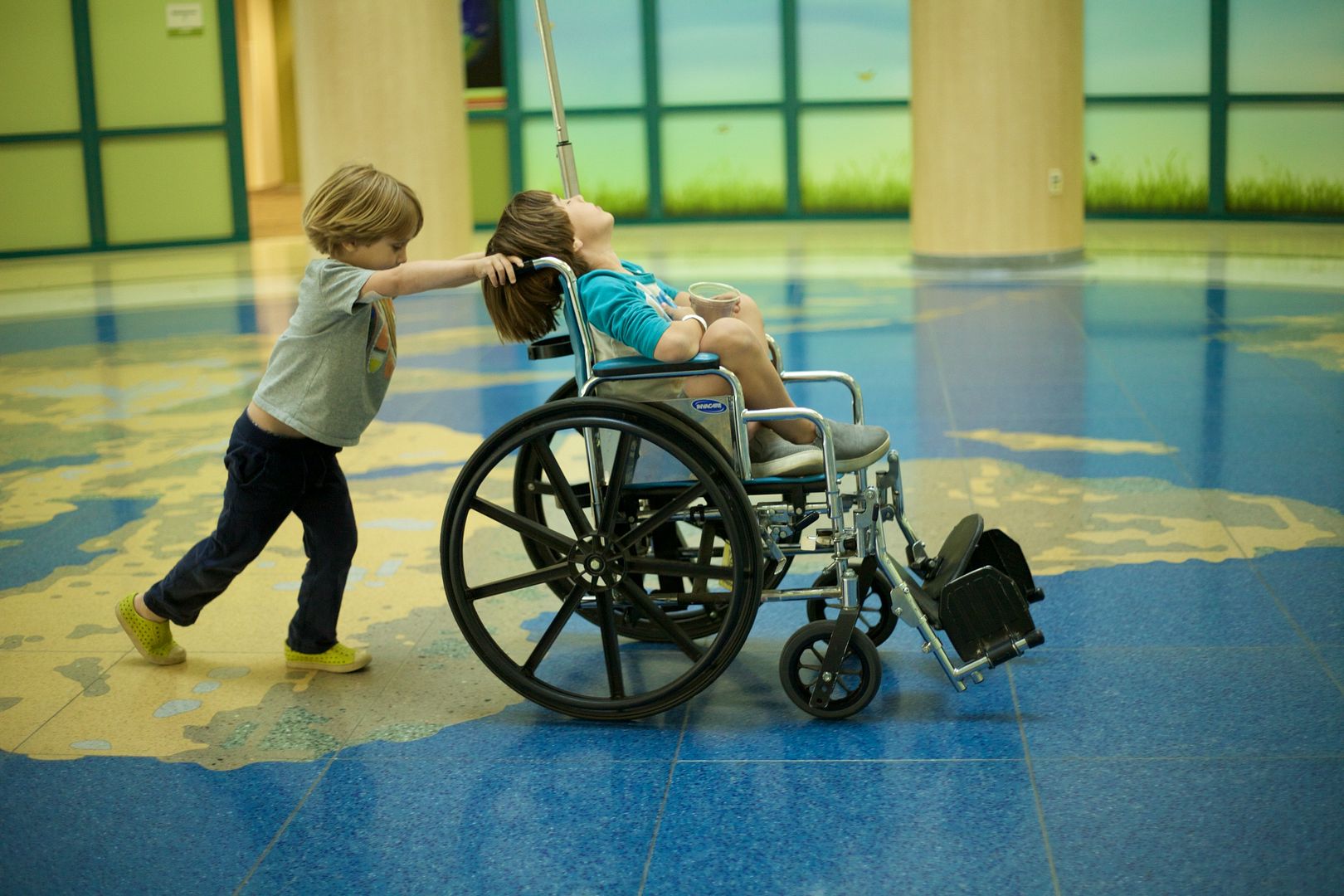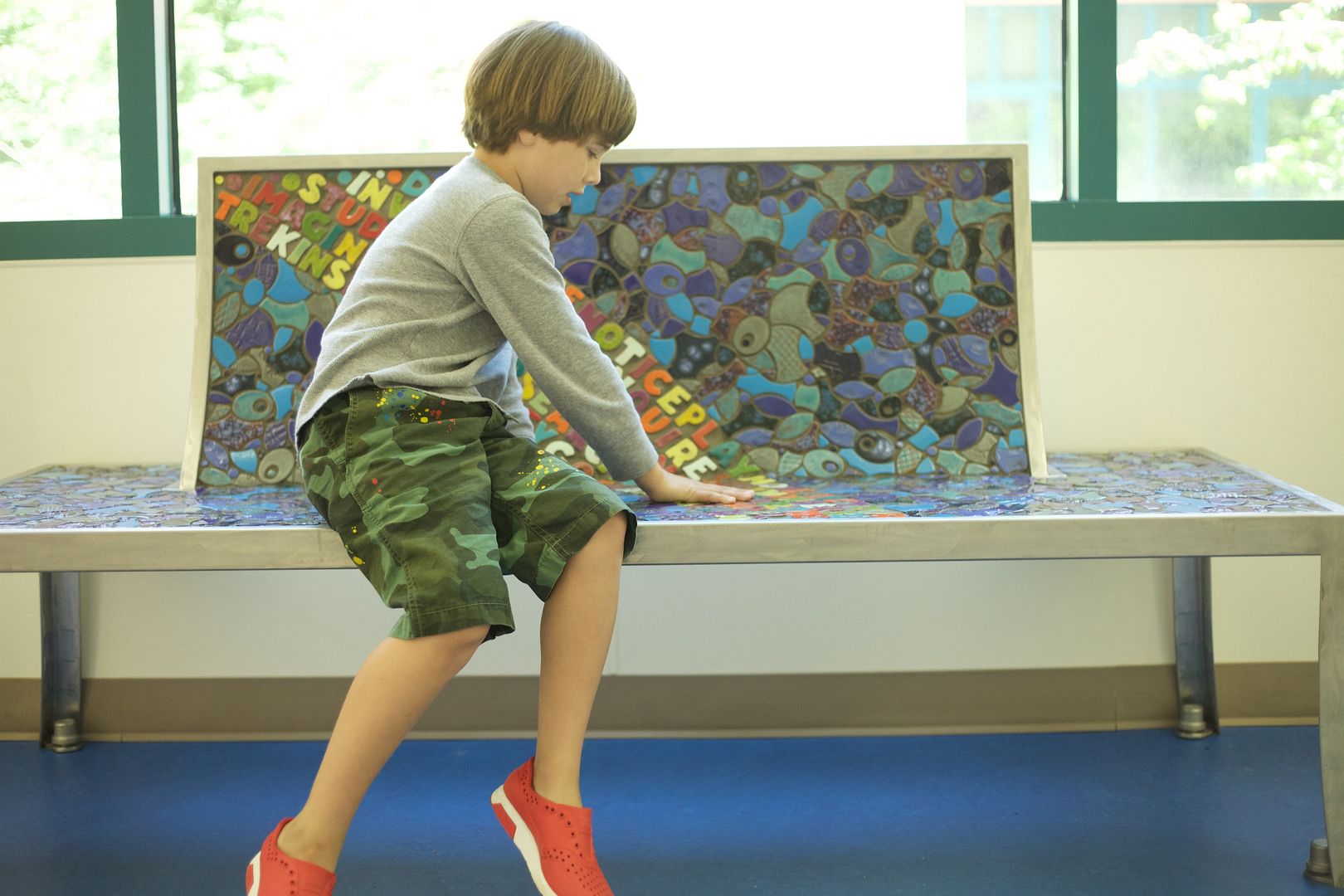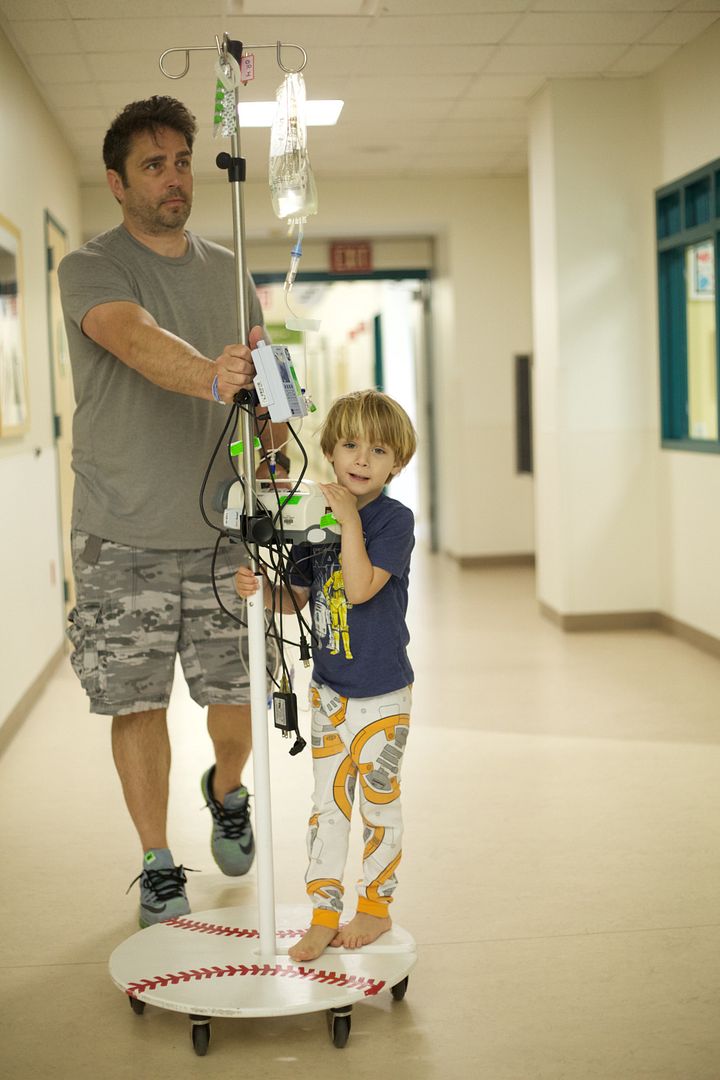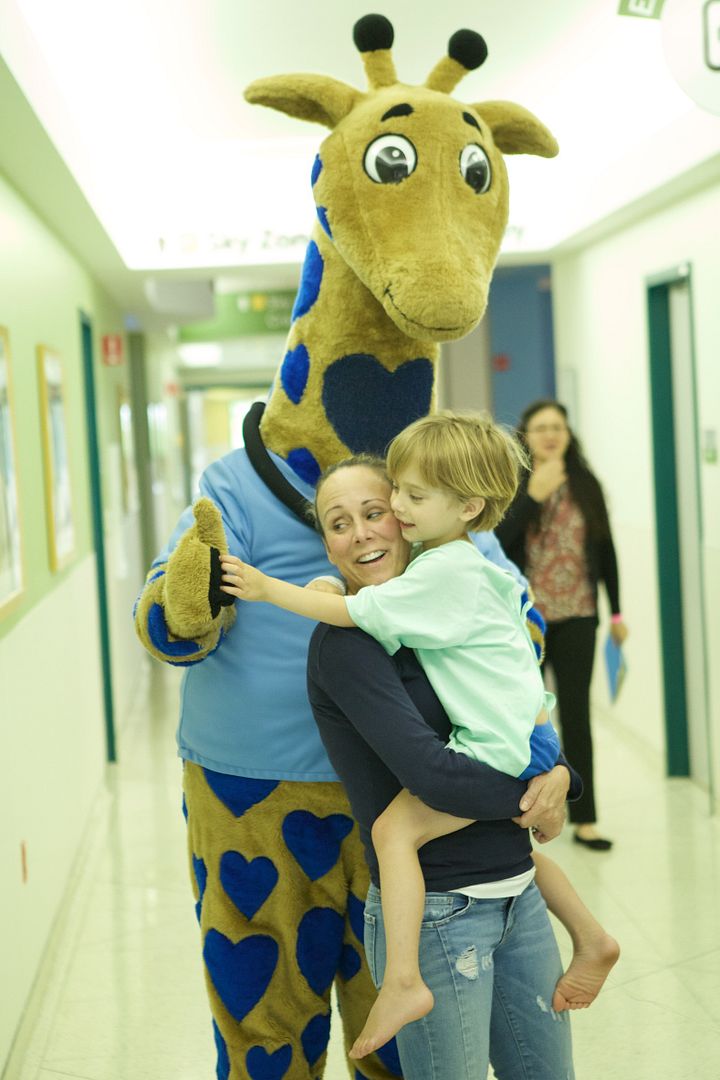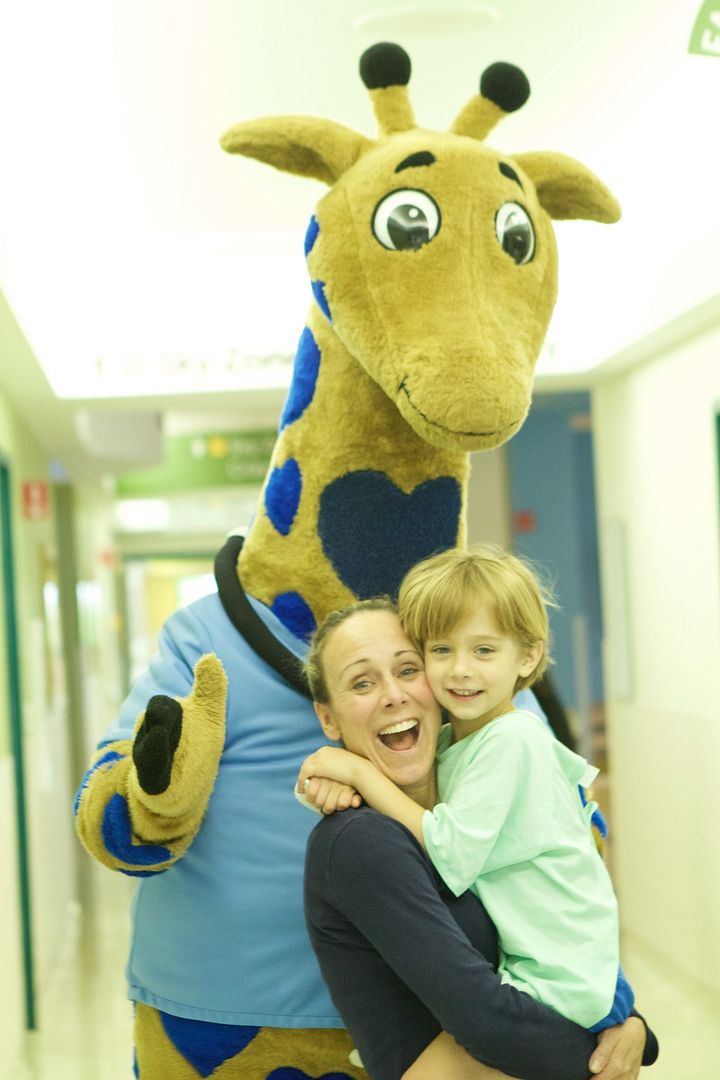 This is George the giraffe. Whenever Parker sees this picture he yells, "George!" and smiles.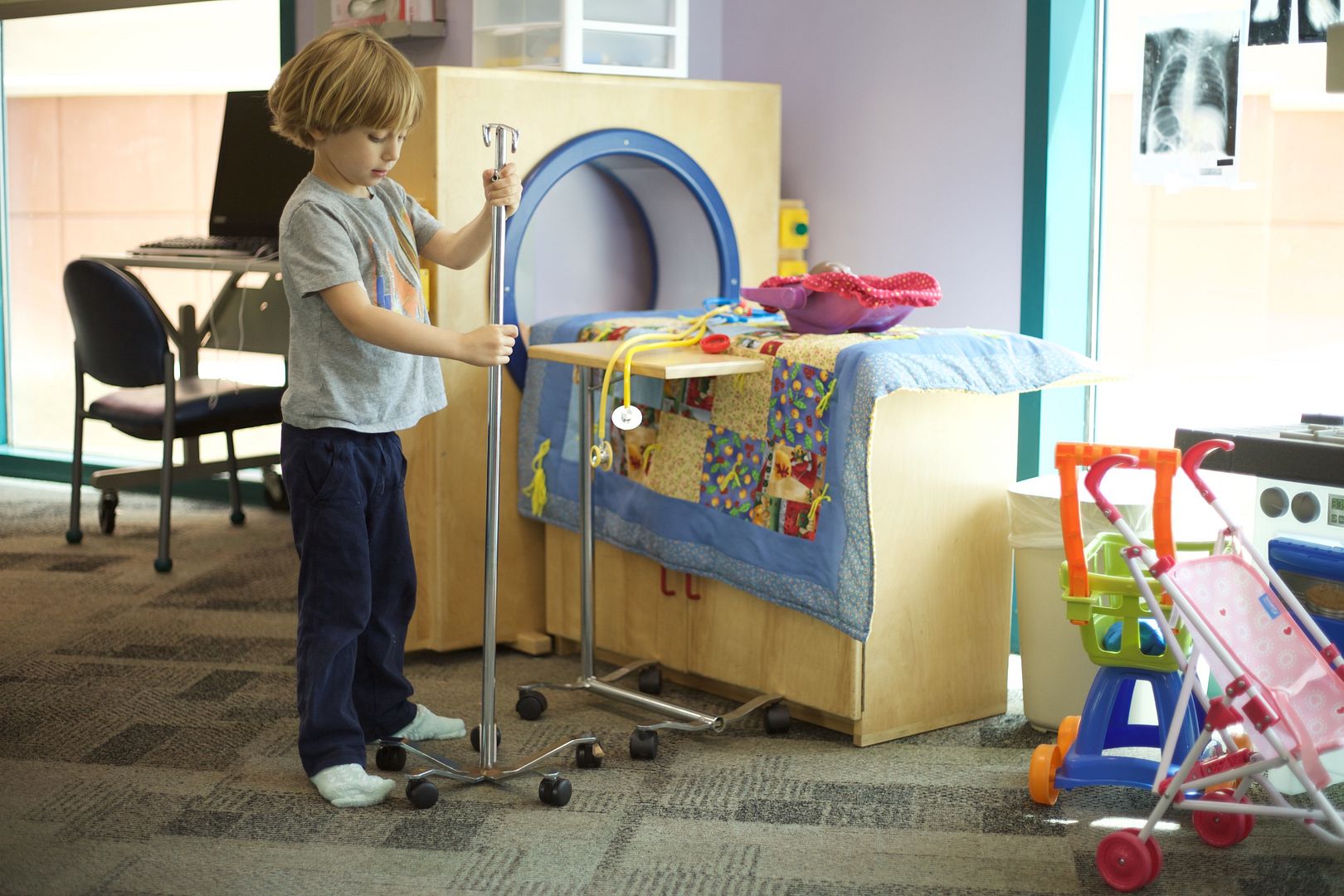 They have a super cool playroom, where Parker got to be the one to play Doctor. As you can see, t
his place takes being a kid very seriously. We had fun exploring numerous playgrounds.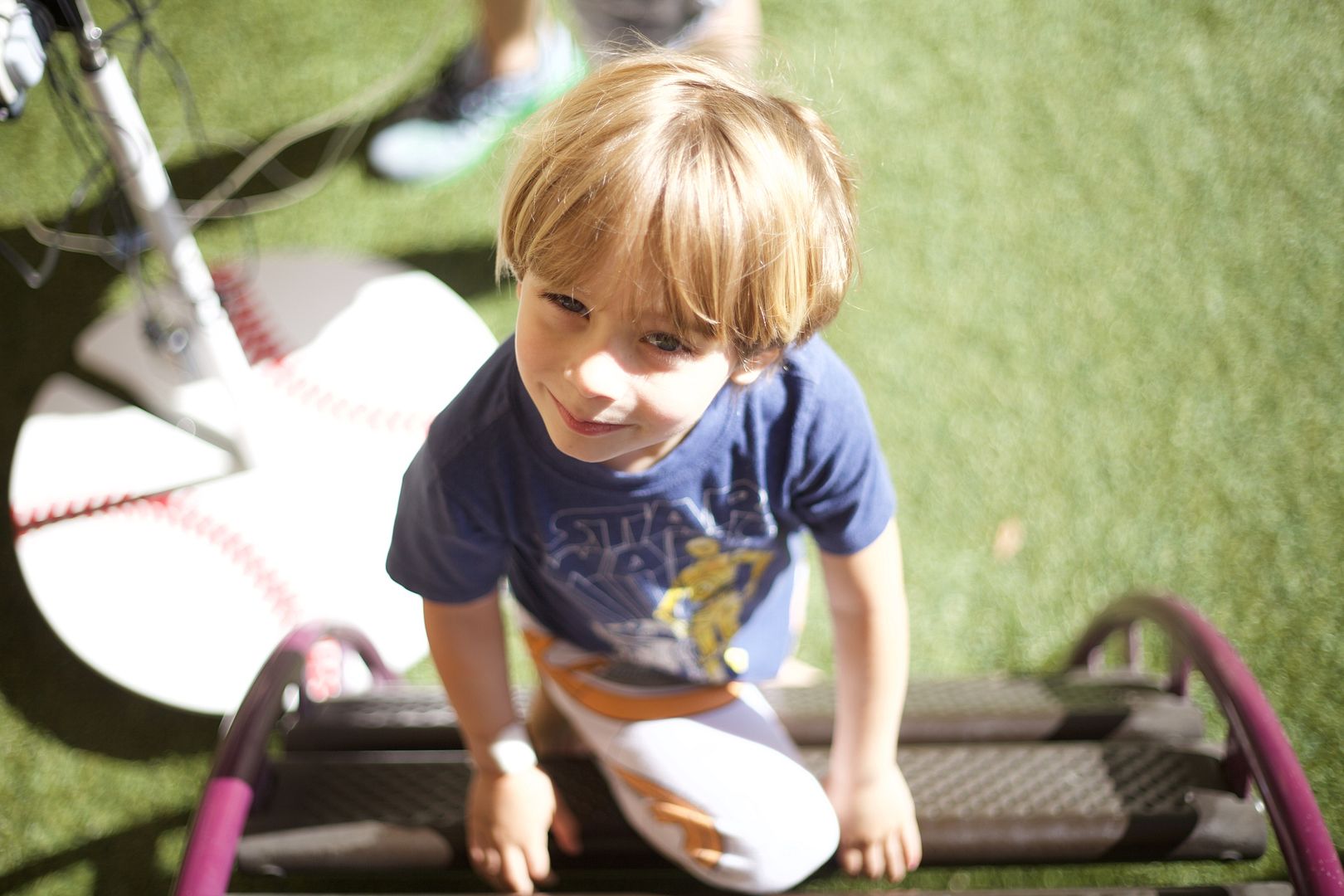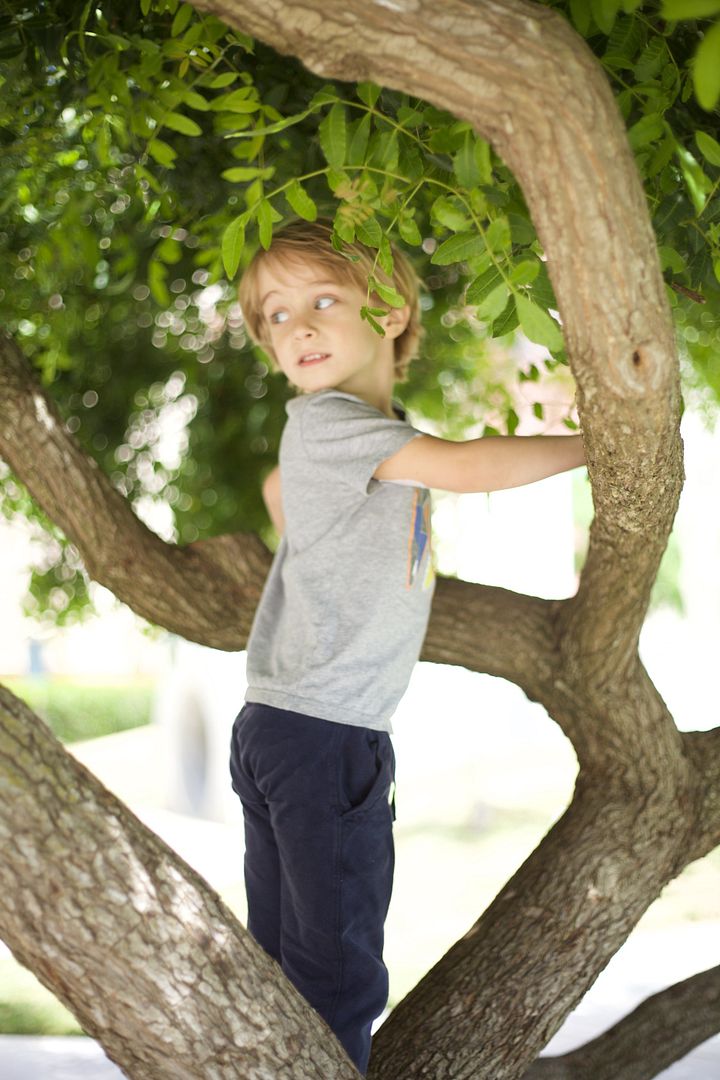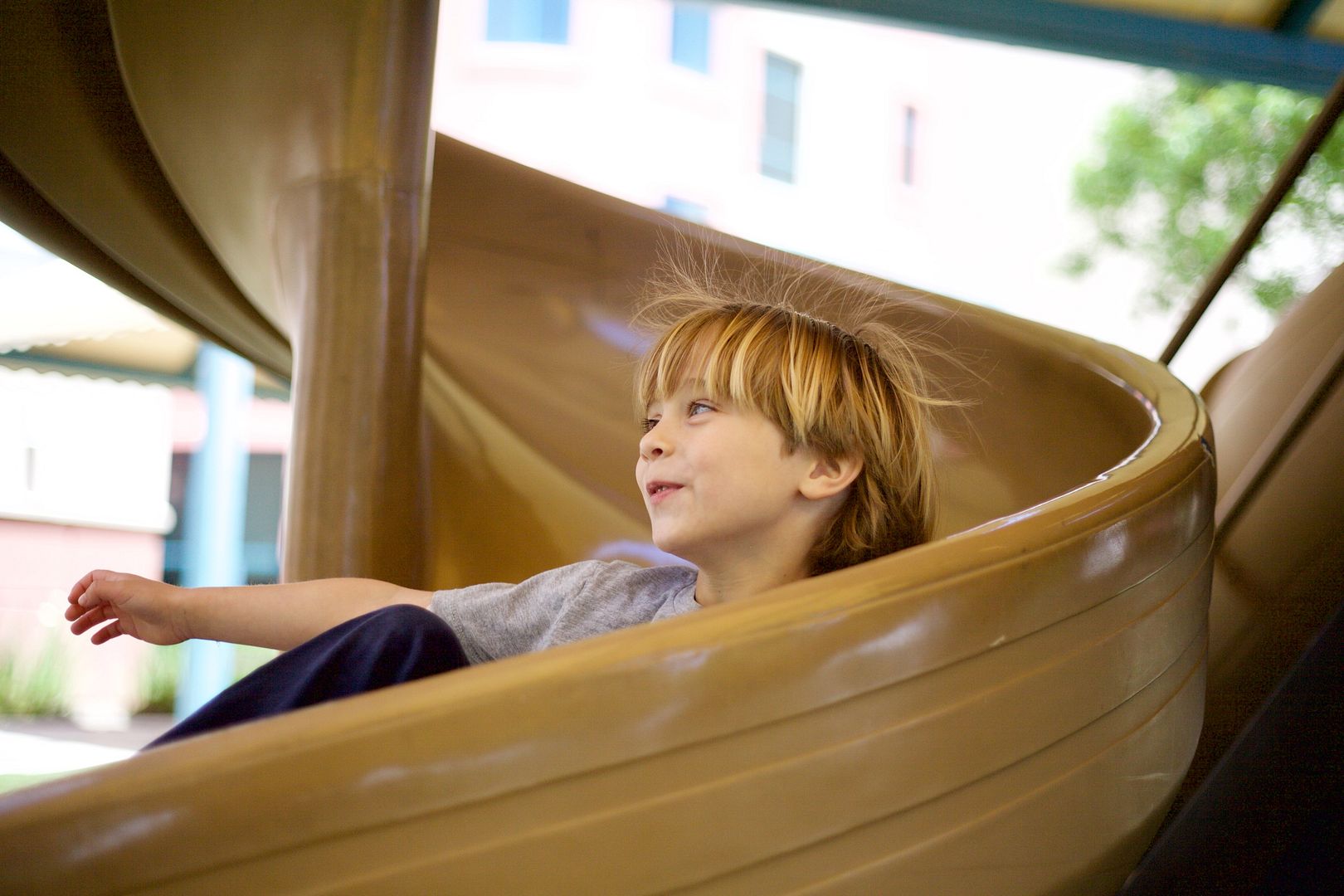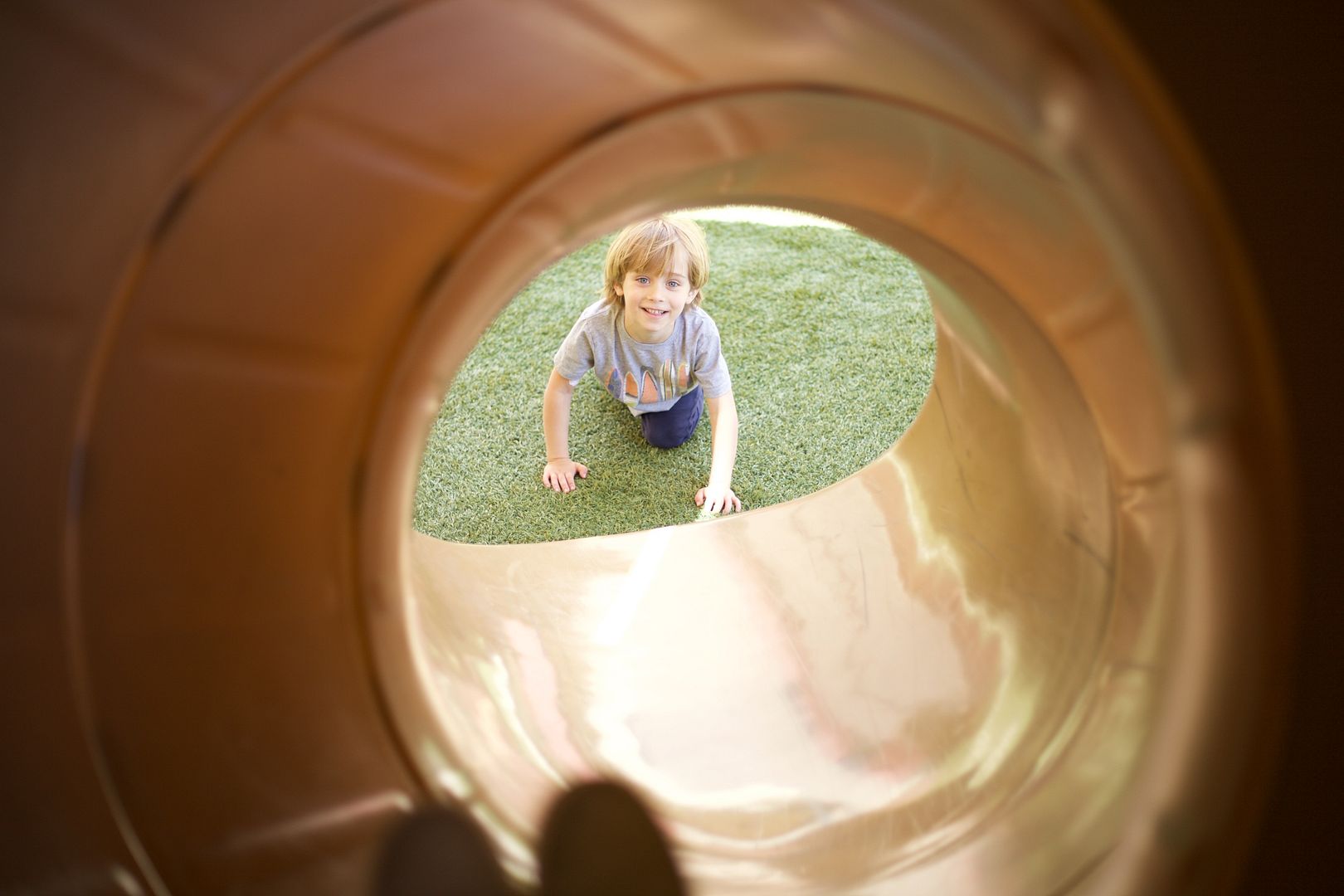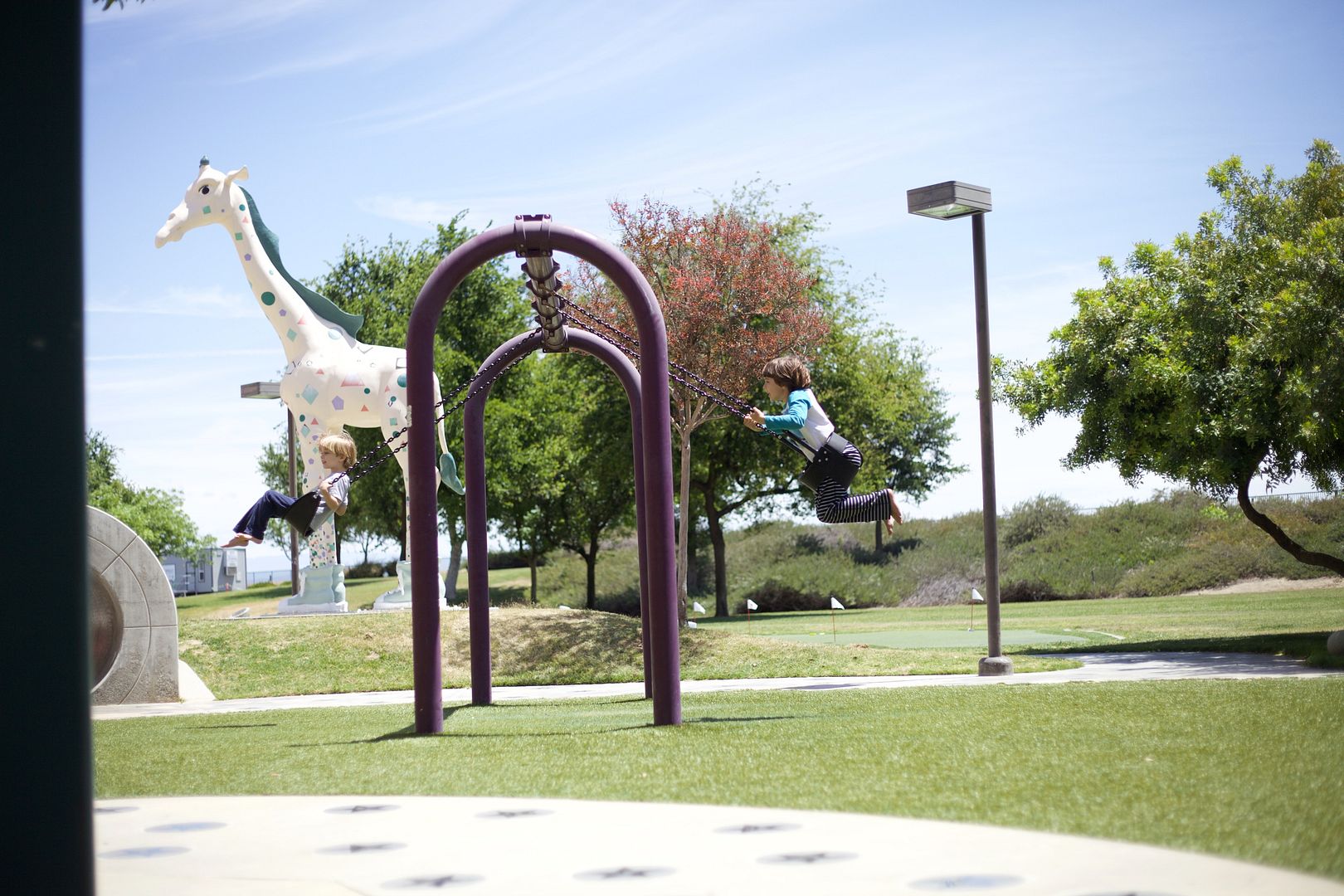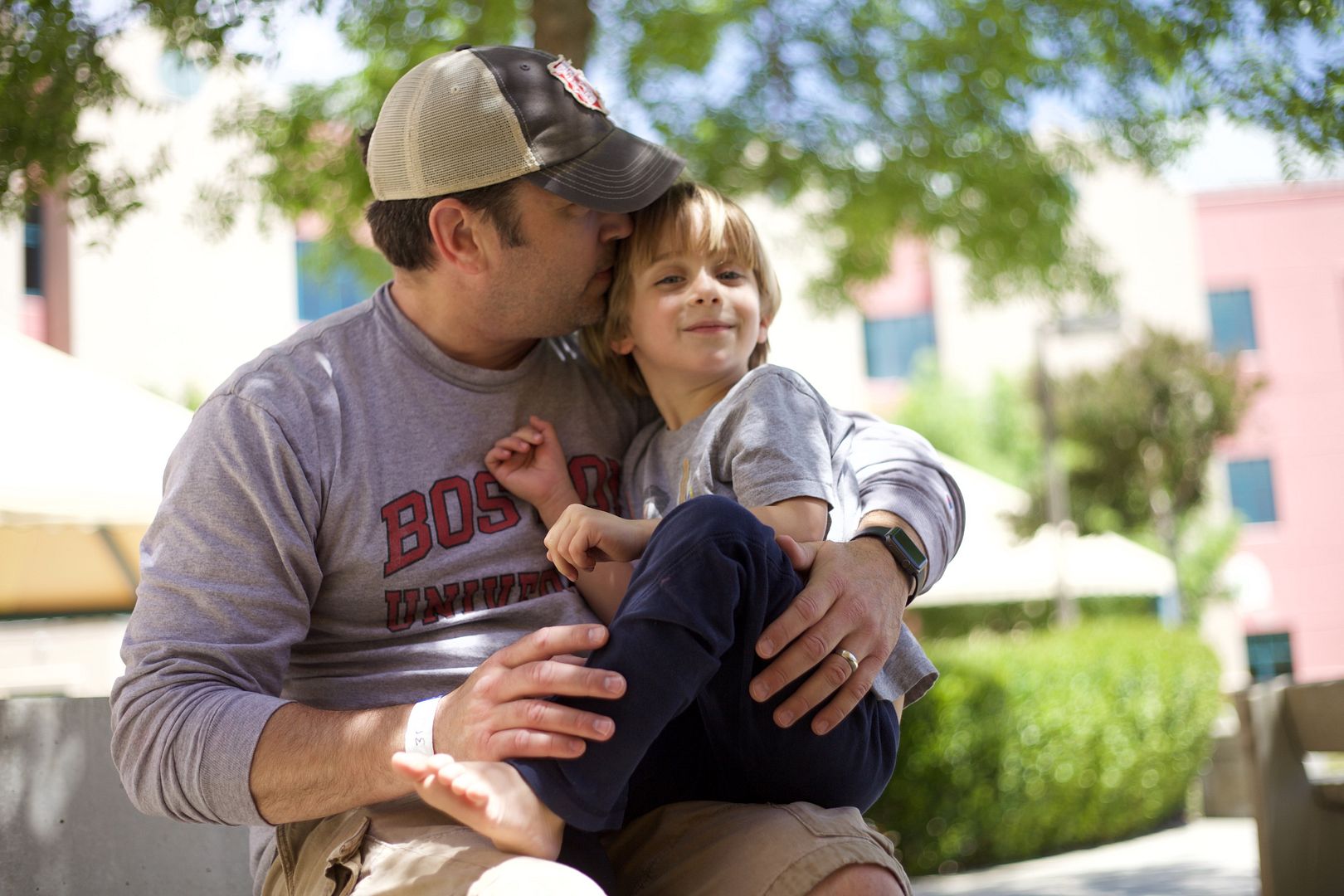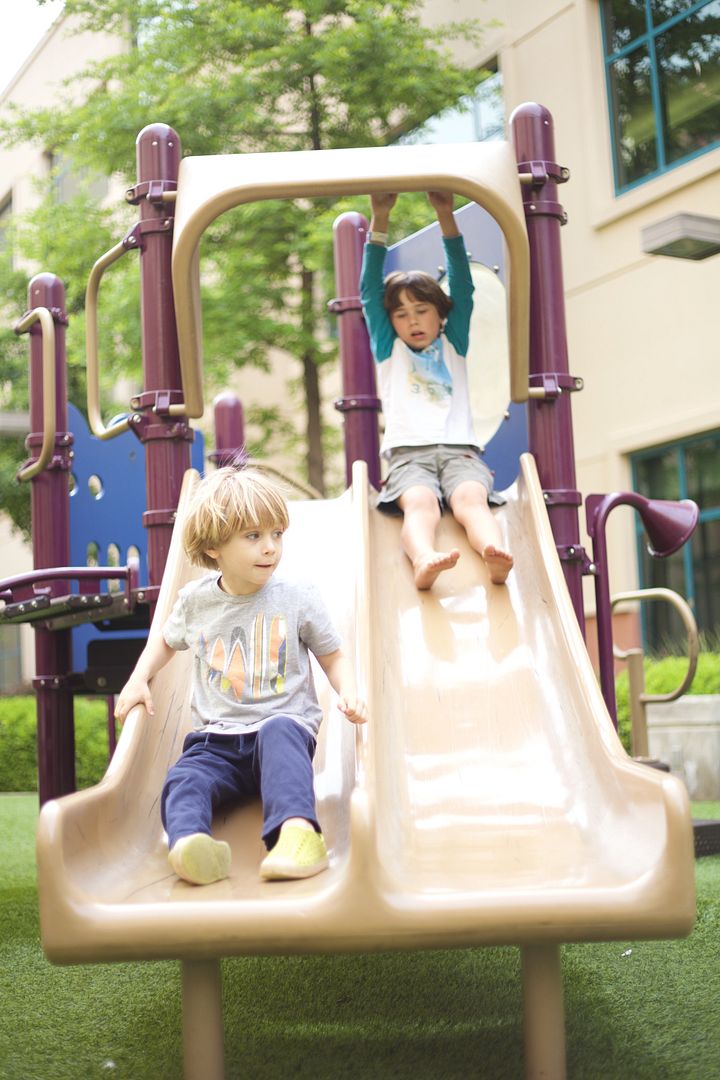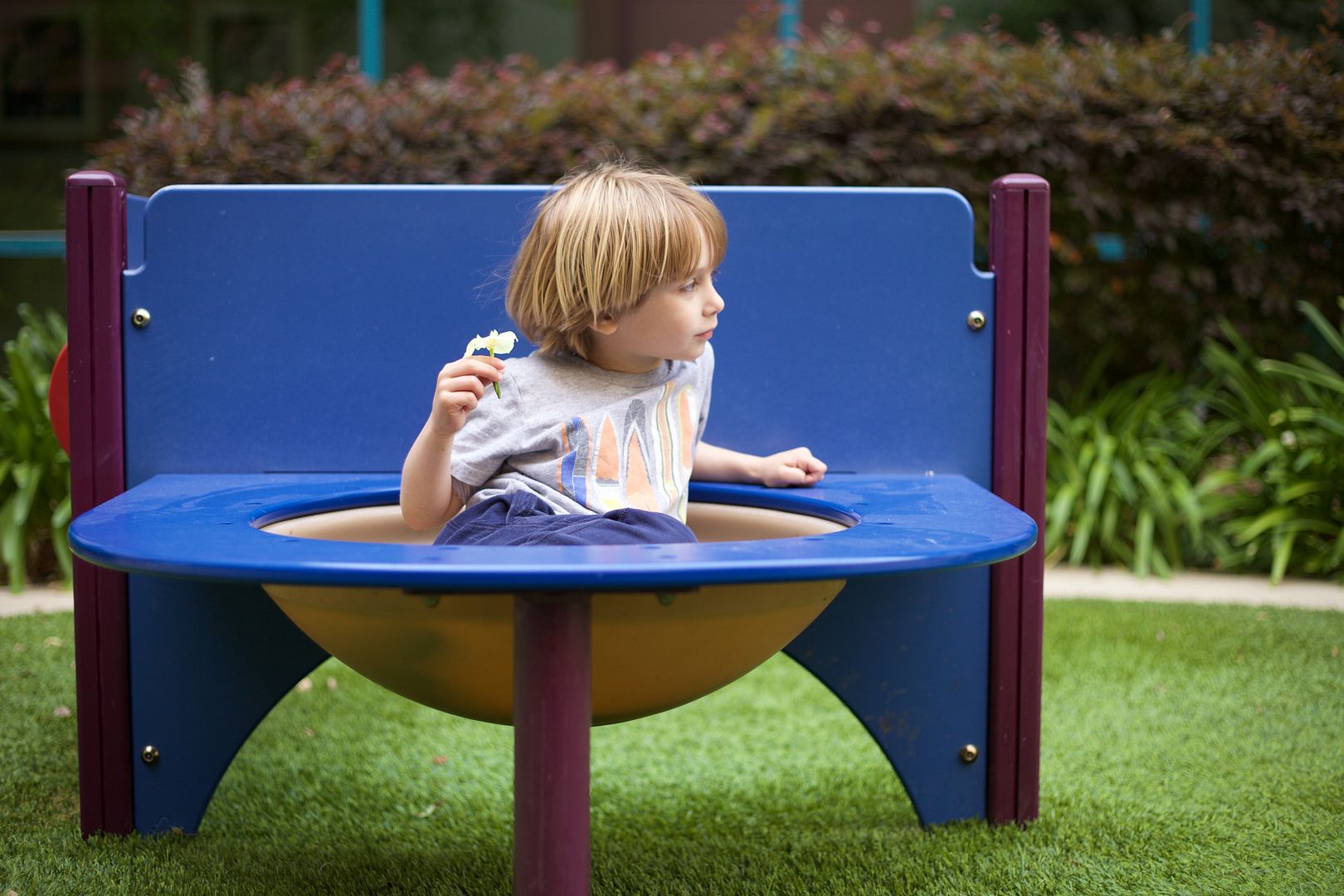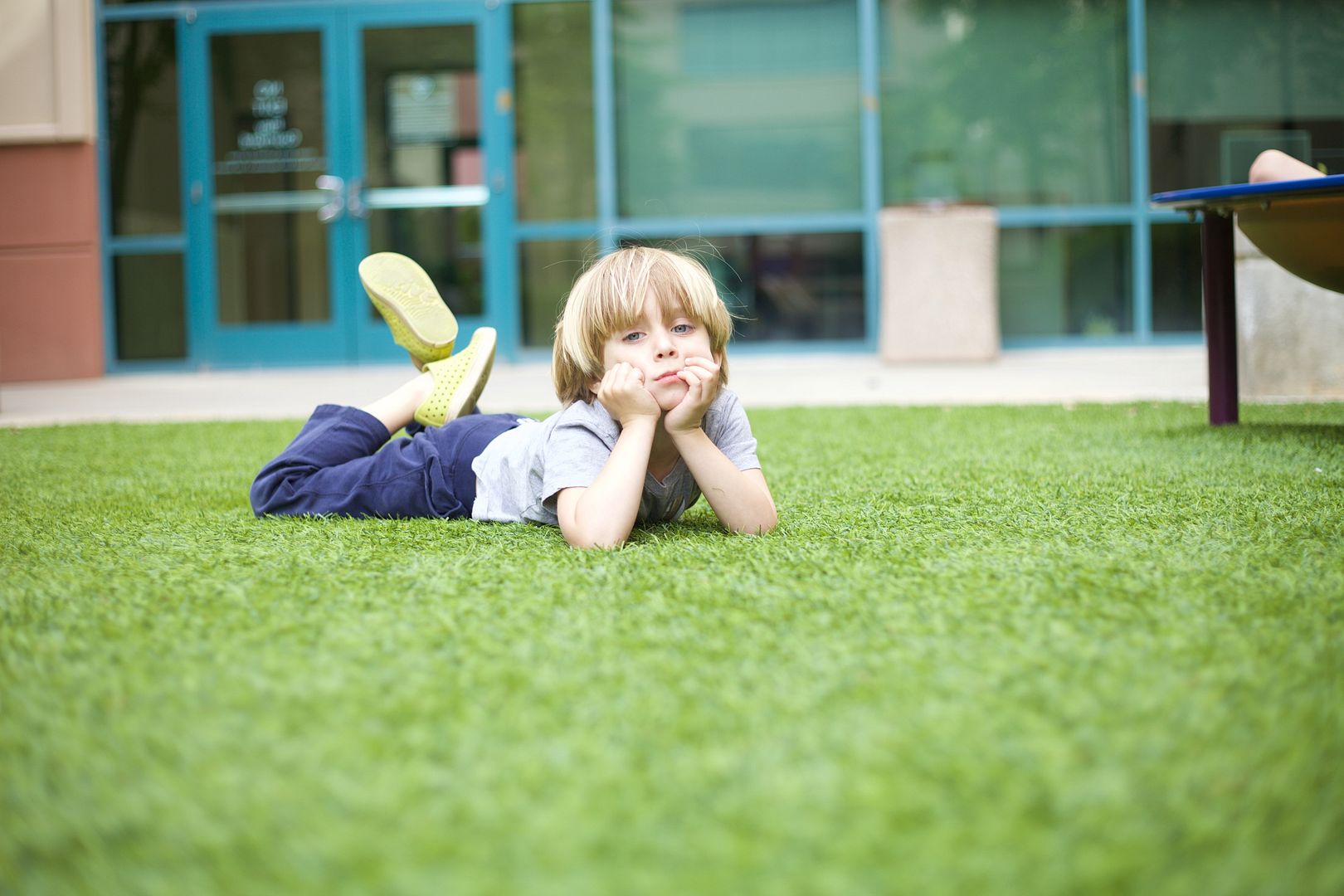 I can't believe how fast those eight days passed.
I shared the following words on our Facebook page the night before we left. I cried the whole time I wrote them:
When we first checked into Valley Children's Hospital eight days ago for a ruptured appendix in my six year old son I said, "I will be open to the particular parenting lessons this stay will teach me." I was scared, but I meant it. Since then I've felt sad and scared and happy and so very high (not from the meds. They say those are only for Parker, not for Moms. whatever.)
But not for a second did I ever doubt that we were getting the highest level of care from people who are experts in their field.I feel blanketed with the fact that there are *such good people* in the world, today more than ever. People who care about other people with every fiber of their being. People whose calling is serving others in their most vulnerable of states. People who see a child left by their parents, and then have to call foster care to pick up the pieces. People who see children take their last breath before the life flows out of their body. People who see children with puffy faces from steroids and a bald head from chemo and say- "Yes. I am going to show up for another day of THAT because it is what I was born to do." They've seen all of this in the world, yet they still believe in what they do, and they still believe that love is some of the best medicine there is.
I could share patient outcomes that show that our amazing Valley Children's Hospital is in line with the level of expertise of Stanford (which it is), but as a parent, one thing matters to me just as much. (Maybe even more). It's the way they loved us better. It's the way they took care of my son- my heart- my life- my soul housed in a little, tiny, usually energetic six year old form.
And we felt that love with every interaction. With every PICC line sterilization, with every trash can emptying, with every vital sign taken, with every lunch (with extra cookies- thank you!!) delivered to our door. We even felt it with every freaking beep (After 4,908,788 I stopped counting) of every single machine. We felt it in the "George's Pass" sign outside our door, alerting staff that our Parker has autism (thanks Shelly!) decreasing so much anxiety during our stay. We felt it with every visit from the capable surgeon Dr. Allshouse- sometimes multiple times a day. Here every single person we interacted with loved my son better. They said we can go home tomorrow, and I don't know why- but I can't stop crying. I'm so grateful for the reminder that there are people and places like this in the world.
Valley Children's Hospital, "Thank you" doesn't quite cut it. But thank you from the entire Kelly Family. We love you too.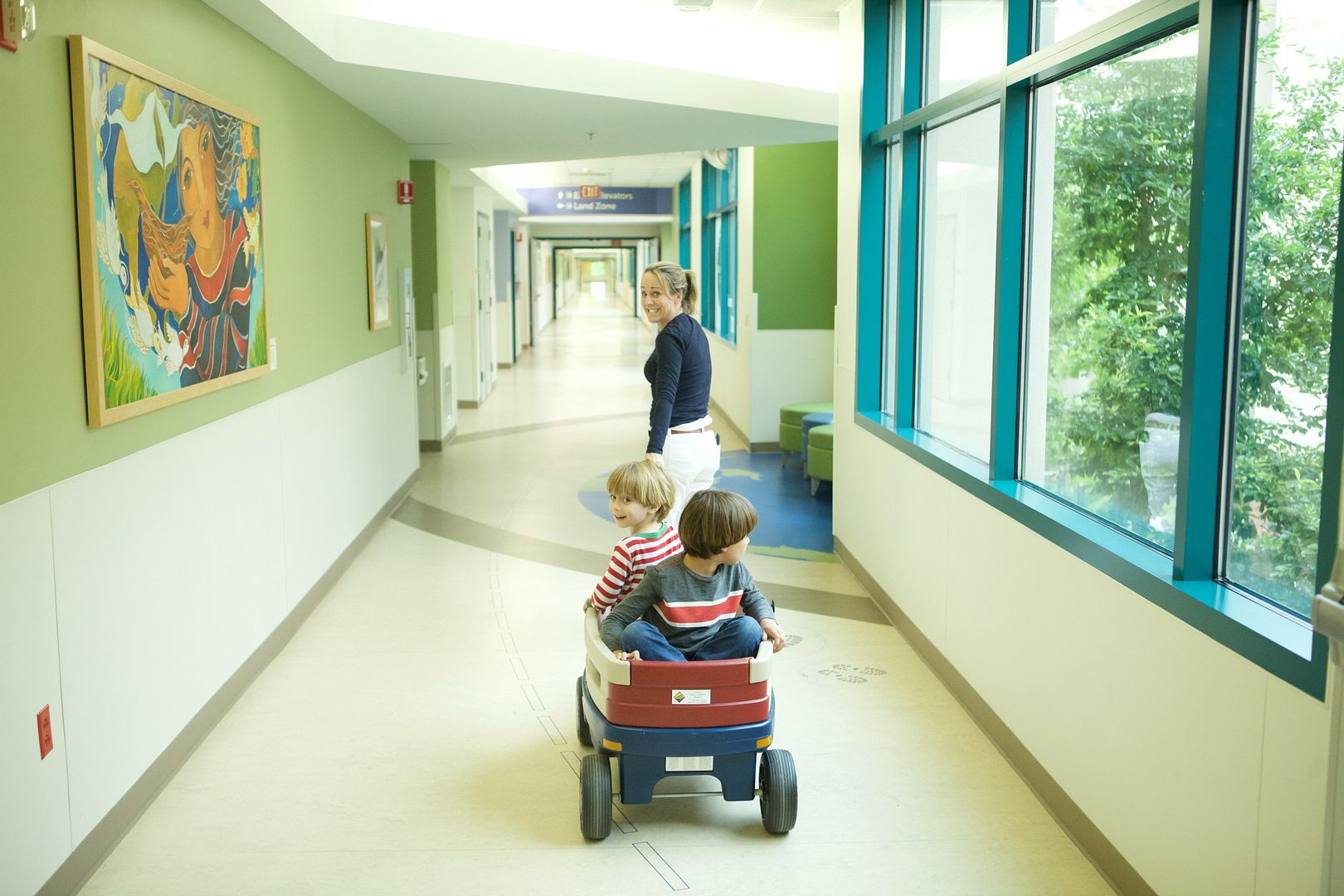 When we get pulled down by the meaningless day to day struggles of life, we simultaneously forget just how lucky we are, until life wakes us up to what really matters. I'm so glad that for at least today- I AM AWAKE.
We miss you Valley Children's. We can't wait to go back for our follow up.
XOXO,
Chrissy