I wish Life could be like an episode of Doogie Howser, MD or Sex and the City or the Wonder Years or Full House. By the end of each episode everything is resolved...Life makes sense...every little bit of it has purpose...lessons are learned and mistakes are uncovered as blessings in disguise...

And while listening to the voice over in the end putting it all together- it all just feels good...you get the chills as you swallow away that lump in your throat...We think that if Doogie or Carrie can figure it all out- well then so can we...and those thoughts feel good...

But now in real Life- days go by and we feel unresolved...Sometimes we don't have concrete answers...Sometimes mistakes are simply mistakes...sometime we don't see the beauty in the pain...

Every Life has its seasons...I think I'm in a rainy one now... It's a little gray and chilly... but I know that it will do me good in the long run... I've felt unresolved for over a week- and I want to fast forward to the end when it all comes together-- but I can't...because the truth of the matter is, it will all make sense in it's own time...it all will all come together- it always does...
Real Life episodes aren't 30 minutes or an hour...sometimes they are 4 days, or 2 weeks or 6 months or 4 hours and 18 minutes...
And we just have to make it through that middle part- screw that- not make it through- Live out Loud...live boisterously because there is so much more middle than anything else...

Tonight as I begin these words, Greyson is next to me watching Yo Gabba Gabba Live...
Basically a taped episode of the show we went to see last week...He is so totally Ga Ga for Gabba... And as I was attempting to rap and beat box with Biz Markie (I'm Biz Markie and I'm one of a kind- I will do a beat to blow your mind...me= major street cred) - Grey turns to me and gives me a look...a look filled with surprise that says- You see what I see...and we had a moment...My boy and me...a moment rivaled by those I saw between Mother and child at the Gabba show last week...

It was worth the wait...
Today I woke up and I just didn't know how to choose happy. If you would have told me- happiness is a choice I would have told you to screw off...
The sun was shining... Grey's therapy was cancelled and I cancelled Parker's therapy yesterday in case he was still wasn't feeling well...So today was a therapy free day. I should have been happy...All our ducks were in line for happy...but I just couldn't quite get there...
The world never stops spinning- I said to myself I wish I just had time to just sit here and think...think it all out- figure it all out- write glorious 1 day, 1 week and one month to do lists...
But the thing is- I'm already ALWAYS thinking. In fact- I had to make a new rule for myself--
no thinking in bed
. There's just no need for it. I abused my bedtime thinking privilege because I didn't use the time to think about good, happy, shiny and restfull things...I thought of the future, of the past, my fears, things I couldn't forget to get from the grocery store, things I said or didn't say, texts or emails I forgot to return...Until finally I said-
ENOUGH
. And now when I get into bed, I visualize myself wiping the slate clean. My mind is a dry erase board and I use an eraser and swipe it completely free of thoughts.
But tomorrow I'm declaring Think free Tuesday...Only thoughts that are happy, shiny, positive and about the right now are allowed...
No bad self talk, no worrying about the future or questioning the past... No cursing love handles or crows feet...Live in the moment...
I knew I was in a funk today when jumping didn't even pull me out of it...
But now looking at these pictures, I realize the funk is gone...it ran its course...
It was so hard to select only a few pictures to show you...
Grey was so excited when he realized where we were...that's the thing with him- he doesn't rely on words- they are not his primary language- so even though we may say- Greyson, we are going to the trampoline place to jump- he often doesn't get it...
Yes- he understands more than I could ever realize- but there's also a vast amount of stuff that he just doesn't get...
Greyson thinks in pictures- not in words like most of us do, so I have been taking pictures of everything you could ever imagine- like the trampoline place---to print and laminate so we can help bridge our communication gap while he is learning to talk.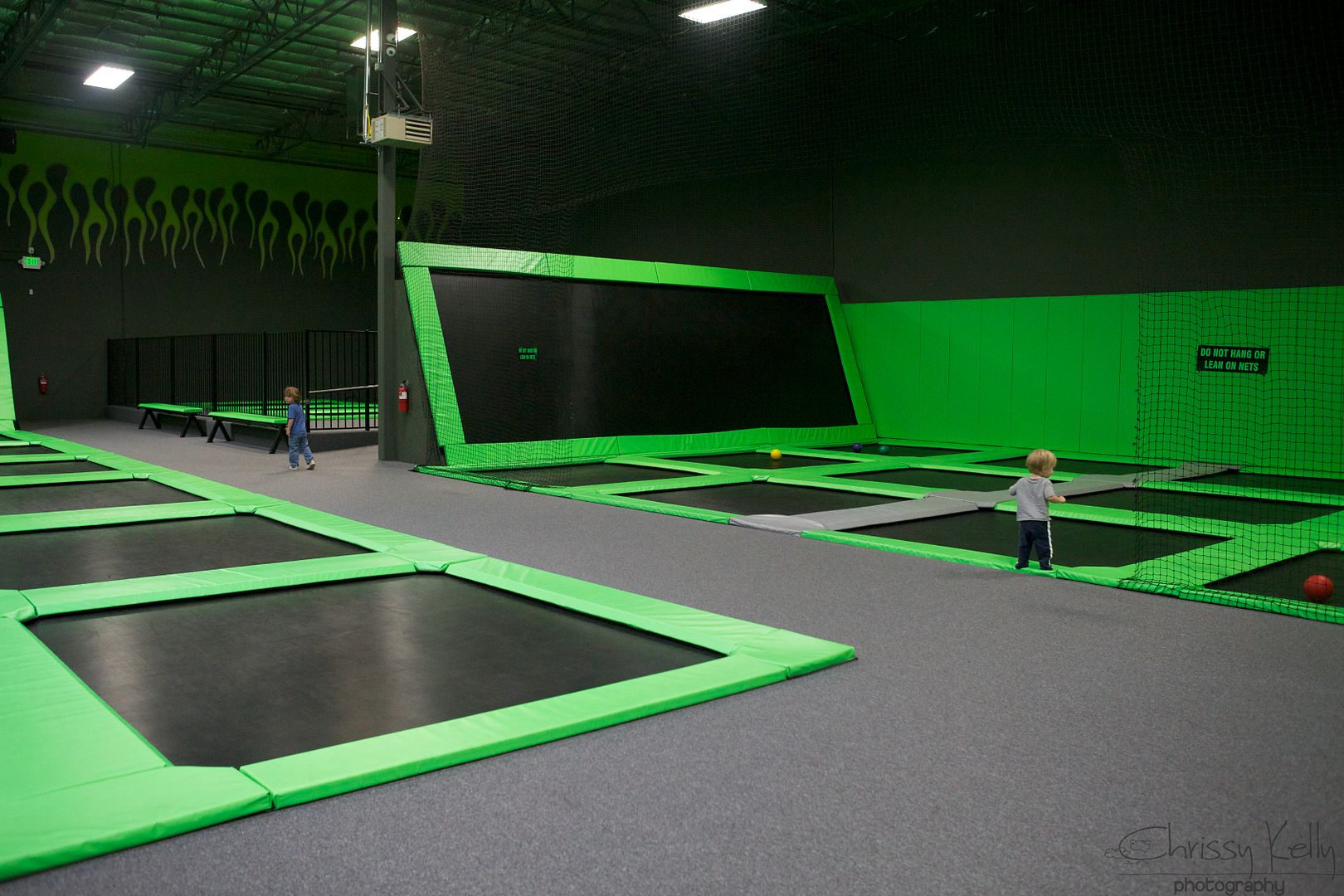 We had the entire place to ourselves... magic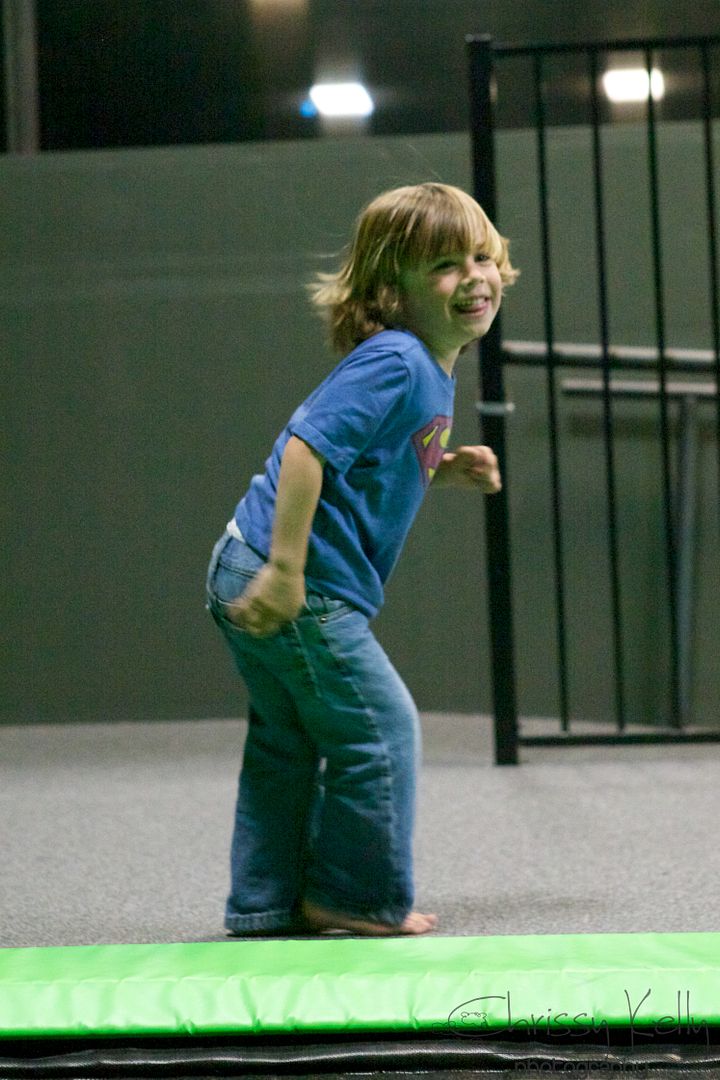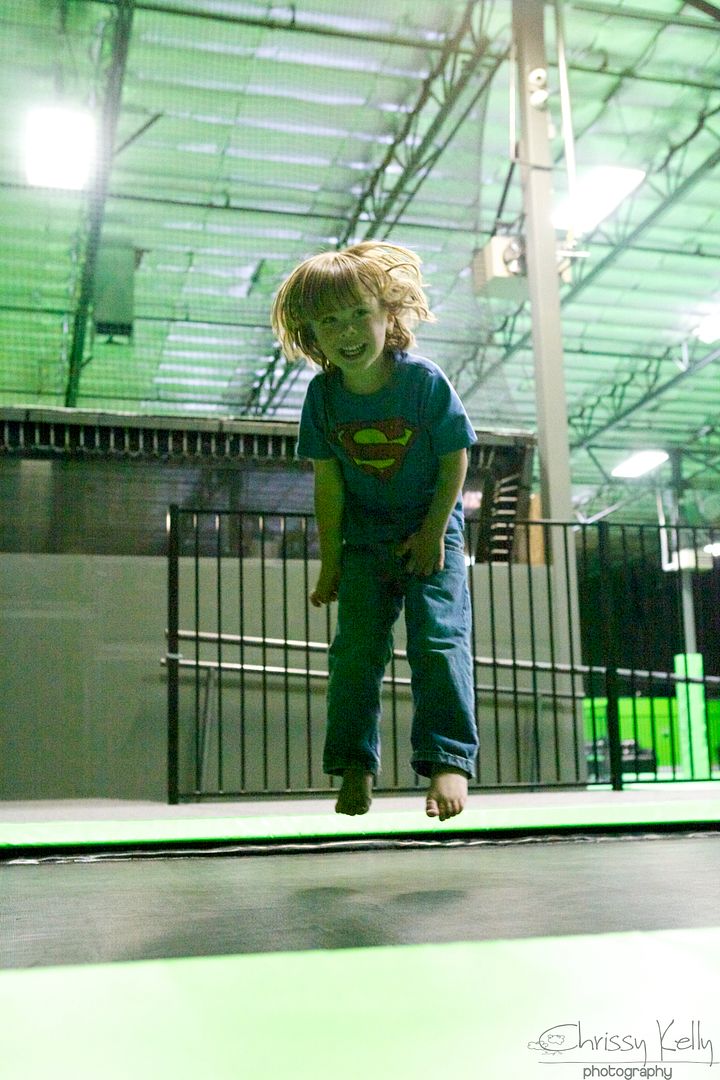 I'm quite certain that jumping is a religious experience for Grey...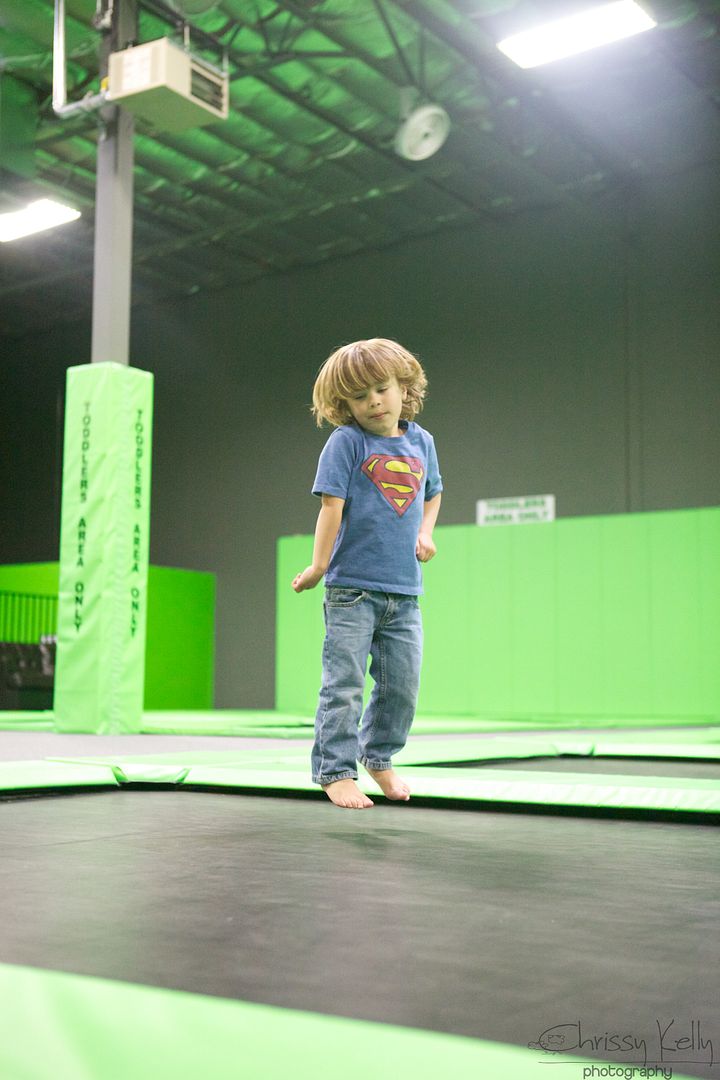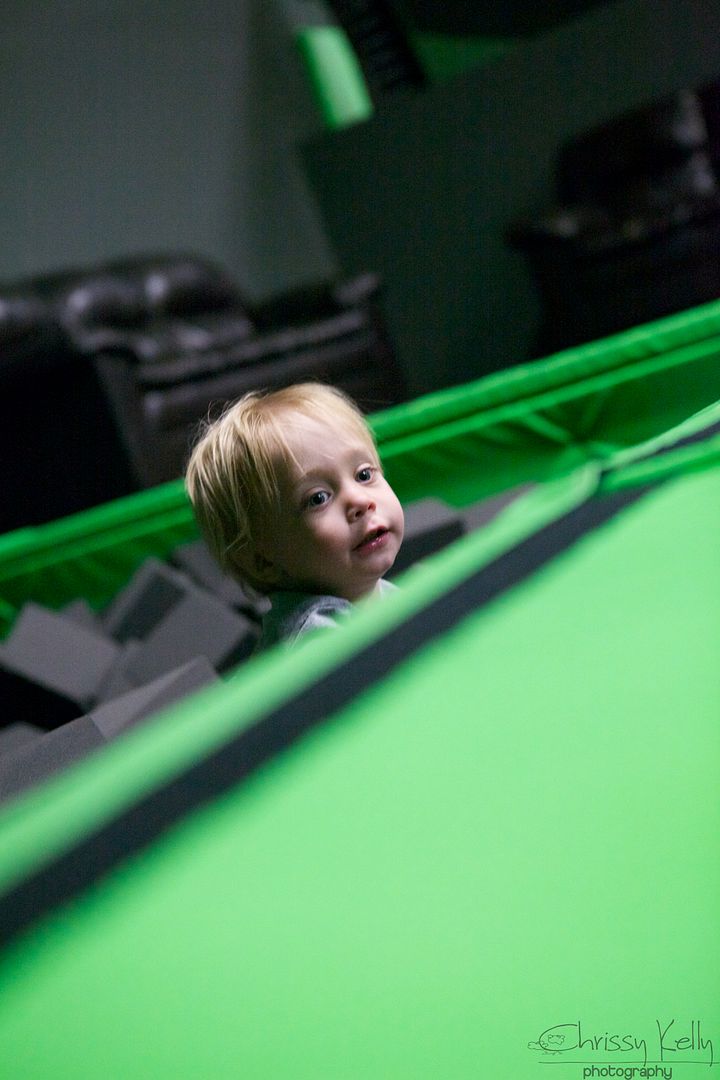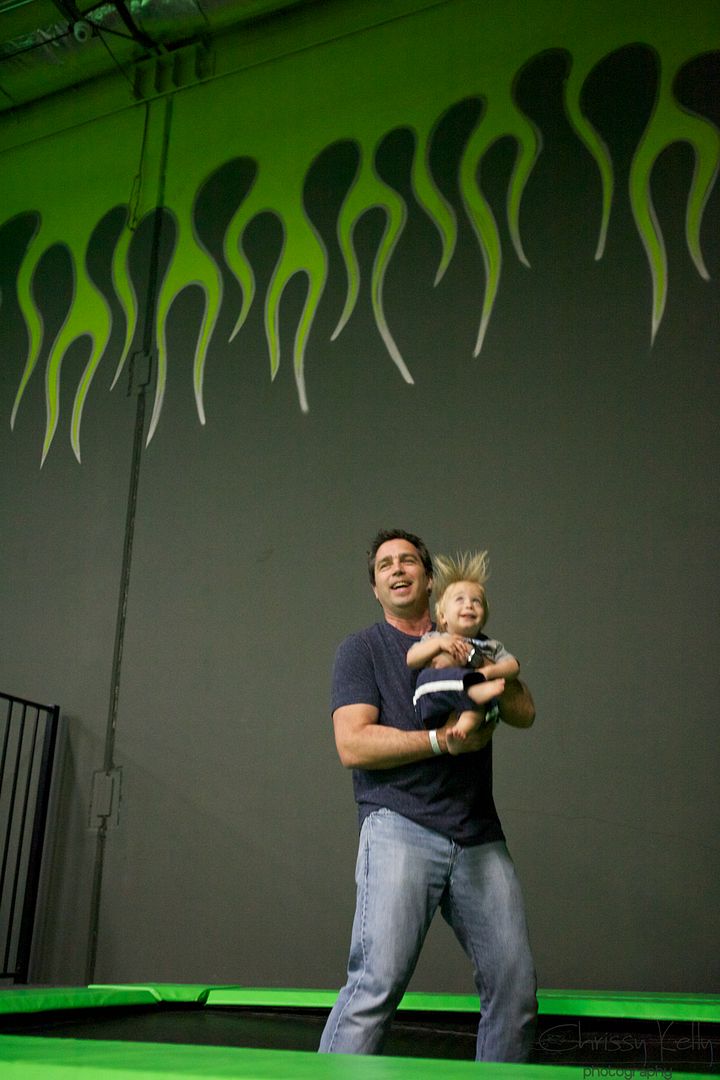 Doodle loves it too...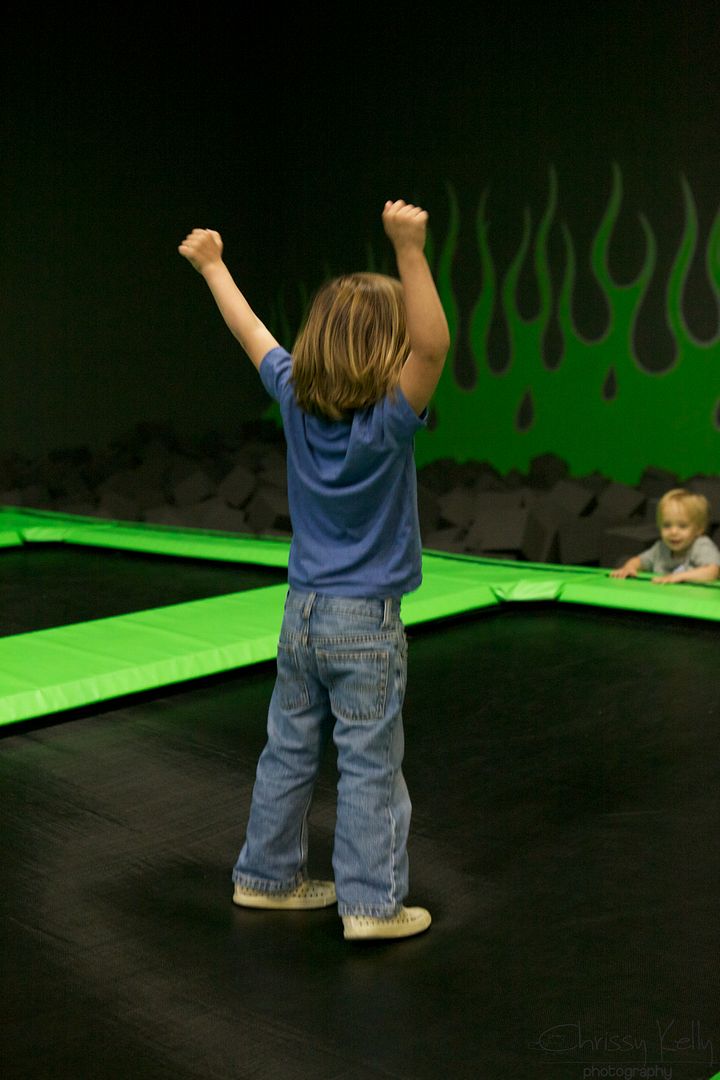 Mother jumping Bliss...
I want you to read my words and cry...I want you to read my words and laugh out loud...I want you to read my words and shake your head yes...I want you to read my words and feel...and grab your Life with both hands and hold on to it with all you have...
So tomorrow- don't forget to not think... It's Think Free Tuesday...Tell all your Friends...
Much Love,
Chrissy
Life with Greyson + Parker is on Facebook. Come say hello...