When I was in grade school I thought it was important to fit in. Do, buy and say what the popular kids were doing buying and saying. I wasn't that great at it- Popular. I didn't ever really feel like I found my people.
In high school I thought it was important to go with the flow. Not stand out. Drink and have fun...but I actually didn't like drinking- and I didn't love going to parties where the parents were out of town either...but I knew that's what I was supposed to do- so I did...and because of that- I really wasn't true to myself. I always kind of felt like the 65 year old 17 year old.
In college, I thought it was important to work hard and look a certain way and weigh a certain amount. I knew full throttle or nothing at all. It took so much energy and so much work. Many days it was all I worked toward...perfection... I wanted to graduate and get a certain job that sounded a certain way...and so I did...and I was happy... kind of.
When I became a Mom I thought it was important to dress a certain more mature mom way. I thought it was important to have a more mom of a hair style.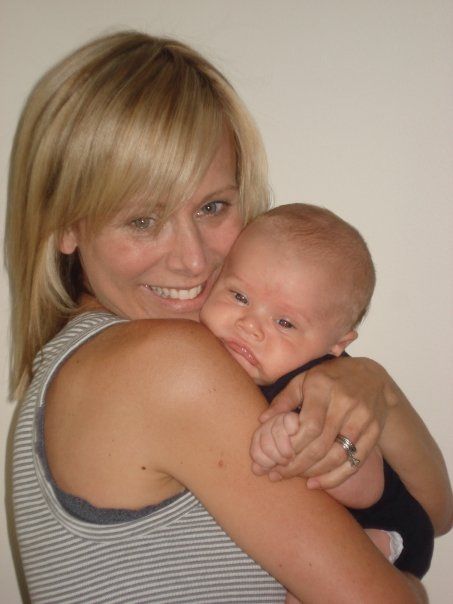 Talk a certain mom way with sentences that were free of curses. I thought it was important to buy the best foods and toys and stuff for Grey- and be the best for Grey. And being the best takes more energy than I could ever seem to muster up...especially when I usually felt like I had no idea what I was doing... but I tried to pretend like I had it figured out.
And today...what a journey has led me to today. Today- I'm often not really sure what I'm supposed to do, so I try to stay positive and be willing to learn as I go. I've succumbed to the fact that I will never ever be the best at any single thing- except at being me. I am absolutely the best at being me. I don't really know what that even means anymore- the best. I'm not sure what I'm supposed to wear- but I know it's supposed to be comfortable and I don't care if I get it dirty because then I can always blame it on the kids...and sometimes if I'm feeling low it's best to shower and wear makeup and look cute- for me. I say what feels right and try not to hurt others with my words. I feel like I have finally found my people.
I guess that's the journey we go through as we get all growned up. Hopefully we just become the me we were meant to be.
Tonight we went to the mall with the water thingies outside...and every time I call it that Michael says- Don't you mean the only mall in Fresno? Yes Friends, there is only one mall in Fresno. Isn't that funny?
But this week has kicked Grey in the ass... and he fell asleep on his favorite place in the World- Dad's shoulder.
Yesterday I realized I haven't gotten my eye brows done in years. And that's what I picked for my dot for today...
I don't know why- but Doodle loved it in there. He didn't want to leave.
Grey finally woke up so we took him back to the water area...but he didn't want it... Hmmmm....He so desperately wanted something else-and he wanted to tell us what he wanted- but you know- the whole not being able to talk part got in the way... So we just let him guide us as we discovered where to go...
Greyson- which way should we go? And he would point us along...
Disssss.... waaaaayyyy....

Ah ha... And finally we found what we were looking for...
Forever 21... Isn't that hilarious?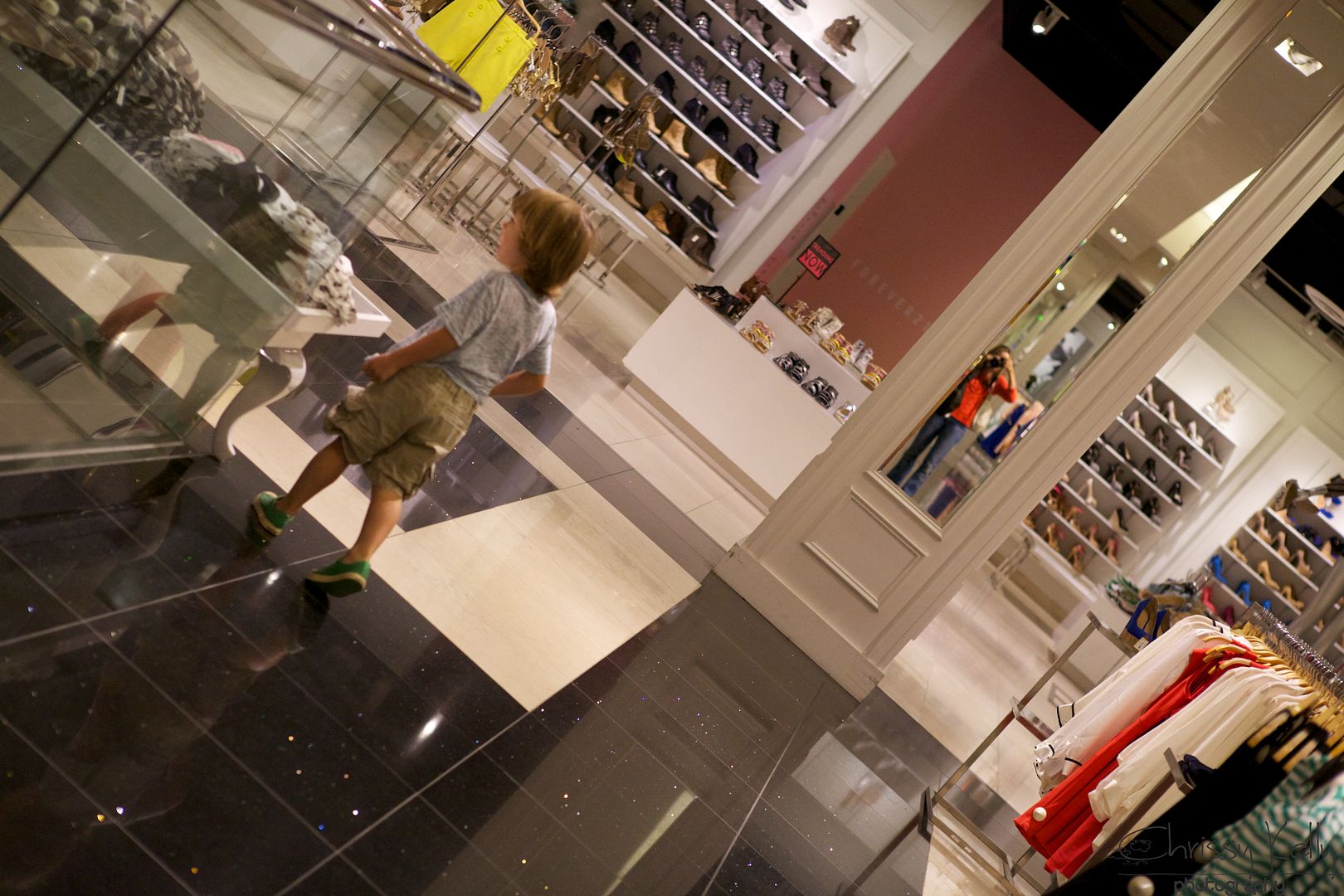 He loves to go up and down the escalators...
And so we did...again and again and again...
Sometime I'm going to take him to the mall alone and on purpose just so we can go up and down them forever... As soon as he gets off the escalator he runs back around to do it all over again.
I love Grey because he likes what he likes...not because he is supposed to-- or because his friend has one... It took me thirty something years to get that way...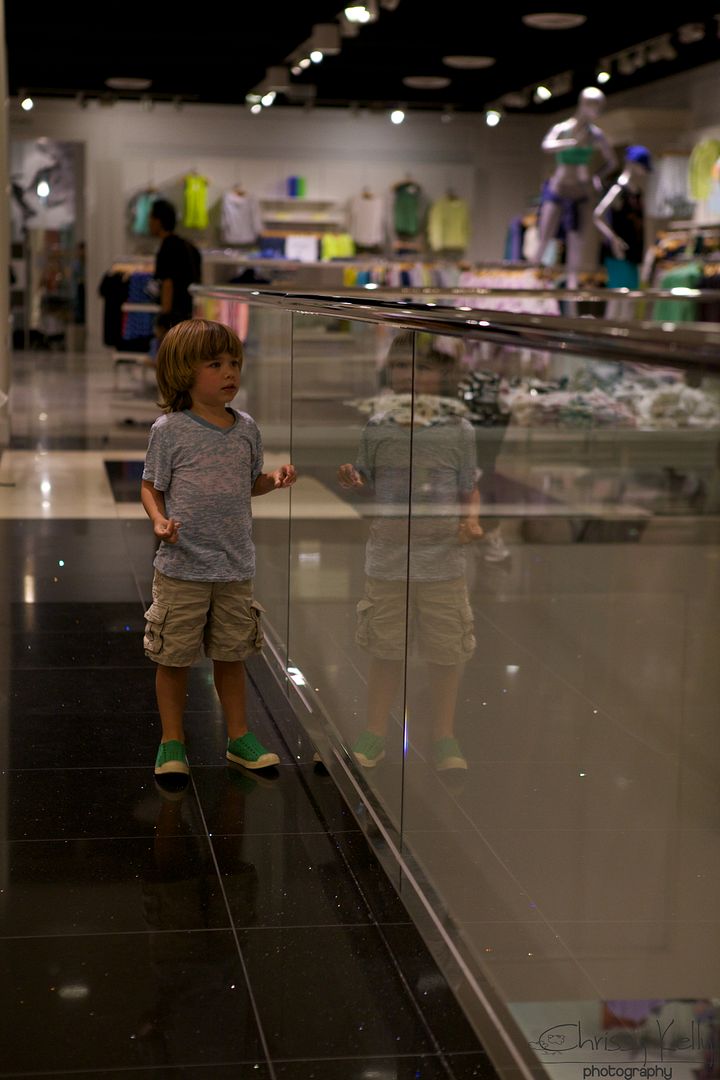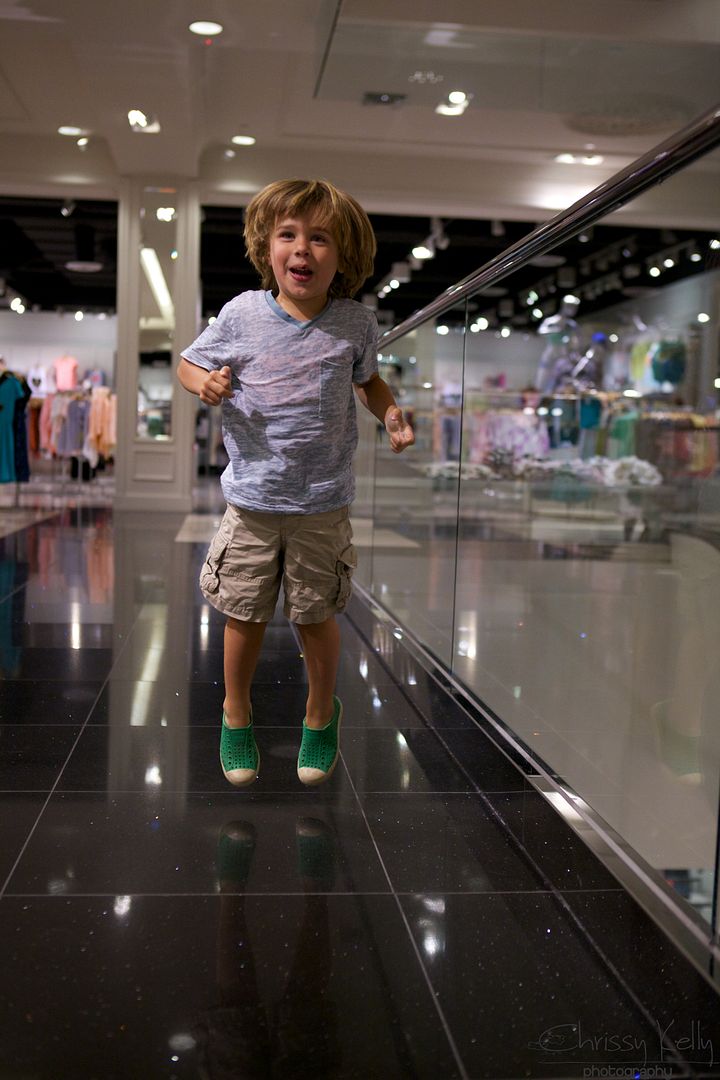 My Friend, meet unbridled joy...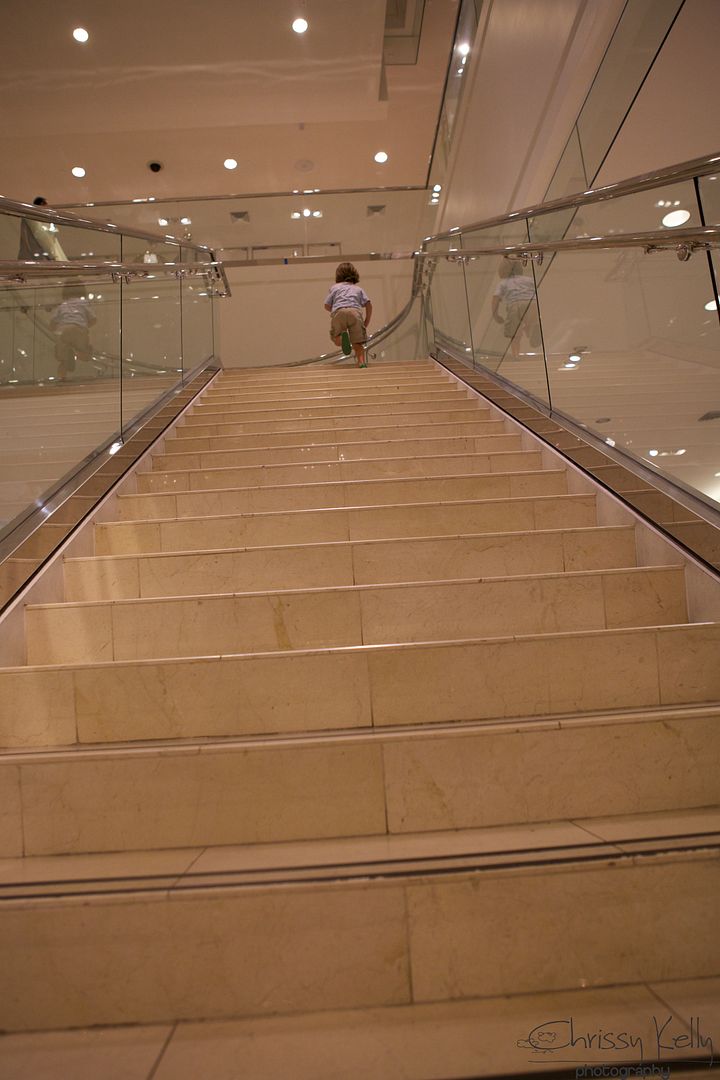 Even old-fashioned stairs will do...which is great because then he's extra tired for bed.
Have an extra special wonderful Memorial Day weekend...
We say a special prayer for the men and women who have died while serving in the Armed Forces...
Much Love,
Chrissy
PS--- 1,003!!!!