We started out our Monday morning with a dance party in the kitchen. Carry On by FUN...
BLASTING at the loudest setting... Singing at the top of my lungs...
If you're lost and alone
Or you're sinking like a stone
Carry on
May your past be the sound
Of your feet upon the ground
Carry on
Sometimes Mondays make me feel like I am sinking like a stone...and music helps...
I've had a headache pretty much every day since June of last year... Despite numerous physician visits, physical therapy, Chiropractor visits, injections and lotions and potions we've yet to alleviate the cause. Whatever it is- I've tried it. And now muscle pain has moved into my right shoulder and knee...
I don't talk about it much because when I don't talk about - or think about it- the pain is not as bad really. I can deal. Today I had a follow up appointment at the orthopaedic office- and I was forced to think and talk about it... and as I was talking to the Doctor my eyes welled up with tears and then over-flowed. I realized- it's not the pain that makes me cry. It's the what if this pain never goes away thoughts....But the pain always goes away- doesn't it? Sometimes it takes a day...sometimes it takes a year...maybe even longer... and sometimes you just have to find a place to put the pain while simultaneously creating extra joy to counteract the pain's power.
Arnold Schwarzenegger said, The last three or four reps is what makes the muscle grow. This area of pain divides the champion from someone else who is not a champion. That's what most people lack, having the guts to go on and just say they'll go through the pain no matter what happens.

And I am a champion- so I will go through the pain no matter what in order to get out on the other side. I need to continue to work at healing myself with passion.
And despite today's tears my visit with the Doctor was exquisite. He took care of me with the same kindness used by a 9-year-old child, nursing back to heath a fallen baby bird found in the back yard.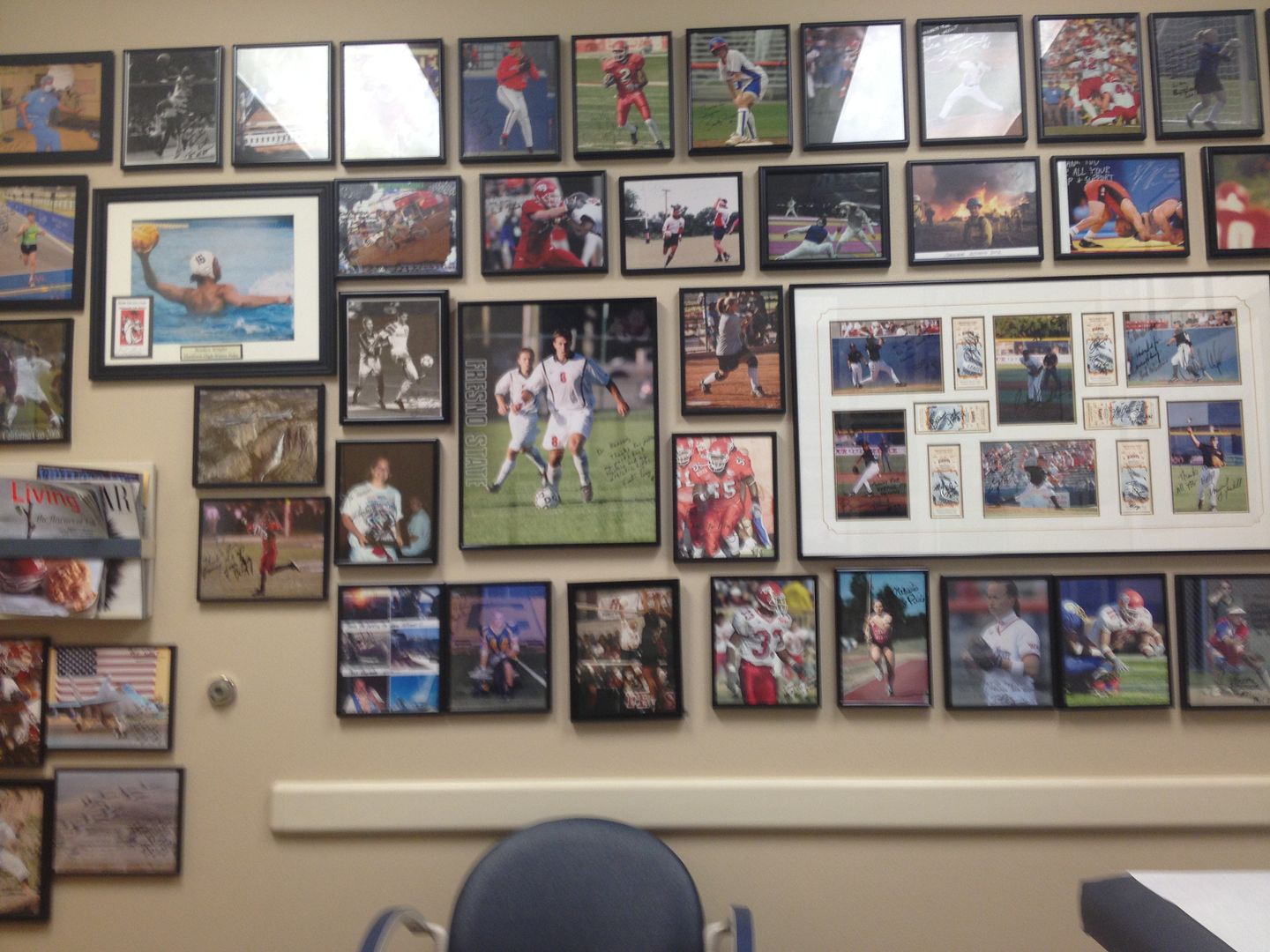 The walls are covered with athletes who have been helped ... After you fix me- I'm going to give you a picture of me to hang on your wall, I told him. Mom-ing is one of the toughest sports there is... He agreed. See- he's a smart guy.
He came up with a protocol for me- and said - Based on your symptoms and commitment I'm actually really hopeful and optimistic that we will get you feeling better... He said it with such kindness and such honesty in his eyes that I had no choice but to believe him... but just to be safe I asked him to write me a prescription...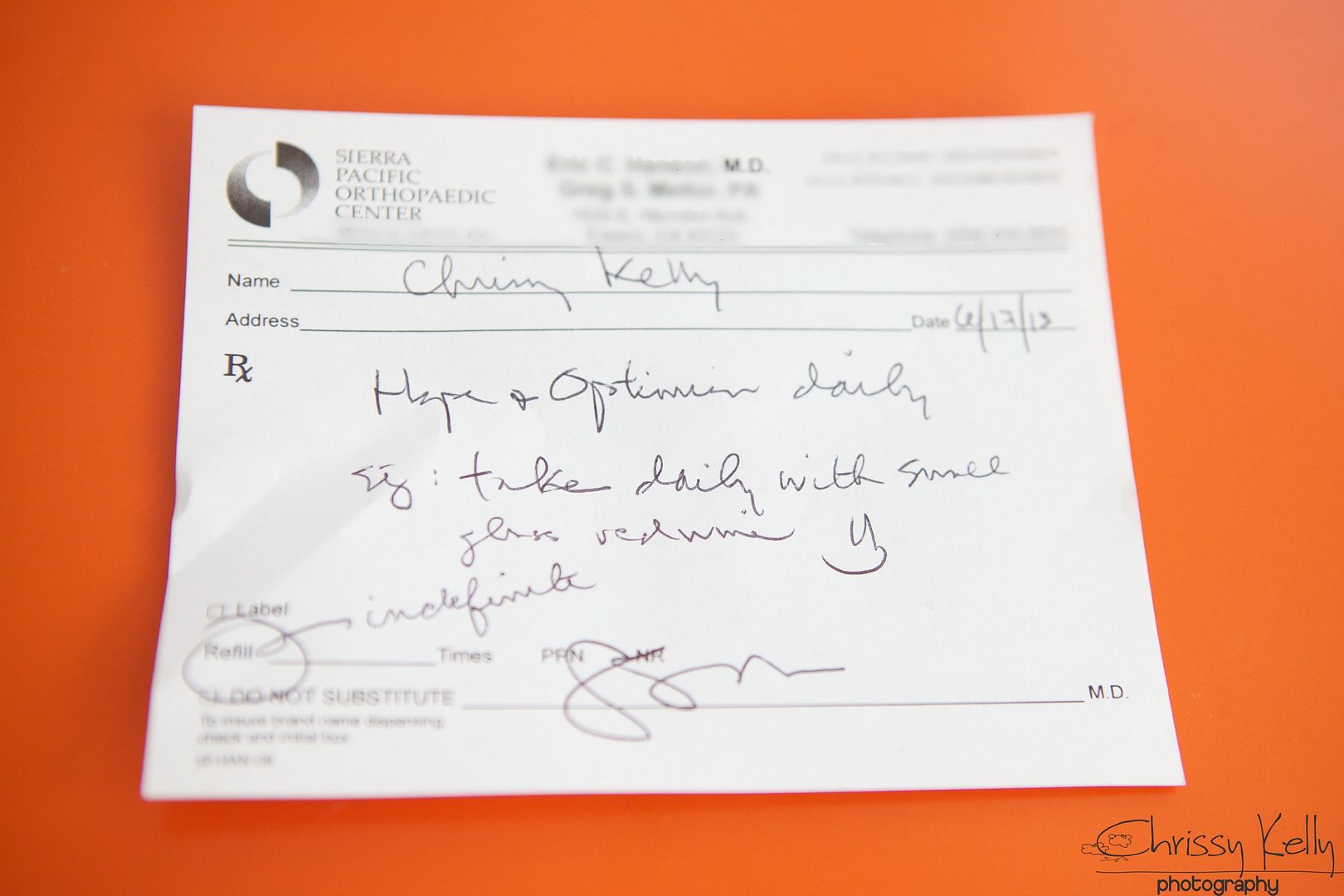 Hope and Optimism Daily... Unlimited refills...
And Friend, I am here to share my prescription with you...and I'm pretty sure that this kind of prescription sharing is legal. When I was checking out the woman at the desk said--
I see you have a prescription- I need to get a copy of it for your file.
Oh- It's not real, I told her... She looked confused...
See- it's for hope and optimism... I don't mind sharing some with you though...
I think sharing hope and optimism with the people around you is one of the greatest communions of life. It's funny- the more I share- the more I still have for me.
A new summer schedule means that on Mondays both boys can do speech therapy at the same time... Which is an awesome time saver and nerve-wrecking all at the same time... Whose room do I go in?! I love watching them both explore the world, make sounds and play during speech... I ended up bouncing back and forth between the rooms.
For over a year- throughout the day I speak out loud to Parker to help him make sense of the world...
Parker- Let's go to car.
Time to go bye bye.
Let's go outside.
You are thirsty- You want a drink.
Here is a cookie. Eat cookie!

He looks at me with no recognition. If I say- Go get shoes- he doesn't understand. He barely has any receptive language- which isn't the spoken word, but the comprehension or understanding of words...
Today, before loading up the car for speech I said, Parker- Let's go bye bye, like I always do. And for the first time ever, I saw a spark of recognition in his eyes. He threw down the toys he was holding and he ran for the front door...
And it was an amazing moment of complete joy... It's like the hundreds of times I was talking to him was actually putting a little deposit in his mind- and today it just finally paid off...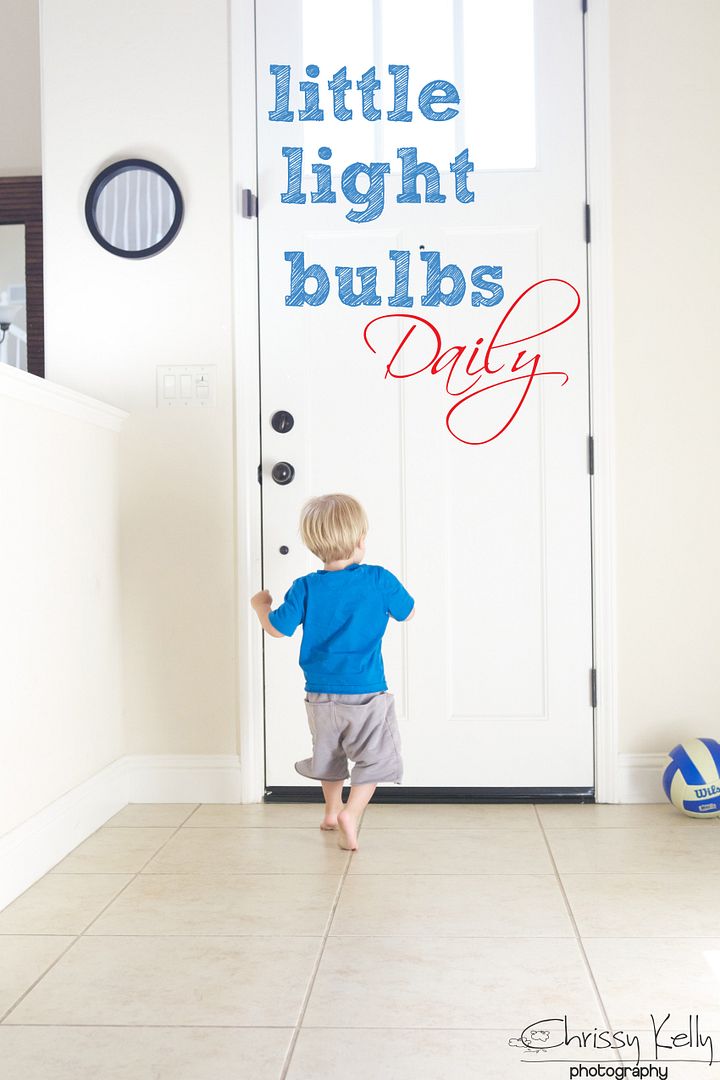 And it's moments like those that make my whole day- that I tie my kite to, relax and just feel myself fly... One day I will publish a book called Little Light Bulbs Daily... Because it's the little things that they finally just get that mean the most...
Thank you so much for being here and reading these words... If you want to say hello, stop by and see us on Facebook... I'd love to hear from you...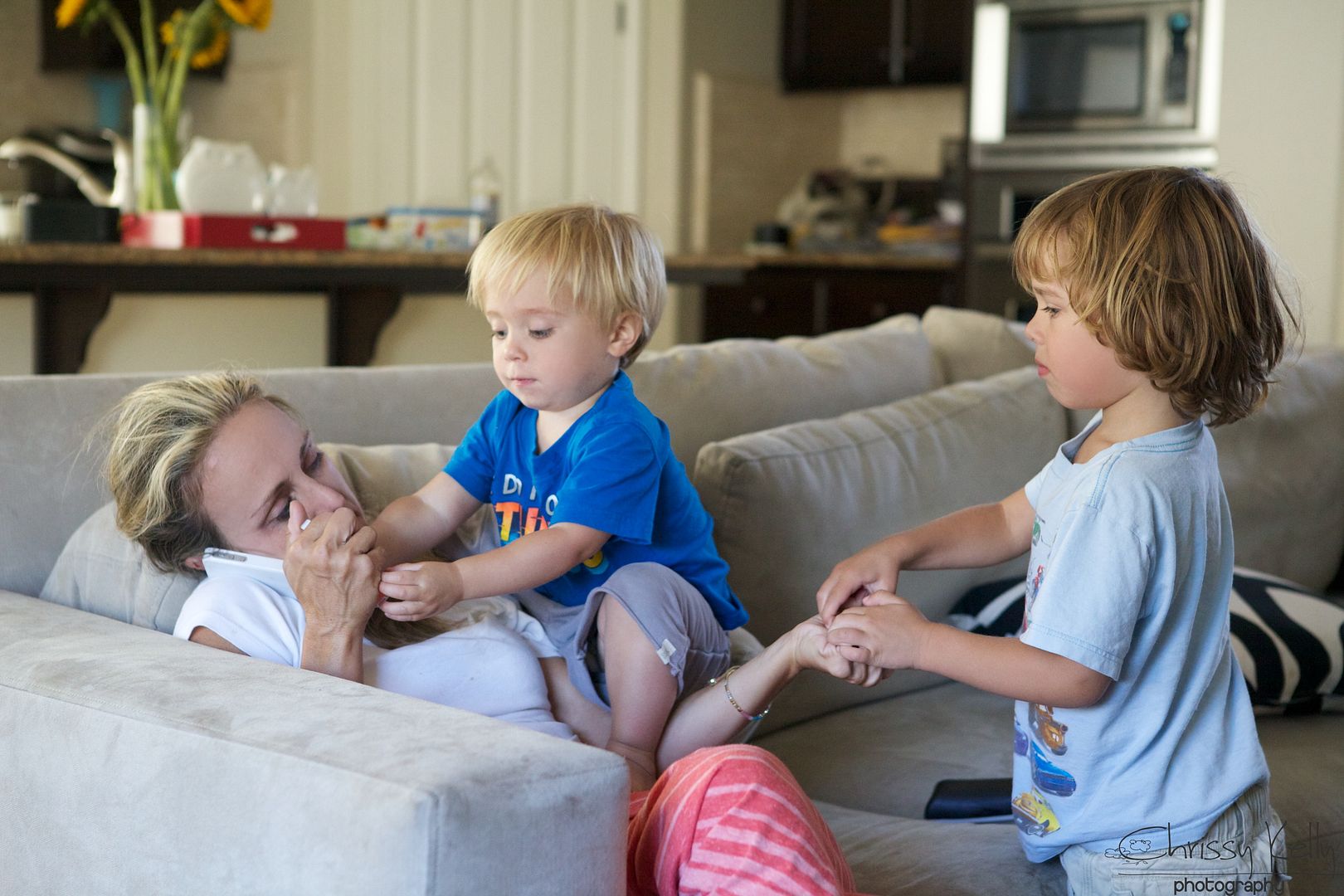 Because this is what happens when I try to talk on the phone.
Hope you have a little light bulb kind of day...
Much Love,
Chrissy