Watching Greyson and Parker learn to swim the past couple of months has felt like its own little epic journey. The first couple lessons were really quite terrible. Stomach hurting awful. I didn't take any pictures so you'll just have to believe me. Something about crouching behind a slated bench watching your child sob and scream themselves hoarse doesn't really feel like a Kodak moment. At one point Greyson's eyes caught my hiding ones.
"Maaaaaaaa!" He calls out to me with white cold fear in his eyes, confused as to why he is hurting and I am not making it better. "MAAAAAA!" A precious term that I rarely hear, and I just sit there, doing nothing. Sometimes nothing is the hardest thing to do, but I know it's exactly what I must to in order for him to grow and to learn. If I want him to learn to swim I can't do it for him and I can't rescue him. If I rescue him he won't grow at all. I will be doing him an incredible disservice and stripping him of all the beauty that hard lessons bring. But his pain is like second hand smoke- it kills me just the same. I just sit there and watch him struggle.
And with shaking hands and legs and everything else, he did what was asked of him, over and over again. I knew that things will get easier and better, (or at least I hoped) and that's the thought I repeated over and over in my head. He needs to learn to swim. This will make him safer, stronger, better. He's going to have to suffer first, but it will be worth it. I saw the entire big picture while his view was only of fear and pain. Water floods up his sinus cavities, burning. He couldn't bear water on his face- yet it is covered in droplets that trickle down and assault him. And I sit there and watch his agony. Kinetic and potential energy collides in me, leaving me twitching. My momma heart says- SCREW IT. DON'T MAKE HIM DO THIS. My momma head says- SIT RIGHT THERE- HE NEEDS THIS.
But with each lesson came growth. By the second or third lesson I could watch out in the open. And he still struggled, but I could see his strength and hope and he kept trying.
And now that a couple of months have gone by, I witness the greatest doggy paddler in the world.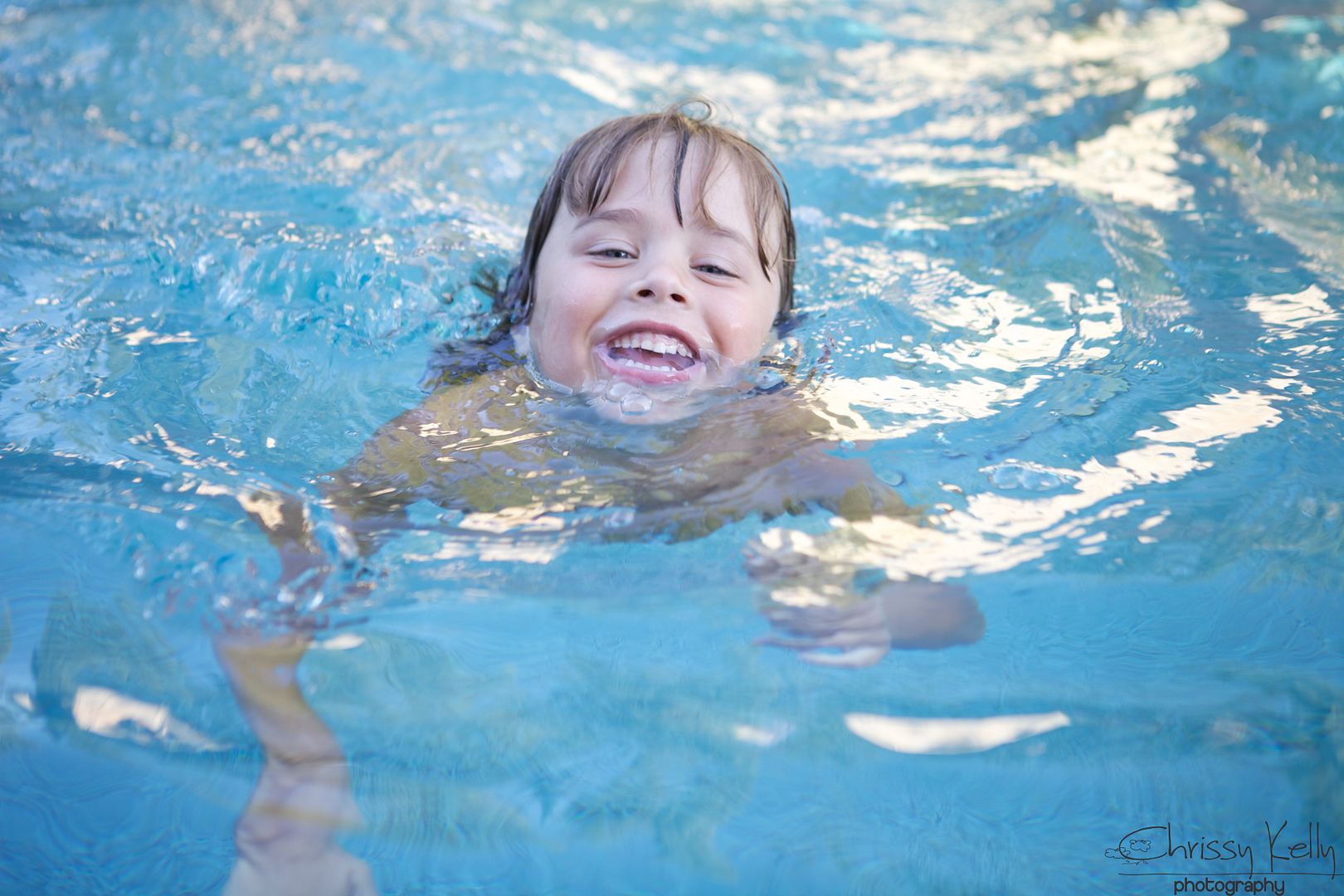 And he loves it so much that most of the time that he is swimming, he is also smiling.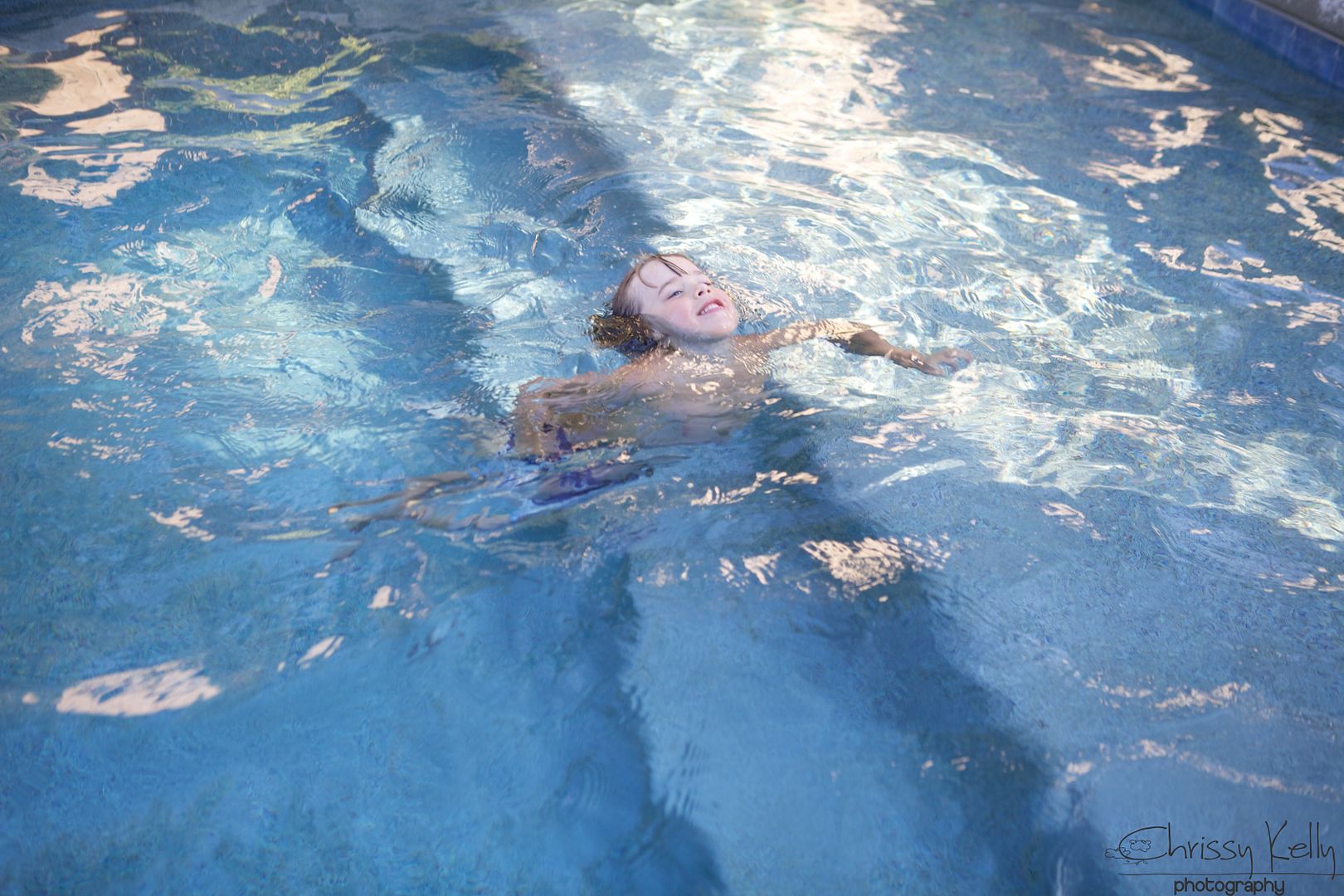 And while watching Grey swim I thought about all the things I prayed and begged for with the boys. Why God? Why autism? Why Greyson? I asked in fear. And then, Please- Oh God, not Parker. Please, don't let it happen to Parker, I said.
But it did.
I didn't feel like God hated them or me. I didn't believe he gave me pain because I could handle it. I just felt like I was all on my own. Like he forgot about me- or maybe he was just too busy to help me or stop the inevitable from happening.
I think of the times that were the hardest and I felt the most scared and in pain and alone. I now realize He was there all along. Watching intently, twitching in discomfort- wanting to jump in and stop it or save me, but he knew he couldn't because that would stop me from learning and growing. It would stop me from becoming exactly who I am supposed to be. We really don't learn or grow or change when everything is perfect and easy- do we? Yes, I'm certain God was there all along- and if I would have actually started to drown- he would have jumped in. And looking back- it felt I was dying, but that was me actually getting stronger.
God was just teaching me to swim. Maybe you are learning now too.