My eyes pop open, wide as saucers.
It's black as ink out. I hear the comforting crunch of our down cover as I shift my position. I grab my phone and squint from the glow brighter than a spotlight on a stage. With one eye open I note the time: 5am. On the button. I debate getting up now. I use the restroom and nestle back in, tucking my now cold feet into the warm covers.
I take three deep breaths. I check the clock. 5:06. I flip on my side and scrunch my pillow up just right under my head. I flip back the opposite way and close my eyes. I check the clock. 5:14. And again, 5:26. I think good thoughts without words. Breathing. Ocean. White noise. Peace. Easy.
Check again. 5:42. I think of what I will do in order after waking up. Coffee. First coffee- it will get easier after that. I feel wide awake. I should get up now. Coffee, then shower. Then get the rest of the family up. 5:57. And then BAM.
Beeeeep
Beeeeeep
Beeeeeeeep
The alarm goes off at 6:23 just like I set. I scientifically calculated the last second I had to wake up and I refuse to lose even a second of sleep. I'm confused for an instant. Not fully understanding that I fell back asleep. I remember what today is.
Greyson's first day of kindergarten. If our life was a TV show, the Rocky theme song would be playing. I wake up on adrenaline, hopeful, nervous. Excited. Exhausted. I get ready in a blur, pack his lunch, snack and back pack. I painfully repeatedly jostle him from sleeping and get him dressed. He is so mad at me for it all. We are not morning people. He wants to stay in bed. Me too.
Michael, Parker and I walk Grey into his classroom.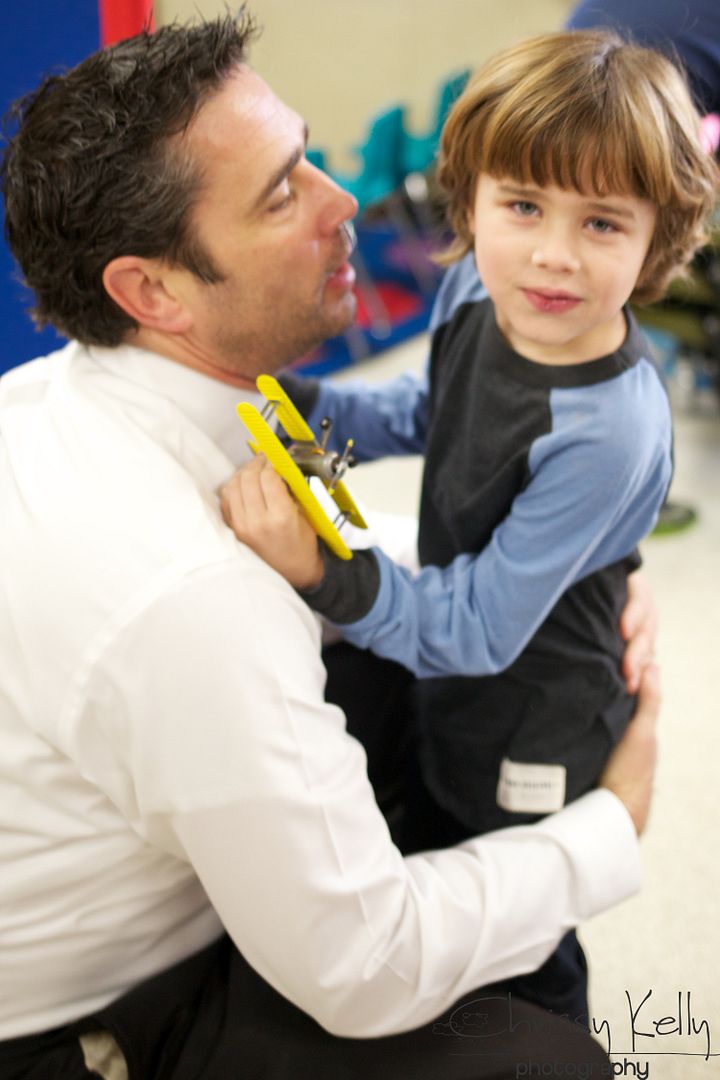 I know he can do this. He always does. I feel at ease and nervous, all at the same time. Mostly at ease though. I've preparing all week for this (and all my life too).
I give his sweet Teacher this little guide to Greyson- and it makes me feel better.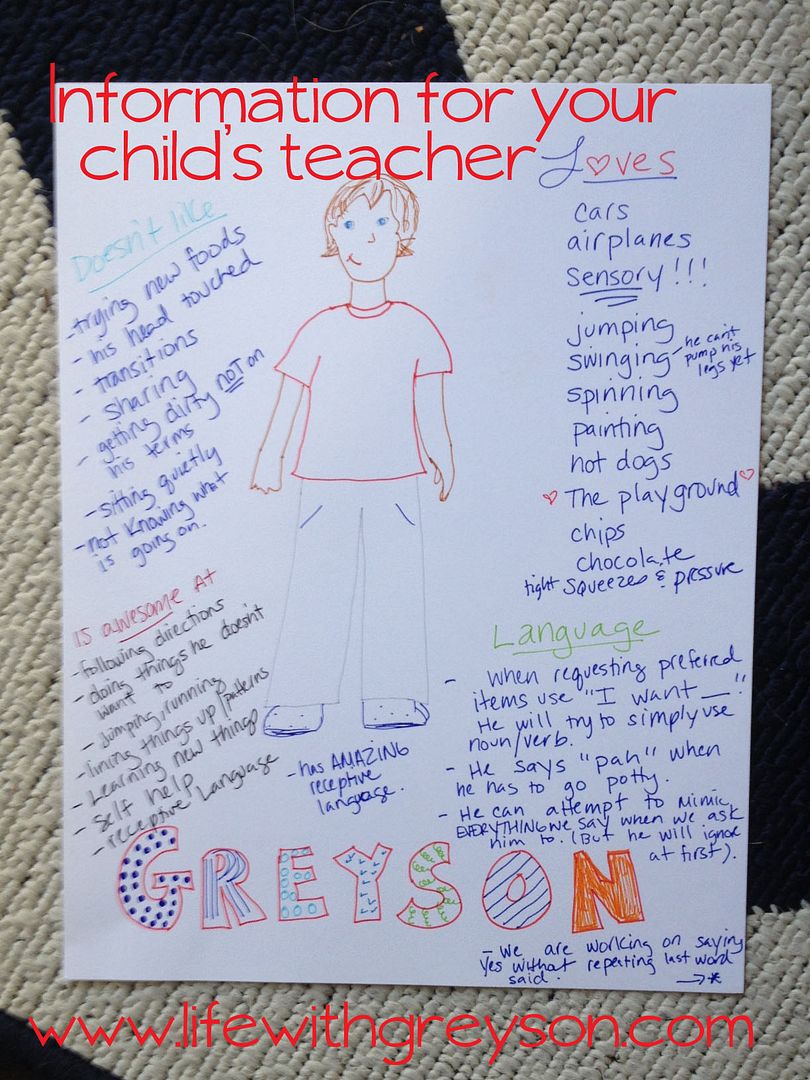 Things he loves, dislikes, language and strengths. Feel free to make one too.
I give Grey a warning: In two minutes Mom and Dad are leaving and you are going to stay here at school. I will come back to get you in a few hours. And he held onto me tightly. After a pause, I slowly peel his arms off one by one. I take on a tone dripping with false confidence. It's time for me to go- you are going to do amazing today. I'm proud of you. And I ripped off the band aid and walked out.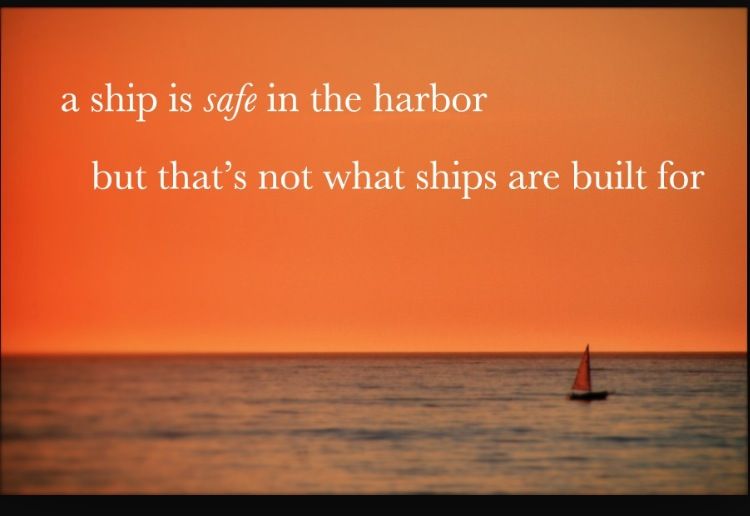 I let him sail. (thank you for this picture, Heather!)
I went home and two of my girlfriends came over bearing chocolate cookies- and coffee. And suddenly after an hour this awful feeling hit me- Grey is at kindergarten. And then this wonderful feeling hits me- and I totally forgot about it until right this second. God love chocolate, laughing and girlfriends. And that was the last I thought of it and suddenly it was already time to pick him up.
He did amazing. Like you have to say it like Oprah- Greyson Kelly did AMAAAAZING... Yes, that good.
He was really ready to come home.
Typically developing children learn language, play and social skills from the World around them. They pick up on things naturally. Children on the autism spectrum do not learn easily from their environment. They have the potential to "learn how to learn" but it takes a very structured environment where conditions are optimized for acquiring the same skills typical children learn naturally.
Children in autism classrooms are taught in a very different way versus typical classrooms. It's based on repetition and frequent reward and is called Applied Behavior Analysis (ABA). ABA is using environmental set ups and consequences to shape or teach any skill or appropriate behavior. Behavior analysis focuses on the principles that explain how learning takes place. When a behavior is followed by some sort of reward or positive reinforcement, the behavior is more likely to be repeated. Same for us typical folks- right? If we get paid, if we are told, GREAT JOB!, if we are rewarded for an action, we are more likely to repeat that action.
I made a box of reinforcers to send with Grey to school tomorrow.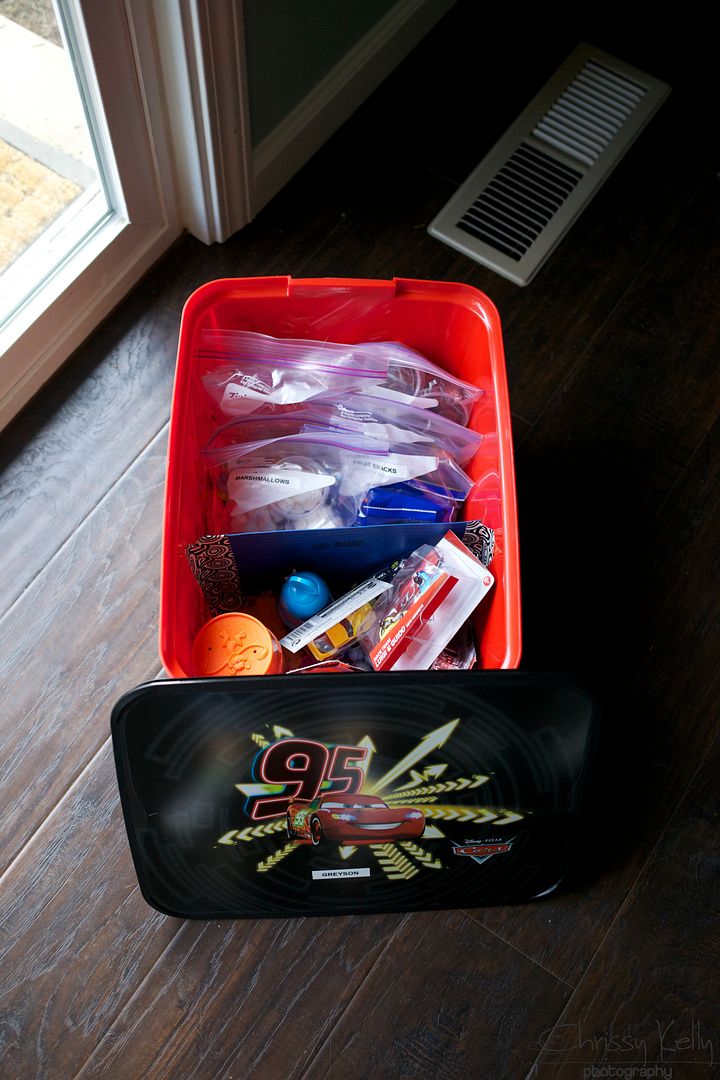 I got to be all Type A which makes me giddy. Many teachers in the autism classroom request reinforcers brought in by parents because no one knows your child- and what makes them tick better than you! It's up to me to make sure they are highly engaging. And it's up to the teacher to request new items when they run out or no longer have power.
Some of Grey's things in his box: anything with wheels, things that spin or light up, chocolate, marshmallows, bubbles, Swedish fish, sensory things (hard, bumpy, soft, squeezy), gum, red suckers and Pop chips.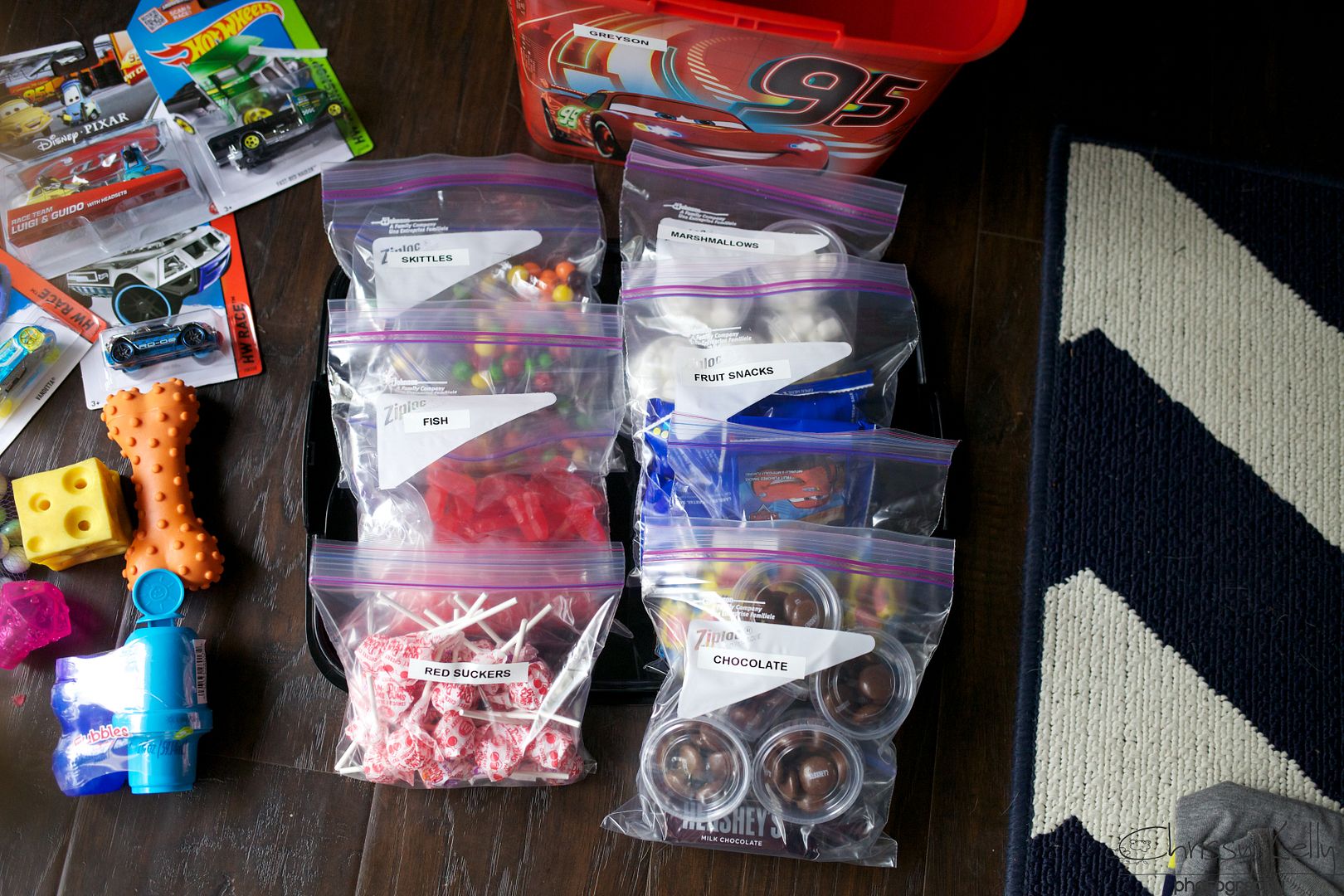 As I was putting his box together I suddenly hear something... Silence. And I turn and see this.
He works so hard... I'll let him stay safe in the harbor tonight.