Can you imagine what it would be like if we had to have a job-like interview in order to be eligible for life?
How would you answer the very important job interview questions?
Hello (your name). My name is God.Thanks so much for meeting with me today. Please, have a seat, get comfortable and let's get to work. I have an incredible opportunity to share with you today.We are looking for folks to be ALIVE. You will get your VERY own personalized life. Some of it, I'll come up with for you. Things I know you are good at. And also, things I know you aren't skilled at, but I want you to learn. And even some things you wish I hadn't chosen for you, but things that will help your life teach you lessons that will strengthen your character, make you love more and help you have the best life possible.
Some things, I want you to come up with! Yes, you! Isn't that so exciting? I knew I was onto something when I added this feature. You get to pick how you spend much of your time. You can fill your life with things YOU enjoy. Everyone has different things that fill them with joy, so everyone will spend their time differently. Feel free to get creative with this one my child. You can choose what you eat, whether you exercise. You can even pick what you do for life! It's called a job, and YES! You get to pick yours! Luckily I've created millions of those, so you have many options. You can pick who you marry, if you chose to do that option. You can pick if you would like to be a mother or a father. There are many different methods that make this possible.
You also get to pick your perspective. That's really just a fancy word for how you look at and feel about things. People who have done life before you have seemed to really enjoy having feelings. Not to tell you what to do or anything, but so far the people who do the BEST at life, are the ones who pick to have good feelings. The ones who choose to look at their own life selections and feel GOOD. There are also some folks who choose to have bad and angry feelings. I know- weird, right? I can't say I understand it, but - that's free will for ya! It makes me sad, because the people who elect to have the bad feelings-well, they blame me, or the life circumstances that I chose to help them grow, they sometimes even blame other things- like their job or their spouse. Crazy- right?! I mean, hello, you picked those things! If you don't like them, select different options! I made sure new options were always allowed.
The thing that makes me most sad though, is that when they blame other people, things or circumstances, they use it to get out of accepting responsibility for their own feelings. They forget that they have the daily ability to learn anything! I love it when my people get excited about learning new things. But sometimes people just give up. And when that happens, it will never get better because then they will never know they are the ones who carry with them the power to change. (sigh)
Anyway, back to you! Does this life thing sound like something you would be interested in?
What skills do you possess that would make you a good fit for life?
Based on our discussion, what do you think sounds the MOST exciting about life?
What will you do with your time being alive?
What perspective option are you going to select?
Gosh, I'm not totally sure I would hire me for the job life. But when I stop and think about what an honor living is, I want my life even more. We all want something more when we have to work for it or when there is a threat that it will be taken away
I mean the way I have a tendency to treat it like an obligation instead of a gift isn't in line with how I want to be. The way I get bogged down by the details and feel like the bad cancels out the good. Life isn't a score card. It's not a measurement of behaviors. It isn't a to do list.
It's watching a million shades of green leaves dance around on a tree. It's swinging whatever way feels good at the moment. It's making beauty out of the hard stuff. It's turning the daily mundane into a prayer of gratitude.
I frequently live in the past. I look at pictures and ache. I really had it then, I think. The kids were so little! I want them little like that for just a day. I was younger! My skin/hair/outlook whatever was just so much better. And one day I will look back at pictures of life from today and think - I had it all then! I was so young! The kids really were so little!
So, today I pay attention to life. My real life. I think one thing that happy people do- is live in the absolute. The present. Reality. The moments we can see and feel and touch and smell.
Man oh man, do kids know how to do life...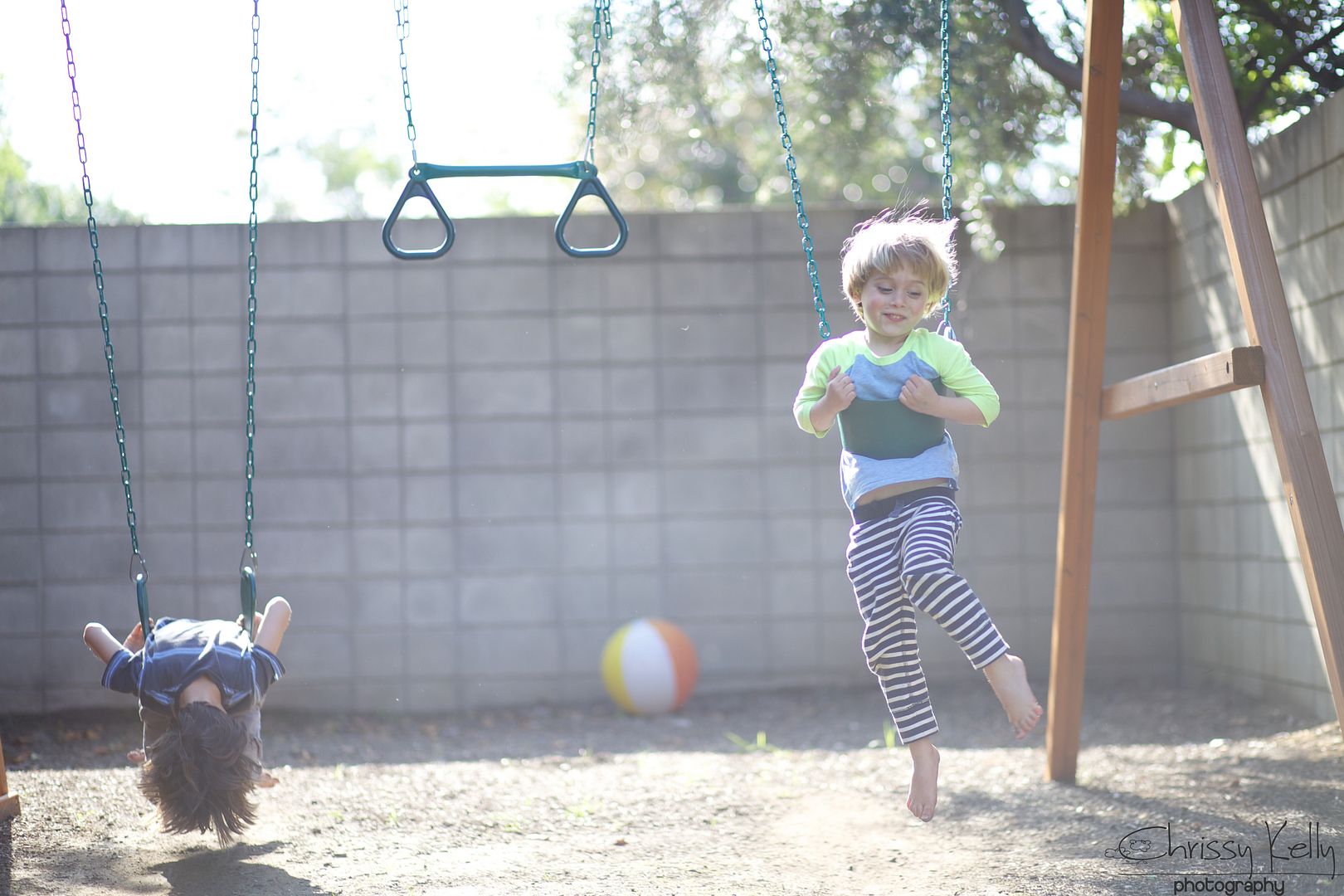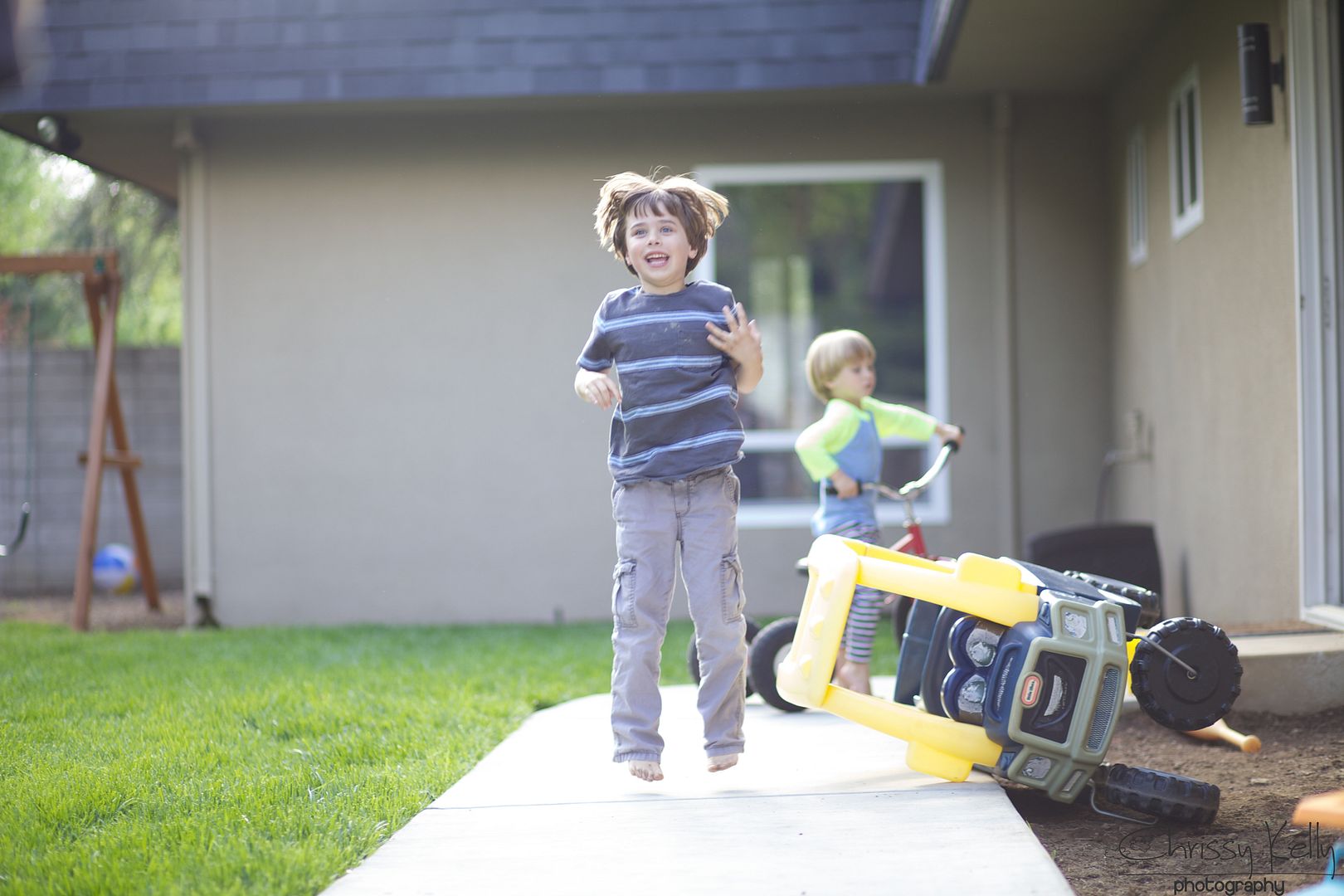 We are all creating our own life. And that's amazing- really. And it's an honor to have one. Yes, It's Hard work. Really stinking hard work. But God is in the details- no, not the Pinterest ones. In the hard small ones all day long. In the thankless ones. The boring ones. In the tiny little feels like going nowhere ones. They ARE going somewhere. They are your life.
I think about my boys. To go through a normal day, the boys need the brain power we would need for a hard job interview, the body and coordination power to run a marathon. The confidence and ability we would need to give a presentation to a large group. And they make it through. Phenomenal. I am in awe of how they do life.
And I use their strength to make my own life better.