Tonight's a shorty but a sweetie.
Tonight the bewitching hour came early. Like 4:03 early. Grey threw a handful of stuffed animals over the toy room balcony that overlooks our family room where I was sitting below. It scared the ever living blast out of me and I snapped. Running and tripping up the stairs to scream my face off. It's Tuesday and I was Friday exhausted and Monday hopeless. Michael is gone a few days each week for work and today is one of the days. All day today, Greyson kept pulling on my sweater until I unraveled.
Praise gosh an amazing and capable sitter came over this evening. I practically threw the boys at her and ran. I didn't feel bad for yelling. I didn't call myself incapable or not enough. I sought quiet and I was ridiculously kind to myself. I went for massage and all the bad stuff- I could feel it working its way out, helping me be to be refrehed to start over all clean-slated for tomorrow. I went to the grocery store by MYSELF which is heaven. I even bought my favorite brand of Jalapeno pototo chips all for me to eat. It's hard work being a human being. We should be celebrated by ourselves more and scolded by ourselves less.
Good job you for being alive! Me too! Good job me.
And it was all so good I said to myself- This has got to catch on. My friends need to do this tomorrow.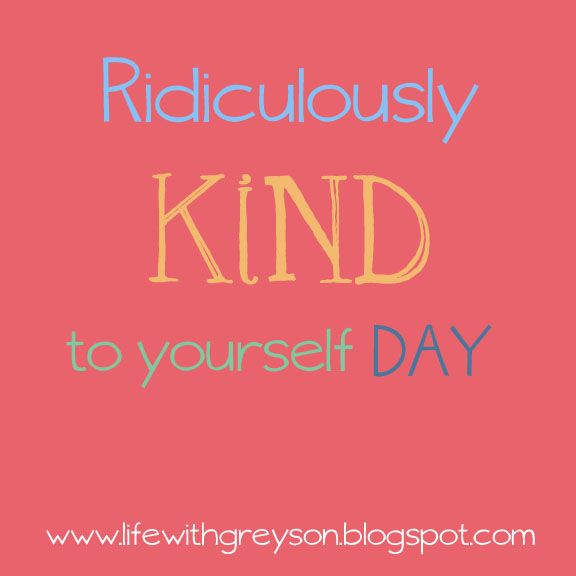 I even drew you this picture to remind you. So tomorrow that's your gift to YOU. Ridiculously kind to yourself day. Buy yourself a latte, a massage, a pair of Manolo Blaniks- Hellfire, whatever your budget allows. I said you could. When you start having those thoughts- guit, mean, critical yucky thoughts- tell mean you to shut up.
Be ridiculously kind to sweet you. Because I said so.
Kindness is calling. Will you answer?
Love,
Chrissy
In the comments tell me what you PLAN to do or what you DID do after you do it. K? Or just say hello. Don't make me feel like I am talking to myself.
Find me on Facebook and let's be ridiculously kind to each other.